Meet Tal Anderson, the Actor Who Plays Sid on 'Atypical'
---
While the Netflix series "Atypical" is one of the few shows that represents autism, the main character — Sam Gardener — is played by a neurotypical actor, Keir Gilchrist. This is a point of contention for disability advocates, and a common trend in Hollywood — the majority of characters with disabilities are portrayed by non-disabled actors. "Atypical" has since made strides to increase its authentic representation of autism, including the introduction of a new character portrayed by Tal Anderson, an actress on the spectrum.
"Atypical" follows Sam through his last years of high school and, now in its third season, his first year at college. As Sam goes off to college he meets Sidney (Sid for short), who works in the disability lounge at Denton University. Unlike Sam, she's not a college newbie. Anderson, who is on the spectrum, is also a welcome addition to the show, which continues to work on adding neurodiverse actors to its roster and improve its representation for the autism community.
Anderson is no stranger to the entertainment industry. She moved to Los Angeles after graduating from film school, and in addition to working as an actor, she's a talented film editor. To learn more about the rising star, The Mighty asked Anderson about her experience on "Atypical," why authentic autism representation is so important in the media and what's next for her career.
Here's what she told us:
Editor's note: This interview has been lightly edited for content and clarity.
What was your experience working on 'Atypical'?
Working on this show was an amazing experience. I think it was everything I thought it would be, only I didn't expect it to feel like family… but it did. Everyone in the cast and crew welcomed me and was so supportive. It is a group of extremely talented and hard-working people, but I think the biggest thing about this team is that everyone respects each other very much. Plus — they are all so much fun to work with.
What aspect of your 'Atypical' character Sid do you relate to the most and why?
Like Sid, I too went to college, and we both are very quirky, but focused on our work and our goals. I remember how overwhelming it can be when you first start college, and I can relate to both Sam and Sidney, because I had to find my own way, and when I needed it, I had to ask for help. I appreciate the role of both Sid and Sam and how they take this on in their own ways.  Sam is defiant and wants to do things on his own before he asks for help, and Sid's take on it is more like "yeah, I ask for support when I need it, because it's  super helpful," like it's no big deal.  In this way, I am more like Sid than I am like Sam, but Sid is definitely more outspoken about her opinions than I am. Even though I consider myself pretty focused, Sid is even MORE focused and determined. So much so, that she doesn't understand why everyone else isn't the same way, where I know that I tend to be more focused than others around me.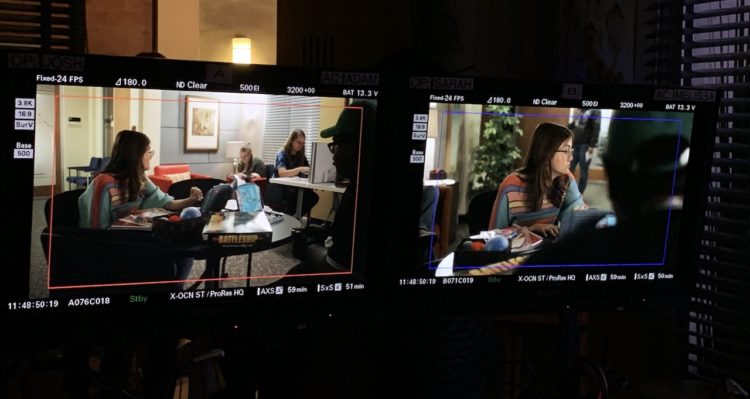 How well do you feel 'Atypical' represents people on the spectrum?
Well, I love this show, and this story, and I think it does an amazing job representing people on the spectrum. The story is told through Sam's eyes, so I appreciate the way that Sam is shown taking on the world. He is not just a person with a disability, but he's a son, brother and a friend first. I think that is how everyone wants to be thought of, not just Sam. The show is about a family, and the importance of love, and it encourages people to live their lives and be themselves, whether they are on the spectrum or not. So, even though Sam is Sam, and he can't be exactly like every single person on the spectrum, he represents all of us really well. He is being himself and is living his life as best as he can, despite his challenges, and with the help of his family and friends he is succeeding. So as a person on the autism spectrum, I can relate to that and it inspires me.
Why is authentic autism representation on TV and in the media so important?
When people turn on the TV, they need to see stories and characters that they can relate to, and the story of the Gardners includes a lot of different types of people and shines a light on so many different topics. I feel like everyone, not just those of us who are neurodiverse, deserve to see stories on screen that make them feel seen. So, authentic representation in general, is really important.
But for people with disabilities specifically, it is really critical because representation in the media can lead to more inclusion in real life in my opinion. I just worked on an ad campaign and PSA for DeliveringJobs.org. The goal of the campaign was to increase awareness and encourage employment of neurodiverse people and to change the public's thoughts that people with disabilities are not good employees. We are, and we can be great employees, even. Shows like "Atypical" shine a light on neurodiversity and on our capabilities. I am so glad that I get to be part of that message and on a show that makes this a priority.
How would you like to see other TV shows include more people on the spectrum?
Actors on the spectrum deserve to be considered for all types of roles that they identify with, not just characters who are neurodiverse. I would like to see people with all kinds of disabilities playing all kinds of characters on screen. I mean, why does an actor who happens to be in a wheelchair have to only play a role of a person in a wheelchair? Why can't they just play the role of a lawyer, or a prisoner, or a teacher? I would also like to continue to see other TV shows include characters on the spectrum at all levels of functioning, because autism does not just look one way, and also, not every person on the spectrum is the same.
One big Atypical family ???? #AutismAwareness pic.twitter.com/ldfabvJJux

— Atypical (@Atypical) October 12, 2018
How did you get into acting and filmmaking?
As a little girl, I didn't communicate very well and it was difficult to make friends. I started acting as a tool to help me learn to be more social, but while doing this, not only did I fall in love with acting, but also I realized that I have pretty much been a storyteller my whole life. In my childhood, there was a lot of "trying to act like everyone else." Well, as an actor, I now get paid to do that, and it's a bonus when people accept me for who I am and recognize my talents, like the producers and team at "Atypical." Acting gives me a voice I didn't have as a child, and it has helped me with my confidence, and being present in the moment. I realize now, that I have been an actor from the very beginning.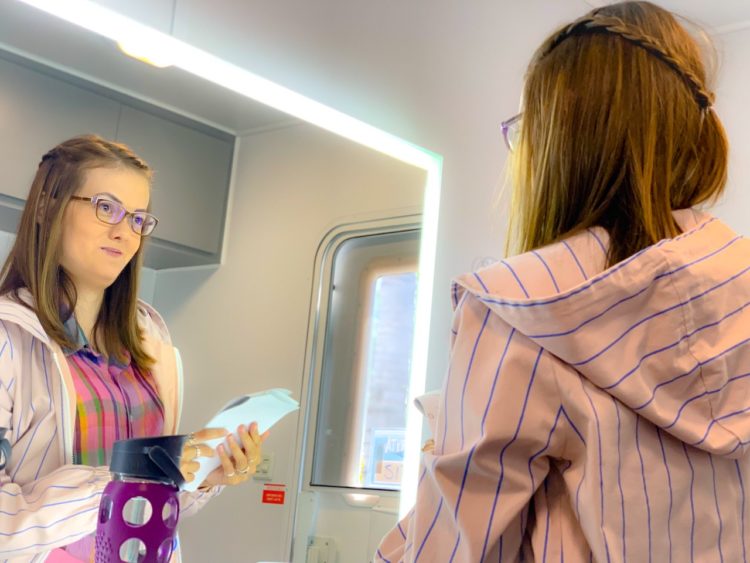 Where do you hope to go with your entertainment career in the future?
As an actor I hope to make it to the big screen in a lead role, but also I would really love to be a series regular in a television series. I am an actor, but I am also a film editor. I moved to Los Angeles after I graduated from film school, where I focused on post-production. When I first got here, I worked as an apprentice in post-production at a non-profit agency called Good Citizen Media and it was an amazing experience. I edit independent films and video when I am not acting, so for now I am able to do both.
What is the best way for people to follow you and your work?
I am not a huge social media user, but I do have an active Instagram page (because I can only handle keeping up with one site), and it has been an amazing place to meet people. Since season three of "Atypical" was released, so many people have reached out to congratulate me or to say hello, and many have told me their stories and how important the show is to them.  It actually has been so great, because having been pretty isolated most of my life, I feel like there are so many people who understand me and now I can connect with them.
Anything additional you would like to add?
Just that "Atypical" does a really good job showing how important it is to be surrounded by people who love you, and to have a supportive environment. It feels amazing to be part of a show that shines a light on autism awareness, but also shines a light on inclusion, acceptance, and the importance of love and family. And the show does that while also being funny. Really funny.
You can learn more about Tal Anderson on her website and follow her journey on Instagram.
Header image via Tal Anderson
Originally published: December 5, 2019