The Secret Way I Get My Son With Special Needs to Brush His Teeth
---
My 5-year-old son, Eli, is low verbal and has moderate-severe autism. I've heard from many other parents of kids with special needs who say that getting them to brush their teeth is a real challenge. Just six months ago, I was one of those parents. I tried giving him a toothbrush with his favorite character on it, another one that played music, even an electric toothbrush and yummy tasting toothpaste. I even tried no toothpaste. Nothing worked. So I usually ended up chasing him around the house to try to get a few brush strokes in.
After we moved from Florida to Washington, we had to start over on setting up therapy sessions for him, which meant a lot of wait lists. When he finally was able to start occupational therapy, I expressed my concerns with his therapist about his teeth brushing. She told me to bring his toothbrush in the next week to see if she could help.
I was skeptical, because I thought I had tried everything. We all went into the bathroom, he stood on the step stool by the sink and she started singing, "This is the way we brush our teeth, brush our teeth, brush our teeth, this is the way we brush our teeth, brush our teeth." Amazingly, it worked. He brushed his teeth. I was shocked. He started to get annoyed and said he was "all done," but she told him she was going to sing the song two more times, then he would be done. And he actually complied.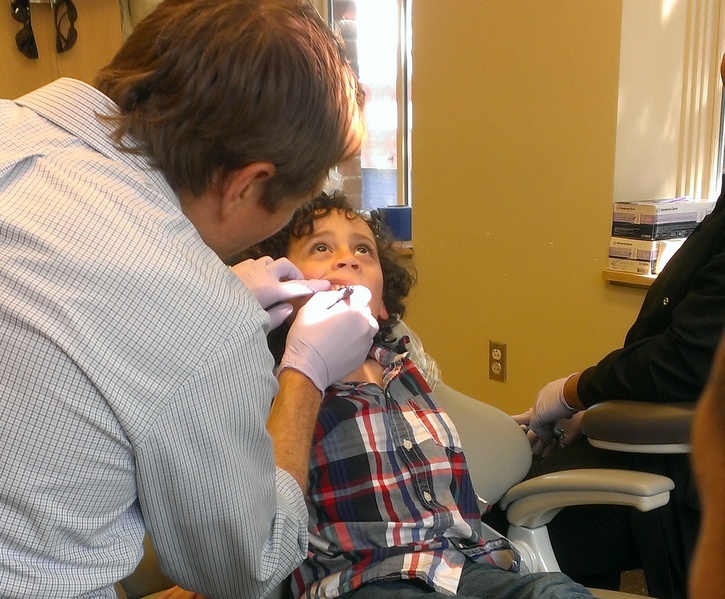 So I figured I'd give it shot at home. Honestly, I thought for sure he let his therapist brush his teeth, but there was no way he was going to let me. Boy was I wrong. I started off by singing the song just three times like his therapist did, and then I would sing it more and more each week. We're now up to singing the song 10 times, which adds up to two minutes of brushing twice a day. His teeth sparkle.
Teeth brushing wasn't our only issue. He hates having his hair washed and conditioned. He would scream, cry, hit and push my hands away. I wash his hair every other day to every couple of days and would always dread it. Until about a month ago, it dawned on me that maybe I should use the song. So when hair washing day came, I started singing, "This is the way we wash our hair, wash our hair, wash our hair." I told him I would sing the song three times. And he stood there and let me do it. I was ecstatic. I did the same thing for conditioning and replaced "wash" with "condition."
So there's my secret. A simple song. I'm not sure if he likes the song or the fact that I tell him how many times I'll sing it, so he knows when it will be over. Maybe both. But I'm one happy mama.
The Mighty is asking its readers the following: What's one secret about you or your loved one's disability and/or disease that no one talks about? If you'd like to participate, please send a blog post to community@themighty.com. Please include a photo for the piece, a photo of yourself and 1-2 sentence bio.
Want to end the stigma around disability? Like us on Facebook.
And sign up for what we hope will be your favorite thing to read at night.
Originally published: May 20, 2015