Things Only a Mom Knows About Her Nonverbal Son
---
My son, Brandon, is almost 4 and is nonverbal. He and I are incredibly close. I can't tell you how thankful I am for that. Sometimes it scares me a little though. There have been many situations throughout his young little life that I have thought, Wow. No one else would have known what he was just thinking just then except for me. Because of this, it is sometimes hard to leave him in someone else's care and still fully enjoy an evening.
If Brandon is melting down when you to try to read to him at night, it's not because he's being a brat. It's because you're reading his Miss Spider book. Yes, that was what he wanted to read over and over at night, but that was last month. This month he wants to read "Pete the Cat: I Love My White Shoes."
If when you're reading to him he keeps trying to get out of bed, it's not because he's trying to be defiant. It's because you finally got the right book, but he left his Pete the Cat stuffed toy downstairs. He needs to hold his Pete the Cat while you read the book, so he can make him dance while you read.
If he starts having a meltdown in the grocery store, it's not because he's trying to embarrass you. It's because we always stop at the free cookie counter at Publix before we begin our shopping. He doesn't know how to tell you, "Cookie!"
If he gets sick and refuses to take his medicine, he's not trying to be difficult. After all, what 3-year-old wants to take his medicine?  Put it in a Danimal smoothie, give him a straw and he will drink it all up.
If Brandon takes his knuckles and knocks himself in the head, it's not because he's crazy. It's not because he's violent. It's because he is intensely upset about something, and knows he has no way of telling you what it is so that you can help him.
If he is having a meltdown in the car (the most aggravating place to hear a child scream), it's not because he's trying to make you feel like you want to drive off a cliff. Whatever has upset him is made 10 times worse because he is strapped down in a harness carseat. Roll down his window and he'll calm down almost instantly. Works like a charm.
If he keeps pulling on you to stand up off the couch, but then just runs away, he is not trying to be annoying. This is part of a very elaborate repetitive behavior. Just watch for a minute and you will see him do about 10 different things (including making you stand up) that are a part of this. He never misses a step in this process.
He's got some quirks that other children may have. Aside from the elaborate repetitive behaviors, it's not as though I connect all of those preferences to his autism diagnosis. The difference here is that Brandon cannot communicate or explain himself. He can't tell you, "I need to get Pete the Cat." The only way to communicate that is to get up and do it, and hope he doesn't get in trouble for getting out of bed.
It's impossible to decipher every move he makes between autism and what I believe is his God-given personality. Not only that, it's pointless. Brandon is who he is. Whether he does something because of his autism diagnosis, or because it's just his preference, it really doesn't matter at this point. A behavior is a behavior, and we're going to deal with it (or not deal with it) regardless of where it originates.
P.S.: If Brandon is melting down, and you can't for the life of you figure out how to make it stop, play the song, "Timber," by Kesha, and it's all good.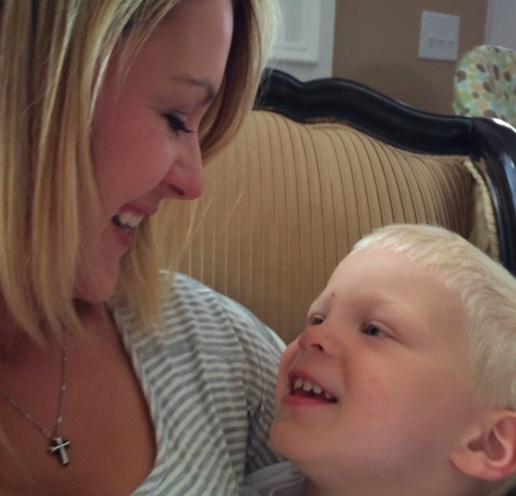 This post originally appeared on Ramblings of a Special Mom.
The Mighty is asking its readers the following: What's one secret about your or your loved one's disability and/or disease that no one talks about? If you'd like to participate, please send a blog post to community@themighty.com. Please include a photo for the piece, a photo of yourself and 1-2 sentence bio.
Want to end the stigma around disability? Like us on Facebook.
And sign up for what we hope will be your favorite thing to read at night.
Originally published: May 8, 2015