Vanity Fair Article About Mark Zuckerberg Opens With Insensitive Comment About Autism
---
Mark Zuckerberg is a genius. There's no debating that.
However, a description of Zuckerberg 's particular brand of genius has stirred up some controversy after a former Facebook employee, Antonio García Martinez, published an article about Zuckerberg in Vanity Fair.
The article begins:
Mark Zuckerberg is a genius

Not in the Asperger's, autistic way depicted in the very fictional movie The Social Network, the cognitive genius of exceptional ability. That's a modern definition that reduces the original meaning.
The article was meant to discuss how Facebook beat Google's attempt to create a rival social network (Google+). But many people struggled to get past the first two sentences of the article.
This lede is garbage. And it's a great way to let people know not to read on. https://t.co/LjYH2r3H1D pic.twitter.com/kLSzPcxqV4

— James Tyler (@JamesTylerESPN) June 4, 2016
@caseyjohnston The writer of this article clearly doesn't know how Autism works/has ever meet someone with autism.

— TheUnknownShortGirl (@NightOfMajin) June 4, 2016
@antoniogm You literally could have wrote that entire piece without the, "Not in the Asperger's, autistic way" — @tobie @caseyjohnston — Anthony Bejarano (@AntBejarano) June 4, 2016
According to the Interactive Autism Network, a U.S. study from 2014 found that almost half of the children with autism spectrum disorder have an average or above average intelligence (an IQ score above 85).
So what "kind" of genius is Zuckerberg, according to Martinez? He's "an old-school genius," Martinez writes. "The fiery force of nature possessed by a tutelary spirit of seemingly supernatural provenance that fuels and guides him, intoxicates his circle, and compels his retinue to be great as well."
An article published by The Daily Dot wonders if "perhaps Martinez didn't intend to offend people with autism or Asperger's, but instead refute the image that The Social Network perpetuated of Zuckerberg."
Martinez, known as Chaos Monkey on Twitter, defended himself on Twitter.
@edzitron @elongreen If you'd read the piece, you'd realize I was negating the tired autistic savant trope, as shown in the film TSN. — Chaos Monkey (@antoniogm) June 5, 2016
And again:
@rabois @Gabriel__Lewis If you read the entire piece, I'm negating the tired trope about the autistic savant techie portrayed in TSN. — Chaos Monkey (@antoniogm) June 5, 2016
And again: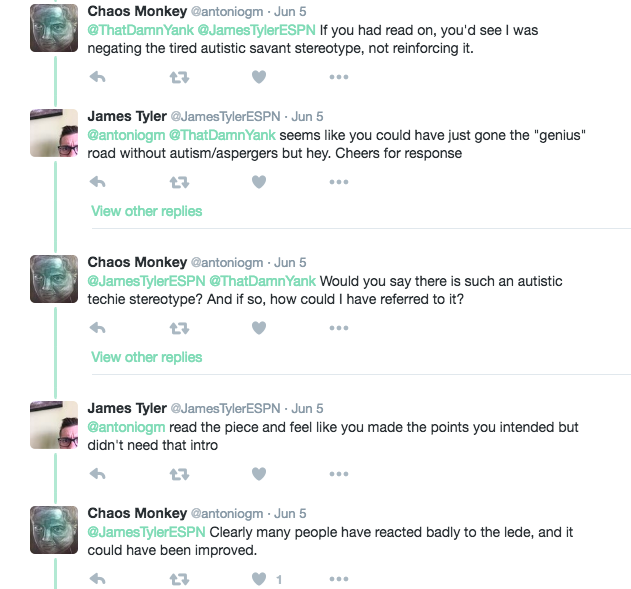 Conceding in the end, that yes, the article's opening could have been better.
Image via Wikimedia Commons/Alessio Jacona