What I Want My Son With Autism to Know When He Looks at This Photo
---
This is a photo of my youngest son and me while waiting in the van for Daddy to come out of the grocery store. My buddy didn't want to go in, so he sat with Mommy. He did get anxious while we waited, so I distracted him by taking his picture. "Cheeeeese!" he said, while sporting his best grin.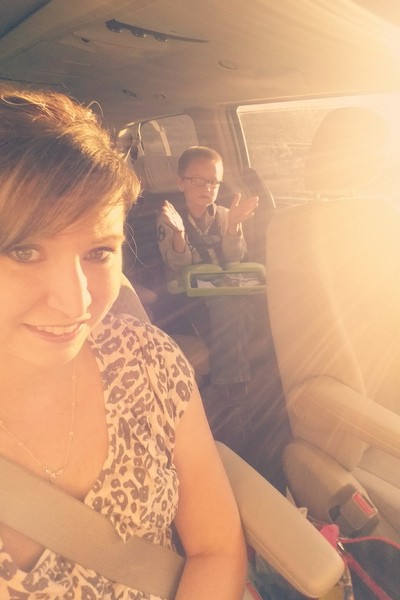 Of course, I didn't like how I looked in any of the photos we took. My hair has been falling out at breakneck speed lately. I also noticed his hair was getting a little long. I'm glad his medication hasn't been doing to his hair what my medication has done to mine. He was overdue for his haircut, but I thought I'd let him go a little longer before we'd give him one. Autism and haircuts don't mix well at our house.
That's how life is for us. Things like this photo that seem simple and uneventful usually have a story behind it. What you don't see in this picture is how swollen and painful my knees were that day and how bad my shoulder hurt. My rheumatoid arthritis (RA) was causing me a lot of grief. The only other time I had left the house that week was to pick up my oldest son from school. By this time, I was anxious to find any reason to leave the house.
Leaving the house wasn't what it used to be. While we were waiting in the van, I wondered if I should apply for a handicap placard. You see, my cutie in this photo had a rough summer. He was weaker than usual because his seizures had been increasing. He didn't want to go in because he had a few seizures that day, and he was weak and a bit tired. I wondered if I should get a placard for the times he may want to go in and a long walk to the store would be too hard for him.
What about me? Some days I can barely make it down my hall to the bathroom. I had a vision of someone yelling at me for parking in a handicap spot as I unloaded my kids since we may not give a visual confirmation of our need for a placard. I thought it was best to wait.
My son wasn't interested in much that evening, including his iPad. When we're waiting for a long stretch I usually play a movie for the kids. We got our van specifically for the DVD players. Unfortunately, they stopped working. Not great news for me. I pulled out the next best thing to the DVD players: my phone. Seeing himself on my phone is always grand for him. We took our picture together. We are two peas in a pod, he and I….
I took a long look at the summer sun. It will be sad to see it go. I wished we both felt good enough to enjoy it. We missed a lot, but we do have this picture together.
There's usually a story behind our photos, as there are stories behind many things in our life that no one knows about. I'm smiling, but I'm always thinking about our health, money, the future and, sometimes, regret. I try not to be negative, but it's hard not to be on occasion. But my son can always find a way to remind me how to be happy despite the flurry of thoughts that can often bring my spirits down. It's as simple for him as taking a photo with his very best smile. Although it won't be that easy for me, I am certainly going to give it a try.
Someday we may look back at this photograph among others, and I want him to know there was a genuine smile on my face, and he was one of the reasons why. I am blessed for every last moment, even uneventful ones like this time when he and I can take a moment, forget our troubles and smile. "Cheeeese!!!"
Follow this journey on Crossroad Trippers.
Originally published: October 13, 2015