When a Stranger Showed Me What I'd Missed About My Daughter
---
When my daughter was a toddler and should have been walking, making eye contact, and babbling, I got looks from people. Their eyes said they felt sorry for me. They had pity for her.
I hated it.
I didn't feel sorry for us. I felt many things, but not pity or shame. I wavered between elation and depression, joy and sadness.
No one saw all the hard work I put in at home with her. Our tribulations weren't witnessed. Our small victories went unseen.
On the flip side of that, I remember there was this time in a public restroom when Emma was younger. She was dancing and laughing, flapping her hands about and twirling. Her soft wavy red hair was flying about. I was tired and weary that day — I must have had a frown on my face.
An older woman came out of one of the stalls and she was absolutely beaming at Emma. She said something to me like, "Momma, smile. Look at her. She's so happy."
That woman was right. I think I expected her to give us a dirty look and give a grumpy "hmph!" That seemed to be how most of our experiences went.
I returned the smile and that day I learned something — I needed to show others how joyful and appreciative of life we are. I needed to show by example that my daughter is a treasure. Her spirit is amazing.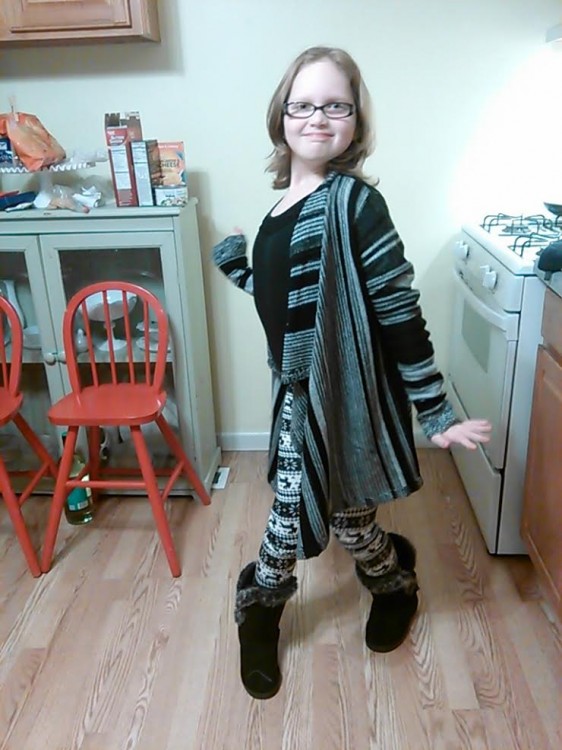 I asked some family and friends recently what is the first word that comes to mind when they think of my daughter. Some answers were, "Beautiful soul," "Kind," "Dancing" and "Fashionista."
"Always says what's on her mind," "Takes the time to stop and talk to me" and "Notices every detail of my outfit/purse/shoes" speaks volumes, don't you think?
The following is a quote from my collection of thoughts about my kids.
"Sometimes the best way to be reminded to not take life too seriously is just to take a cue from Emma. Dance. Everywhere you go. There's always music playing in her head. If you listen closely, you can hear it too."
The Mighty is asking its readers the following: Describe a time you saw your disability, illness and/or disease through the eyes of someone else. If you'd like to participate, please send a blog post to community@themighty.com. Please include a photo for the piece, a photo of yourself and 1-2 sentence bio.
Want to end the stigma around disability? Like us on Facebook.
And sign up for what we hope will be your favorite thing to read at night.
Originally published: May 26, 2015