When a Woman Left Me a Note About My Son in the Doctors' Waiting Room
---
I've learned a lot having a child with special needs. I have learned a lot about his many diagnoses — Phelan-McDermid syndrome and autism among them. I have also learned a lot about myself and other people. Sometimes my son's presence brings out the good in other people and, unfortunately, sometimes the bad.
As he was growing up, we heard it all: "Why does he walk funny?" and "You need to teach him some manners." But two negative moments in particular stick in my mind.
When he was young, he had to wear glasses since he was diagnosed with myopia along with optic nerve hypoplasia. He also couldn't sit up until he was 18 months old because his hypotonia or low muscle tone, so he would lie in the baby carriage while we made our way out and about.
Most of our outings in his first few months were to doctors or specialists to get tests, scans and bloodwork – you name it, he endured it! So it was nice for us to get out to the shops one day. I was looking at some books and turned back to the baby carriage to find a lady, pointing and laughing at my son and his glasses and gesturing her husband to come and look. Yes a grown woman did this! As I was only just starting my journey of motherhood — with the extra bonus of having a very special little boy with a disability — I was mortified. I rushed back to the car and came home in tears.
On another trip out, another grown woman walked past us, looked at my son in his glasses and remarked to her companion, "Did you see him? How ridiculous!" Again, she was referring to his glasses.
As we've gone along our journey together, I've learned to shrug it off. Of course, this is easier to do on some days than others. Maybe some people need to keep this old adage in mind: "If you can't say something nice, don't say anything at all."
On the flip side, we also come across some lovely people in our travels.
We were waiting in the doctors' waiting room at the end of the school holidays. My son can sometimes get in other people's space, and I was in no mood to deal with people today. To minimize this, we went to the children's area. He could also get a good view of the parking lot from there, since he loved watching cars and waving at people as they were coming and going.
He's nonverbal so he makes his happy noises when he's excited. We were in the play area by ourselves. There were big windows between us and the other patients, so he didn't seem to be bothering anyone. We got a few quizzical looks and a few smiles.
When we finally got in to see the doctor, my son was as uncooperative as ever. I don't blame him after years of being poked and prodded by every sort of medical specialist you can imagine!
Then we came out and to the reception desk to sort out our payment. The receptionist said, "Another patient gave me this to give to you. I'm not sure what it is." I was a little worried as she handed me a folded note.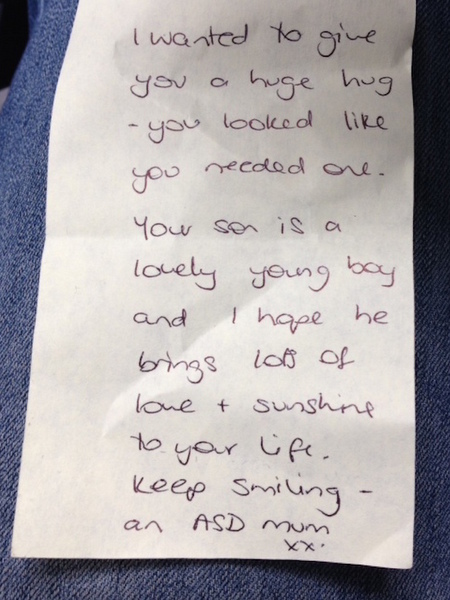 The note read:
I wanted to give you a huge hug – you looked like you needed one.
Your son is a lovely young boy and I hope he brings lots of love + sunshine to your life.
Keep smiling –
an ASD Mum xx
"Is it OK?" asked the receptionist. "Yes, it is a lovely note," I replied. I paid and went out to my car. I sat for a moment and read the note again with tears running down my face. It was the little lift I needed. And yes, he does bring lots of love and sunshine to my life! It was a beautiful gesture from someone who has been there.
Thank you "ASD Mum" for taking a little time out from your day and doing this small gesture to make another mom feel better.
Special needs moms really do have each others backs!
Originally published: August 4, 2015