When a YMCA Employee Became a Superhero for My Son With Autism
---
Superheroes do exist.
I'd like you to meet one named Chuck.
Chuck works at our local YMCA and has bonded with my son, Griffin, who has autism, over video games, Pokémon and all kinds of topics. He's even done math with Griffin, which is amazing to me because math is not my thing.
A few weeks ago, Griffin and Chuck had a tentative date to hang out for a few minutes. But when Chuck was working and unable to show up, Griffin had a huge meltdown. Although Griffin continues to work hard, he still has a hard time being flexible and expressing his emotions appropriately. This meltdown was a combination of yelling, crying, kicking on the wall and cursing. It all happened right outside the childcare center.
The staff at the YMCA are all so kind to Griffin, and each one of them has become a superhero in my eyes. But this was the first time they witnessed one of his meltdowns, which usually happen in the privacy of our own home.
As I tried to get him outside, I said, loud enough for everyone to hear: "I know the cursing helps you express your feelings, but other people might not understand. Let's get to a safe place." I hoped explaining it this way would give people a better understanding of what was going on.
When we got outside, I just held him. He was so upset and kept saying, "I want Chuck! I want to talk to him about video games! I want to talk to him! I want to talk to him!" I tried hard not to show outwardly what I felt inside. I didn't know how I even got him outside, and I sure as hell didn't know how I was going to get him back home. It's typically a lovely 15-minute walk, but in this moment, I just didn't know what I was going to do. 
And then, just like Batman or Superman, Chuck came outside in the nick of time. He went over to Griffin and hugged him, and then sat with him and talked to him. I started to cry because I was so grateful. He sat with Griffin for a generous amount of time and told Griffin he wasn't having a great day either. He said talking to Griffon helped him, too. I thought, My God, I could never properly express how grateful I was to him.
As we were leaving, Chuck hugged Griffin and told him, "You're a good kid." And he really is a good kid. I just wish I could help him more in those moments. God, I wish I could be a superhero.
When I talked to Griffin later, he said, "Mom, I'm sorry I embarrassed you."
"You didn't embarrass me," I told him. "Maybe just 1 percent, but 99 percent of what I was feeling was heartbroken. I couldn't help you, no matter what I did, and I love you so much."
Chuck reminded me that we all have the power to be a superhero. You don't need the ability to fly or leap tall buildings in a single bound. To be a superhero, all you need are kind words, a smile and the willingness to see a situation in a different way, led by love and not judgment.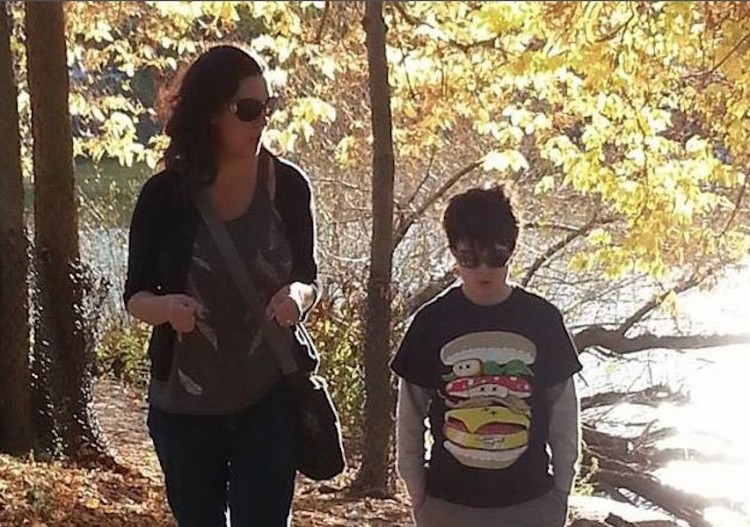 A version of this post originally appeared on What Will This Day Bring. 
The Mighty is asking its readers the following: Describe the moment a stranger — or someone you don't know very well — showed you or a loved one incredible love. If you'd like to participate, please send a blog post to community@themighty.com. Please include a photo for the piece, a photo of yourself and 1-2 sentence bio.
Want to help celebrate the human spirit? Like us on Facebook.
And sign up for what we hope will be your favorite thing to read at night.
Originally published: May 26, 2015