When I Saw the Power of the Bond Between My Son With Autism and His Dad
---
Here's to the autism dads!
There is a great community of autism moms out there, but today I want to focus on the less-celebrated, but no-less-important, autism dad.
Our fantastic autism dad is named Sean. I call him "Dreamboat." Yes, even to his face.
When our 15-year-old son was first diagnosed with autism at age 2, we were hit with a whirlwind of new terms, therapies and paperwork. We were both devastated by the diagnosis, but we jumped in head first regardless.
While my focus was on getting our son from therapy to therapy, Sean took over the paperwork. He knew I couldn't handle both, and he also knew that for my own well-being, I needed to be with the boys as much as I could. So he took on the less desirable task of completing all the necessary paperwork so that our son, TJ, could take advantage of every service available to us. No questions asked.
We were a team from the word go.
Later, as we sat nervously in the audience waiting to see if our son would sing on stage with his second grade class or not, it was the calm of the autism dad that made everything OK. He reminded me that if I showed TJ I was nervous, he would feed off of that and become nervous himself. He kept me calm.
When Sean can see that I am tired or overwhelmed, he sends me off for a pedicure or an afternoon at a spa. He knows how exhausting it is being an autism mom, and he wants me to feel cared for and pampered. We couldn't do it a lot with our crazy schedule, but one way or another, Sean would find a way to allow me to recharge my battery. Even if it was a simple card to let me know how much he appreciated my hard work, he was always thinking of me.
Sean is just the best father to our boys. Every now and then, Sean would declare "Boys' night!" and the three of them would head out for burgers or pizza, and maybe a movie or some bowling. Sean wants them both to know that no matter how busy he gets, or how much he has to travel for work, he will always make time for them and they can always count on him.
While watching TJ graduate from eighth grade last year, as we all stood to welcome the class in their procession, Sean didn't try to hide the tear in his eye as he applauded TJ walking by us.
With a little glance and sideways grin, TJ saw his father. And that moment between them alone, everything else aside, sums up the power of the relationship between the two of them.
It's different than my relationship with TJ, but it is equally (and many times, more so) important. As a growing boy, knowing that TJ has Sean to lean on and learn from makes my heart feel peaceful and full.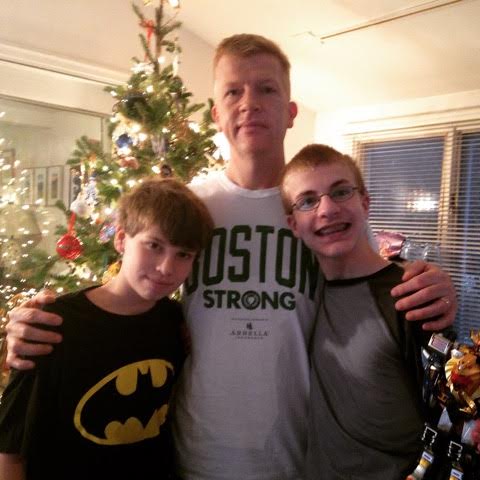 For these reasons, and for so many more, I celebrate you, Sean, and all the autism dads out there who give so much of themselves to their kids every day.
Happy Father's Day, my dear Dreamboat.
The Mighty is asking the following: What's a dating story related to your disability and/or disease that made you laugh, roll your eyes, cry or was otherwise unforgettable? If you'd like to participate, please send a blog post to community@themighty.com. Please include a photo for the piece, a photo of yourself and 1-2 sentence bio. Check out our "Share Your Story" page for more about our submission guidelines.
Want to end the stigma around disability? Like us on Facebook.
And sign up for what we hope will be your favorite thing to read at night.
Originally published: June 22, 2015