Dear Target, Please Do This for Adults With Special Needs and Their Families
---
I often bring my adult son into the women's restrooms with me. The most alarming reaction I ever experienced was at Target when a group of red-shirted employees were waiting outside the bathroom door for us when we emerged. It was clear a store alert was issued. I felt like a criminal.
If it sounds like I have an attitude about it, that's because it's hard not to. You see, that day I spent 15 minutes trying to find someone to get me the key to the "family" bathroom so I could bring my adult son who has autism with me. I was told the pharmacy had the key. The pharmacy didn't have the key. In fact, no one had the key. Well you know what they say, when you've got to go, you've got to go. I had no choice but to bring my son into the women's restroom. So I did what I often have to do. I walked into the bathroom hoping it was unoccupied. 
On a good day, the coast is clear and we make it out with no one else the wiser and with our dignity intact. However, restrooms are usually occupied. In those cases, I politely explain my situation and ask people for their understanding. Most often, right after their initial shock, they are understanding.
On this particular day in Target, the women's restroom was occupied by one woman. I immediately explained my situation and politely asked for her understanding. Her response was, "That's fine, dear." But somewhere between "that's fine, dear" and our exit from the restroom, Target assembled a team to address the problem. I thought for sure we were going to be Target-arrested. It was humiliating and the reason I have penned this letter. The red-shirted group learned that my son required my accompaniment. Let's just say I wasn't in the mood for shopping after that and left the store. I turned back around to take this photo because I wanted to share my story with you.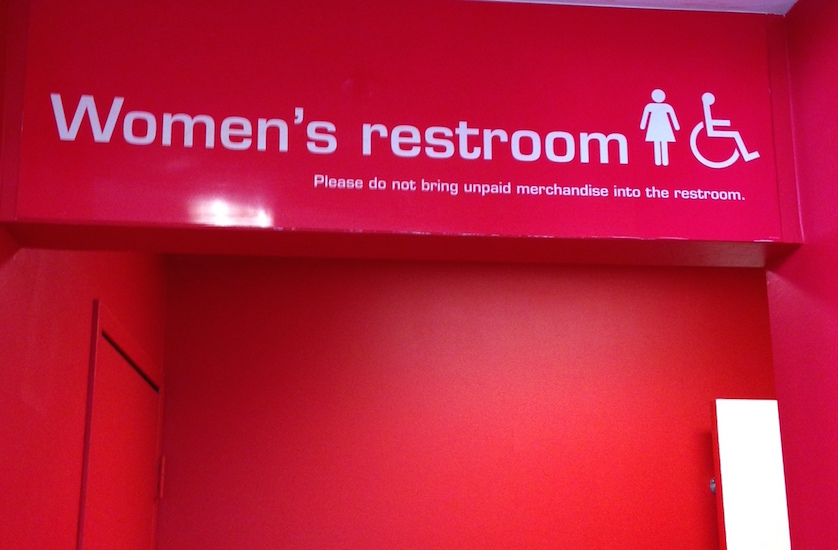 Listen, I get it. It goes against all norms for an adult man to go into a women's restroom. I agree, it's a problem, especially for my son's dignity. I'm writing this letter because it doesn't have to be if leaders like you posted signs that loosened up the limits on the women's and men's restrooms. Not a sign allowing a free for all, a sign that allowed for special circumstances.
I am unapologetic over the fact that I simply will not risk that someone could happen along and lure my son away while he waits for me outside the restroom door where I can't see and hear him. Losing him once was enough for me; I fear my heart can't take that experience again. I will not take the risk that he may wander off. My son has autism. He is nonverbal. He has many great skills, but he is also vulnerable, especially to someone with ill intentions. So into the bathroom he comes with me. It's a simple matter of safety, and that's that! 
Now let me also say that this safety challenge is a top priority in my son's Transition to Adulthood school program. His school team is practicing diligently on a system I designed out of necessity so I can see and hear that he doesn't wander off for whatever reason. He's up to five minutes of waiting outside of a restroom, and we're almost ready to test it outside the safety of the school. 
But in the meantime, I know I am not the only woman in the world who is out and about with an adult son who requires one-on-one attention. I can't be the only person who feels this way when I have to use the traditional restroom. I know that's what family restrooms are for. But family restrooms are hard to come by, and when there is one, they are likely under lock and key.
So why am I targeting you, Target? Besides the fact that you're one of the largest retail operations, I really like your store and I want to feel good about shopping there again. I am customer reaching out to you to with a solution. Instead of relegating people like me, and others, to the back-of-the-store family bathroom under lock and key, place a sign that allows some reasonable wiggle room for people like me and others with special circumstances into the restrooms. If you lead, I believe others will follow. I promise that you will win big points with me and many others. You hold the key.
The Mighty is asking the following: Write a letter to anyone you wish had a better understanding of your experience with disability, disease or mental illness. If you'd like to participate, please send a blog post to community@themighty.com. Please include a photo for the piece, a photo of yourself and 1-2 sentence bio. Check out our Submit a Story page for more about our submission guidelines.
Originally published: February 6, 2016