When My Son With Autism Wandered Into the Middle of the Street
---
Two minutes. That's all the time it took. We were distracted for two minutes and he was gone.
Our favorite babysitter, Maura, the daughter of an old family friend, was just home from college and my mom and I were welcoming her back. We were telling her how excited we were to have her home for the summer to help out with watching my son, Max, and my daughter, Stevie. She had just walked in the door. We were hugging and talking for two minutes. We turned around and he was gone.
It was mid-May and finally warming up in northern Ohio after a long, cold winter. All Cleveland kids were busting at the seams to get outside to play. We had walked the bike path to the park a few times already this season, and apparently, Max decided to make the trek all by himself. But instead of staying on the path, he was walking down the middle of the street to the park. It's a four-lane divided road and pretty much the main drag in our hometown. He was 7 at the time.
We've all heard stories like this in the autism community. Especially in the summer and always surrounding holidays like the Fourth of July.  This week alone, I've read eight accounts of children on the spectrum who are currently missing. It's a weekend, a holiday, a different schedule, family is visiting or there's a barbecue going on in your backyard. Whatever the reason is, we get distracted. Parents don't have eyes in the back of our head, and kids like Max can be slippery. He doesn't spontaneously talk very much. He didn't say a word and somehow slipped outside when we weren't looking.
And I'm sorry to say, but this has happened more than once. There have been many "almost" incidents when Max escaped from me and went outside alone. Once I was running around my yard like a lunatic shouting his name with my phone in hand ready to call the local police. He was sitting in the car. It's a good thing I have understanding neighbors.
We've instituted many, many safety measures to secure our home and Max since these occurrences. Safety locks for the doors, window alarms, seatbelt buckle protectors, because, yes, he's even tried to flee from inside the car — while I was driving it! 
Thanks to my friend, Brittni, who works as an intervention specialist and a swim instructor, Max learned to swim at a young age. Since then I have not feared, as so many families do, that Max could wander and drown in a body of water. I do, however, fear he will again quietly slip out a door and make his way down a street. Max seems to have no fear of traffic. We're working with him on crossing the street and waiting for cars, but he has yet to grasp the concept.
Through a wonderful camp that teaches kids with disabilities to ride two-wheel bikes, Max learned to ride this summer. It has given him confidence and a feeling of independence. As an almost-10-year-old, his desire for independence continues to grow, as it should with every boy his age. However, I fear as he gets older and wants even more independence, these situations may continue to arise.
When he was 7 and tried to take that walk to the park, we were lucky. My friend, William, just happened to be driving down the street on his way home from work and saw Max taking his stroll. He pulled over and scooped him up in his car and brought him back to me. We're lucky William saw him and not some stranger. We're lucky the cars that passed him didn't hit him. We're lucky he didn't bolt into an oncoming car.
When she was the first lady, Hillary Rodham Clinton wrote a book called "It Takes a Village." The title was based on this African proverb: "It takes a village to raise a child." Autism families can attest to that indeed. My helpers are pretty darn solid, and I live in a village of tremendous neighbors with a fellow autism mommy just two doors down from me.
So far we've been lucky, but I don't want our luck to run out someday. I've been researching the plethora of new personal tracking devices that have hit the market recently to figure out the best one to keep Max safe and to prevent a wandering incident. The process is overwhelming as the choices seem endless.
I've heard good things about SafetyNet by Lojack and Care Trak, which networks with your local police, but I was hoping to keep it simple. I want something that alerts me or his caregiver if he goes beyond a certain boundary: the yard, the playground, 500 feet away. A few other moms recommended AngelSense, PocketFinder and TrackR, which all track through a GPS app on a smart phone. I'd love to hear what The Mighty readers out there are using and hear how it's helping to safeguard their family members.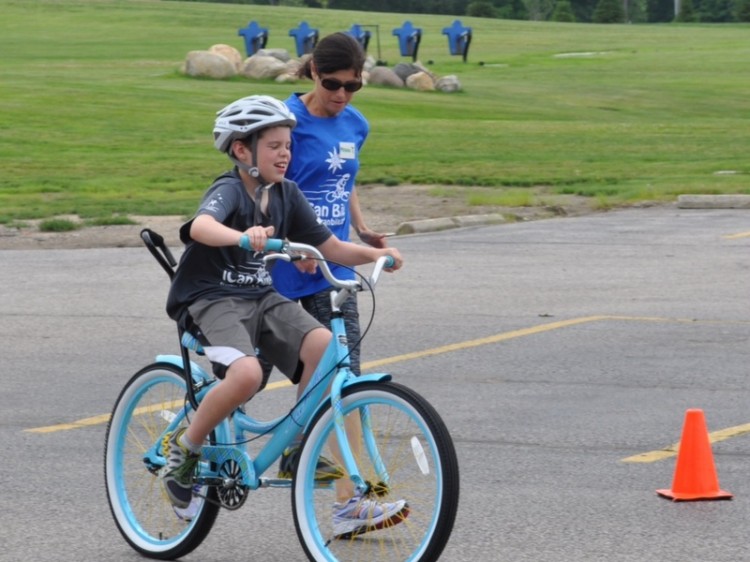 The Mighty is asking the following: Tell a story about a time someone helped you and/or your child when you needed it most. If you'd like to participate, please send a blog post to community@themighty.com. Please include a photo for the piece, a photo of yourself and 1-2 sentence bio. Check out our "Share Your Story" page for more about our submission guidelines.
Originally published: July 23, 2015