To the Helpers Who Walk My Daughter Down the Hallway
---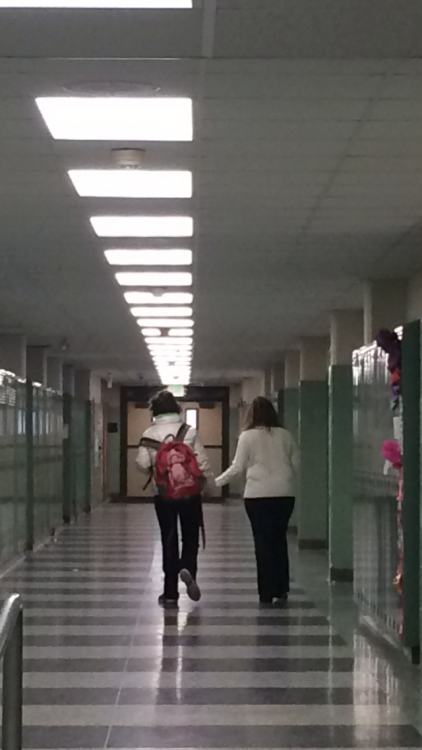 I dropped my daughter off a little late to school today. Her aide, Lisa, met us at the main office and Erin immediately enveloped her in one of her signature bear hugs. Lisa hugged her back and told her their class was in the library, knowing that would make Erin smile. It did. As I watched them walk away hand-in-hand down the hallway I paused to take a picture. It was a moment I wanted to keep and carry around with me all day.
Driving home I thought of a story a friend recently shared. When her daughters were younger and they were upset about something bad that had happened in the city where they live or some place they heard of in the news, she would borrow a lesson from Fred Rogers and remind them that though frightening things happen it's important to "look for the helpers. You will always find people who are helping."
As a parent of a special needs child, the unexpected and the scary has happened, and I am always on the lookout for the helpers. I cannot get Erin, who has a form of autism, through her days without them. I need someone to walk her down the hallway and to her classroom safely, and when that someone takes the time to hold her hand and make her smile, my gratitude knows no bounds. This leave taking – the act of entrusting your child to the care of another is a rite of passage for all parents, but for those with children who cannot communicate the details of their days, it is a leap of unimaginable faith.
The Mighty recently asked readers to describe in one word what it's like to be the parent of a special needs child. My word is "appreciative." You appreciate the smallest things your child says or does – but you also appreciate beyond measure the people who come into your life to help. Over the course of Erin's 13 years I've relied on a wide safety net of family, friends, doctors, specialists, teachers, aides as well as a long trail of anonymous men and women whose smile or passing kindness have softened the edges of our often rough and sometimes scary days.
A few years ago when Erin was 7, I lost her on Manhattan's Upper West Side. My sister and I were shopping for her newborn and each thought the other had Erin. When we realized this was not the case, my heart stopped as I anticipated the sound of a car crash, had she wandered on to the street outside. As employees blocked the exits and conducted a frantic search, a woman in her mid-sixties suddenly appeared, asking if anyone had lost a little girl. She and three friends who were visiting the city had found Erin hesitating at the top of an escalator in a store next door. Erin, who remains fascinated by the movement of escalators but has trouble timing her step to board, was clutching a bright green t-shirt with a picture of Curious George. A tag from Gap Kids dangled from one of the sleeves. Finding Erin safely encircled by this group of women, I think I said thank you, though I may have said nothing at all.  They seemed to think nothing of it – good timing, glad they could help, happy to move along their way.
It took me weeks to recover.
I still get weak thinking about it – both the feeling of losing her – and the appreciation I felt for these complete strangers – these helpers who found her and took the time to find me.
They are everywhere.
Sometimes we know their names. And sometimes they float in and out of your day, your life so briefly, you barely get a chance to acknowledge them, let alone to stop and take a picture.
In either case their imprint and my gratitude will always be there.
For all of February, The Mighty is asking its readers the following: Describe the moment a stranger — or someone you don't know very well — showed you or a loved one incredible love. No gesture is too small! If you'd like to participate, please send a blog post to community@themighty.com. Please  include a photo for the piece, a photo of yourself and 1-2 sentence bio.
Want to end the stigma around disability? Like us on Facebook.
And sign up for what we hope will be your favorite thing to read at night.