Why Did People.com Depict Autism With This Photo?
---
On Tuesday, June 2, Sherri Brown — mom to a boy with autism, Mighty blogger and disability advocate — sent The Mighty the screenshot below of a RMHealthy.com article that appeared on People.com. The article, "Learn The 10 Common Signs of Autism," included a photograph of a seemingly violent, angry young boy.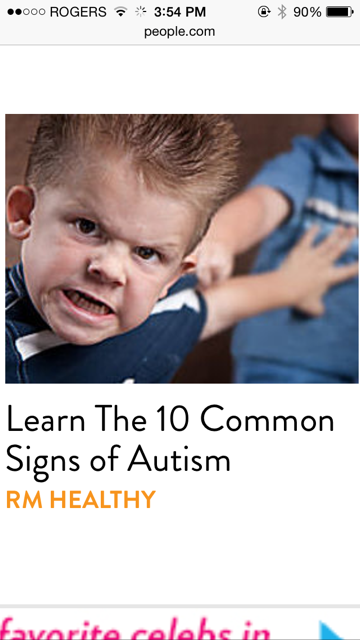 Brown, owner of Project Bearings — a blog and organization that "provides a place to discuss advocacy and resource navigation with respect to autism spectrum disorder and developmental disabilities" — originally tweeted the screenshot, questioning why such a photo was chosen to represent people with autism.
Brown told The Mighty she finds the photo despairing.
"My first instinct when I saw this picture was that my child and family already face a certain amount of societal misunderstanding and/or discrimination, and the last thing parents of children with autism need is to compound this with a view of our children as angry or threatening," Brown explained in an email. "My child is smiley and kind, and he does not deserve any additional stigma that a photo like that creates. He faces enough as it is."
Others on Twitter echoed her sentiment, describing the photo as "deeply offensive," "cruel" and "insensitive."
The Mighty reached out to both People.com and RMHealthy.com for a comment but did not receive a reply.
Brown said she'd appreciate an apology from both outlets and suggested they feature a new post — one that includes a montage of children with autism. "Real children with autism," Brown clarified, "and their beautiful, smiling, kind faces."
Do you have a personal photo you feel would be more appropriate to represent this article ? We'd love to see them. Post your photos in the comment section below or email us at community@themighty.com.
Want to end the stigma around disability? Like us on Facebook.
And sign up for what we hope will be your favorite thing to read at night.
Originally published: June 3, 2015