Why I'm a Proud Helicopter Parent of My Sons With Autism
---
I'm the mom you see at the park, following closely behind my child. Sometimes I play with him and follow his lead. Like really play. I stomp in the puddles, walk up the slide and swing so high that terror dances with exhilaration. He reminds me how good it feels to do things that we adults call pointless. Sometimes I am simply a shadow, making sure he stays safe and is well behaved. Either way, I'm always close behind.
I have heard it referred to as a helicopter parenting. "It means being involved in a child's life in a way that is overcontrolling, overprotecting, and overperfecting, in a way that is in excess of responsible parenting," Dr. Ann Dunnewold, a licensed psychologist, told Parents.com. So you see, it's supposed to be a bad thing, but as far as parenting goes, it's one that is necessary for me.
I don't go to the park to relax. In fact, I frequently have to talk myself into even going, and I have a pep talk with myself the whole drive there. You can do this. You will not let your fear compromise their childhood joys. And I often make a pact with myself — 30 minutes. No matter what you can handle 30 minutes.
I don't mind if you sit on the sidelines. This parenting thing is tough, and if you have a minute or 20 to sit and relax, by golly, go for it. Heck, I don't even care if you paint your nails while eating a turkey sandwich. I don't mind if you're like me, following close behind. Unless it's dangerous, how you parent is absolutely none of my business. When it comes to parenting, there is no one size fits all. There are often two extremes and a million grays in between.
I've seen a surge of "Dear Helicopter Moms, You're Ruining It for Everyone Else" articles. I feel sad for anyone who would witness my behavior and interactions with my boys and simply see a helicopter mom. They're missing out on all the beauty in our gray.
You see, both of my boys have autism. A walk in the park is anything but. I often leave the park with my ponytail undone. I'm speckled with earth and sweat. On rare occasions, I leave with tears in my eyes.
My youngest has trouble following simple directions. Stop. Come here. Wait.
We work on it daily in therapy, but it is best reinforced through real-life experiences. He still tries to run by himself into dangerous parking lots and streets. He would hop into a stranger's car without a glance back at me. It would be safer and easier at home, but that wouldn't be fair to him at all.
My oldest has a hard time sharing and waiting his turn. He has problems with proprioreception or the ability to "feel" his body and what it's doing. I have to make sure he doesn't knock over your little one on his way to the slide. He frequently runs into people. He also thinks as long as he says, "My turn," he can have something instantly. The swing, your ball, your chips.
I love my precious two, and parenting them is an honor. I just wanted to share some gray with you today, because it's easier to love more and judge less when we know someone's story. And everyone has a story that helped shape us into the person we are and the choices we make today. My boys taught me that if all we see is the cover, we're missing out on the best parts of what makes up the book. I keep that in mind when I feel that pang of unfamiliarity when watching people interact in the world.
The way my children view the world isn't wrong, but it is different. And because they view the world differently, so do I. And that is a gift. It's given me a better perspective and given us a beautiful story.
A Proud Helicopter Parent,
Chrissy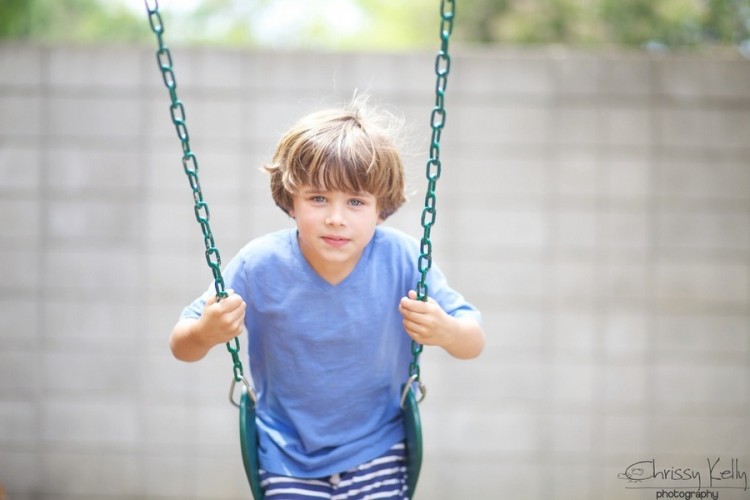 Follow this journey on Life With Greyson.
Originally published: October 5, 2015