Why It's OK I Don't Look Happy in This Graduation Photo
---
"Why aren't you smiling?" "Aren't you excited?" "Why aren't you happy?"
For years, questions like this were directed at me since my facial expressions weren't matching up with the emotional moments everyone else was experiencing.
I'm now aware it can be a characteristic of being on the autism spectrum, so I've developed a standard response to such questions: "This is my happy face."
For people on the autism spectrum, this is described as a "flat affect," which simply means their facial expressions often don't mirror the social environment. So I often appear to have no reaction to emotionally charged situations. If you know a person with autism, then you probably understand how that's possible because it's also difficult for people with autism to read facial expressions on other people.
The world I live in is completely foreign to the world most neurotypical people live in. Take nonverbal communication for example. In the world of nonverbal communication, you can assume someone is "saying" something without having a conversation with him or her. Unfortunately, that's not how my world works. Neurotypical minds can learn something about communication from high-functioning people on the autism spectrum. Verbal communication is extremely important.
A few weeks ago, I graduated with my doctorate degree. My family and I traveled to Virginia for the graduation ceremony. Like most graduations, there are pictures to be taken. I admit, I'm not one for taking pictures, but it wasn't about me. It was about celebrating the occasion. So I took pictures. 
I had already finished my dissertation, successfully defended it and even received it in the mail a few weeks before graduation. I would've been perfectly fine with not walking across a stage in front of thousands of people. The graduation was for my wife who was so happy and my children who were excited to be there. The graduation was also for my congregation who supported me and prayed for me.
On graduation day, more than 17,000 degrees were awarded. I had to file into an enormous football stadium filled with about 30,000 people. Once the commencement began, it wasn't long but it was loud. The sounds from the stage and from the thousands of voices screaming and cheering were overwhelming for someone like me who deals with sensory overload. But I toughed it out, because I wanted my children to have the experience. I wanted to be happy for those who were happy for me.
So when I took pictures of the experience, my face didn't seem to match the excitement of the moment. But you have to realize that my being there at all was a nod to my family who wanted to experience the excitement of the ceremony. It doesn't look like I'm happy, but that's OK.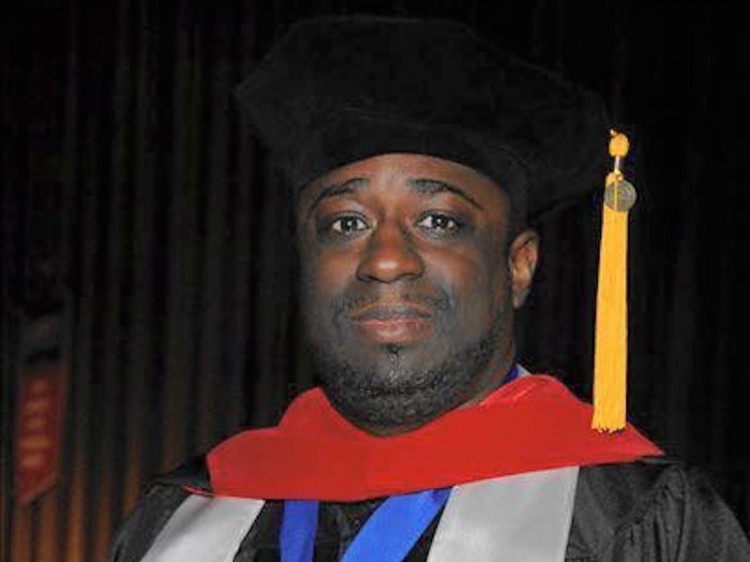 The Mighty is asking the following: What's one commonly held opinion within the community surrounding your disability and/or disease (or a loved one's) that doesn't resonate with you? If you'd like to participate, please send a blog post to community@themighty.com. Please include a photo for the piece, a photo of yourself and 1-2 sentence bio. Check out our "Share Your Story" page for more about our submission guidelines.
Want to end the stigma around disability? Like us on Facebook.
And sign up for what we hope will be your favorite thing to read at night.
Originally published: July 2, 2015