To the Friend I Lost Because of My Mental Illness
---
To the friend I lost because of my mental illness,
I don't know whether or not to be sorry. I know deep down that it's not my fault, but it sure feels like it. Because it's my brain.
• What is Bipolar disorder?
What did I learn from you? It was a tough lesson. There are people out there who think it's trendy to support people with mental illness. I saw your smiling Instagram pictures at awareness walks and tweets of hotline numbers when a celebrity's mental illness is in the news. And talking about it is great. But all of that support on the outside tricked me into believing that you really cared about me on the inside.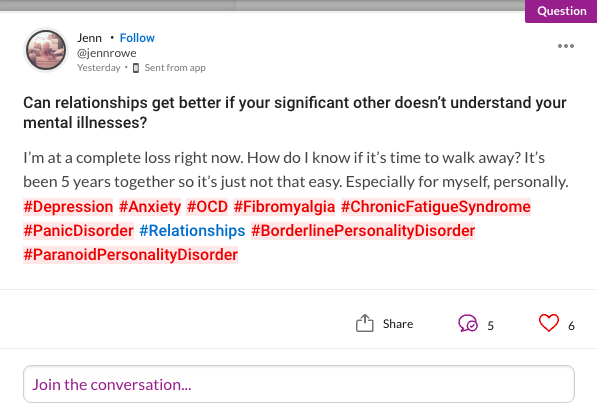 You taught me some people run when things get messy. I understand how it can be scary when people like me cut or experience mania or dissociate or panic. Maybe you were afraid I was dangerous, or that I'd pull you into the dark. Maybe you thought you'd "catch" what I had. I don't know. People are allowed to think whatever they want, and I understand I can't control that, but I wish you knew those things were never true.
I don't want you to come back to me.
Looking back, I see the flashing lights, the red flags, the danger signs. I wish I had seen them then. I wish I hadn't wasted so much time. You made me feel unlovable, made me feel like I'm "too much." I'm afraid to ever open up to anyone again. How could I, when the last time I did ended with me trying to convince my remaining friends I was never trying to be "dramatic" or "manipulative"? I was never trying to hurt you. I was trying not to hurt myself.
I hope you learned from our friendship, too. I hope you never change the way you look at someone because of an illness ever again, and I hope you never leave them for that. I hope you remember the good times we had. I hope you smile when you think back to them.
And I hope you miss me.
Getty image via MangoStar_Studio
Originally published: January 31, 2019