5 Ways My Cat Gets Me Through Bipolar Depression
---
I've struggled with bipolar disorder for most of my life, and have a particularly hard time with the lows that come with it. Bipolar depression strips me of all joy, enjoyment and energy. I experience extreme sadness, excessive worry, significant loss of interest in things I once enjoyed and intense feelings of worthlessness. It's hard to pull myself out of the deep, dark well that is my bipolar depression, and I've found it's better to have a rope. My rope, my life jacket, my savior during a depressive episode is my cat. He helps me get through bipolar depression in five ways no human can.
• What is Bipolar disorder?
1. He loves me unconditionally.
I've found people can love one another when it's convenient. And when love or compassion isn't convenient for someone, it may be when I need it the most. My cat loves me unrequitedly, makes no demands and expects nothing in return.
2. He provides positive, physical touch.
Petting my sweet boy's warm, fluffy fur gives me a great feeling of comfort. Positive physical touch releases endorphins in the brain that immediately calms me down and comforts me. Nothing is better than my cat climbing onto my lap when I'm depressed, purring away my sadness.
3. He promotes responsibility and routine.
During a depressive episode, I get completely out of routine and feel utterly out of control. I don't go through the motions of the day like I should, and usually stay in bed because I feel like that's all I can manage. My cat reminds me he needs to be regularly fed, groomed and played with. Taking care of him gives me a purpose and makes me feel needed, and that makes me feel important; like I matter.
4. He is a distraction.
Bipolar depression has a way of consuming my mind and preventing any positive thoughts or feelings from being had. My cat and his playful, loving personality distracts me from my negative thoughts and excessive worry. Watching him play always makes me laugh and forget the negativity that had just filled my mind.
5. He offers unlimited cuddles.
Snuggling up with my cat always makes me feel better. I feel loved, wanted and cared for, even when depression makes me believe I don't deserve any of those things. When I'm stuck in bed during an episode, my cat is right by my side, purring me through it. His comfort is infinite, and much needed when I'm down.
To others, he is just a pet. But to me, my cat is a form of therapy. He helps me through my bipolar depression in ways humans can't, or won't. He needs me, and I need him, and we have the type of relationship all the time that humans only offer some of the time. Bipolar depression is hard to get through, but I can get through it because my cat is always there. He will never judge me, always accept me and never leave me. He offers unrequited friendship and everlasting love, and that's what gets me through my bipolar depression episodes.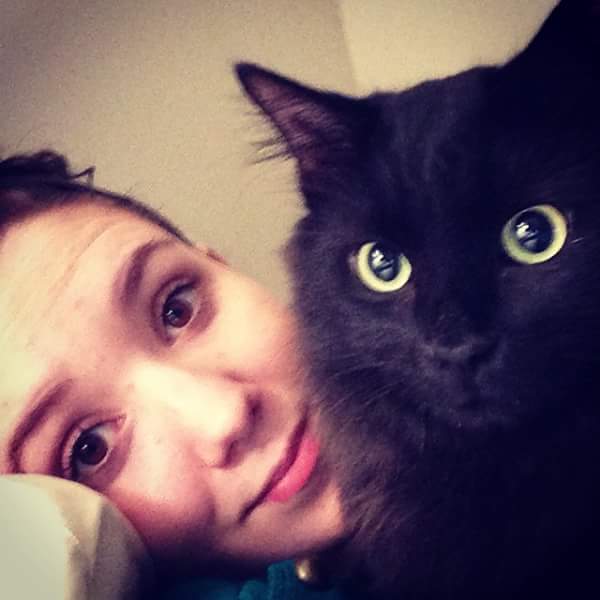 Originally published: June 20, 2016