Inside the Mind of a 27-Year-Old With Bipolar 2
---
You are coasting along a straight path, then you struggle to get up that hill. The pain is almost a high. In a moment you have no energy, another too much. You feel like you are about to break, but you don't stop, you know you have to keep running…
There are nights that turn into dawn in what seems like an instant. From reorganizing my closet to writing in my journal for hours, there are moments your mind is running so fast it is almost painful. You close your eyes, but your eyelids jolt, begging you to open.
So what do I do… 
Learning to harness my thoughts hours before sleep and avoiding stimulation. It works. It fails. A few solid nights of sleep is better than none.
Never content.
If God had bipolar, He would not have created the Earth in seven days. He would still be in the creative process. The day I graduated from the college, all I could think was "You can do better! You have to do more, Hannah!" Nothing is ever good enough, and relaxing while patting yourself on the back is nearly impossible. Being content in my mind is one step from slipping off the balance beam.
So what do I do… 
I breathe more often, and I breathe deeper. I have added exercise of mind and body like yoga.
Emotions run deep.
I hear a song and feel the pain inside the singer's voice. I smell a flower and can feel its growth. I am sensitive to other people's pain and hurt, to the point it keeps me up for nights. Sometimes I wake up in the middle of the night crying so hard I cannot breathe. I laugh as hard as I cry, I hurt as hard as I love.
So what do I do… 
I turn my pain into art by writing, drawing and creating to express these emotions.  Exercise gives me a healthy release.
Treading Water.
Every day my eyes open, and I have to tell myself to do everything I can to keep my head above water. I am one slip from falling to the bottom on a daily basis. Some days are harder than others, but I refuse to drown.
So what do I do… 
I keep moving forward. I keep active. I do not talk about my "struggle" often. I volunteer to help others outside of myself.
The lows are beyond explanation.
You are screaming at the top of your lungs but no one can hear you. It is not a headache, it is a cloud in your head that makes it almost impossible to see. You have no energy to speak. You are empty. You are numb. The light at the end of the tunnel seems so far.
So what do I do… 
Again, I turn these moments into some form of art. I set a goal for myself every day, and hold myself to it. I remind myself that tomorrow is a brand new day.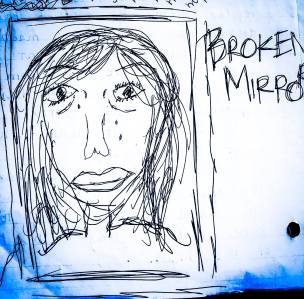 The picture above is a picture from my journal days before I was hospitalized in 2010.  I have never shared it with anyone until now. Sending love to all my mental health warriors. You are bold. You are brave. You are brilliant. 
Follow this journey on Halfway 2 Hannah
This piece was published as a collaboration with The Mental Illness Happy Hour.
We want to hear your story. Become a Mighty contributor here.
Originally published: December 15, 2016