Don't Feel Sorry for My Son's Disability
---
Yesterday, my oldest daughter told me one of her friends asked her: "Why does your brother have to carry that stick around?"
My daughter was caught of guard and didn't really think of her brother's cane as a stick, but she answered kindly, "He needs his cane to help him know where to go around our school and to let others know if he needs help or gets lost, because he can't see like we can."
She wasn't really expecting her friend to respond back to her and say, "I'm sorry! That's so sad! That he can't see." She even gave my daughter a big hug.
When I heard this story, I felt frustrated because I have been in so many situations where friends and family have said the exact same things to me after hearing about Ashton's diagnosis. It's already hard for a parent dealing with all the specialists visits, therapy, Braille, IEP meetings, and on top of that there's the people who feel bad for your child. I'm never quite going to understand where they are coming from. I'm sure they don't mean any harm but they have no clue how amazing my son Ashton is.
My son's lack of vision has never stopped him from accomplishing any of the things he wanted to do. He's even learned how to ride a bike and a scooter this year! He plays outside just like other 6-year-olds and loves trains and music. He is great at playing the piano and can tell you everything you need to know about steam engines. He has amazing hair and the most beautiful smile that brightens up any room he walks into, even if he is holding a cane and isn't able to make eye contact with you. He loves his friends and family and his school.
There is no need to feel sorry for him just because he sees the world with his hands instead of his eyes.
My daughter told her friend, "It's not sad! My brother can do everything another boy can, he might not see, but he is the happiest little boy I know and I love him."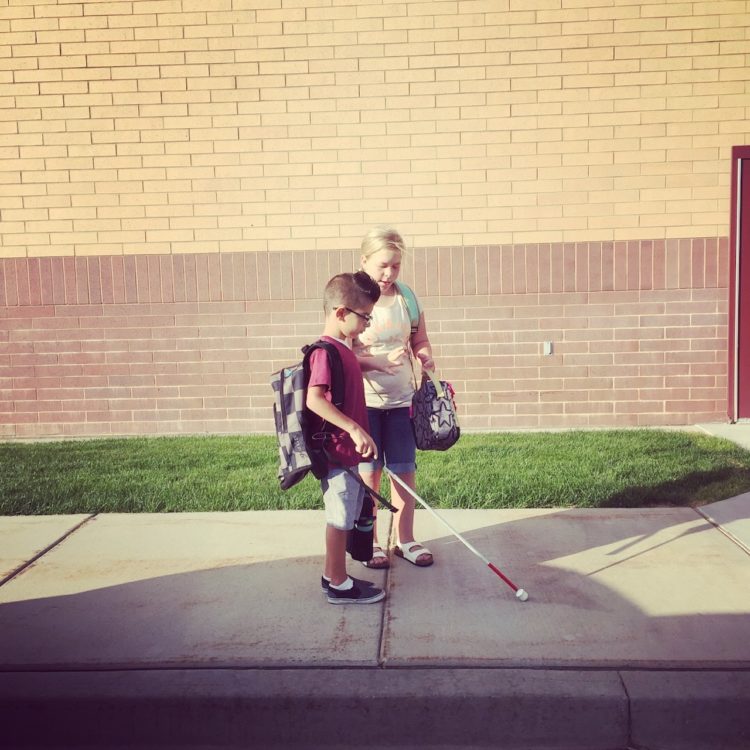 My daughter understands, it seems she feels similar to the way I do, and she will help others understand they should never feel sorry for anyone who has a disability. Ever.
My son's heart would break if he heard anyone felt bad for him — for being blind, for something he has no control over and something he doesn't know any different. People who are blind can still have fulfilling careers, families, live on their own. The only two things they can't do are read small print and drive. And those are not reasons for anyone to feel sorry for him.
We want to hear your story. Become a Mighty contributor here.
Originally published: October 4, 2017