How the Macy's Parade Balloons Offered Me Hope as a Person With a Disability
---
Last year, my friend took me to Universal Orlando to go check out the Christmas events they offered. As a Disney cast member who had unlimited admission to the Disney parks, I never really had the money or the desire to wander into what we jokingly referred to as "The Park That Shall Not Be Named."
As we were wandering the park, a random person in a green jumpsuit approached us and asked if we wanted to carry a Macy's balloon in the park's parade that day. Apparently, every year, Macy's sends down their balloons and floats from the Thanksgiving parade direct from New York City to us in Orlando.
As a kid, I was obsessed with the parade, and even more so with the balloons. Balloons to me meant hope. Something that big should not be "flying," and to me, that defied all childhood logic. If something people don't believe in can rise above and fly, then a kid who was always bullied due to physical and emotional disabilities can too, right?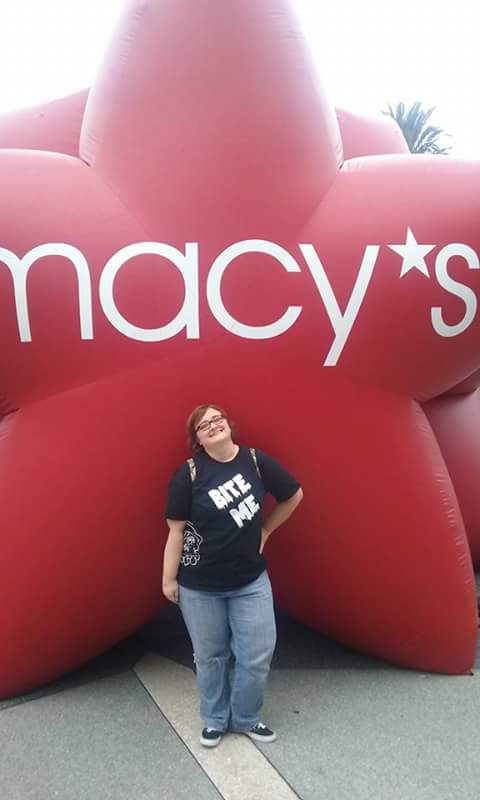 That day, as I was dealing with the holiday blues that come with depression, I felt free from all the pain. Although I have ocular albinism that limits my ability to see, I was able to obey my pilot's commands and hand signals. Like the balloon that day, I flew along with it. I promised myself I would be back again one day, little did I know I would get a job from it.
Back in August, I lost my job at Disney. My depression hit hard and every interview I went on cringed when they saw I was disabled. I spent three and a half months trying to prove potential employers wrong about me. And then I came across a posting for a Balloon Handler. Although it was a seasonal gig, it holds the potential of moving forward into something else. A second chance at working again.
As I went into the interview and got the fair share of cringing upon them learning of my disability, a miracle happened.
I was hired by Universal to be part of the parade I was in as a guest the year prior.
For the first time in what seemed like forever, I found a company that valued me as a human being and not someone with a diagnosis. They gave me the opportunity for the next month to live my 5-year-old self's dream.
Like the balloons that fly above my head everyday I step off in the parade, I am free. Free of discrimination, free of stress, free of the "You can't" or "You're not good enough" attitudes. Free of worrying how I will survive this tough time of year.
Each day, I go out there with all the stress left outside the gate and give it my all. And like the person who found me and my friend that day last year, I can only hope I can bring the same amount of happiness and wish granting they did for me.
Like a Macy's Parade balloon, hope floats.
Follow this journey on Legally Blind Bagged.
We want to hear your story. Become a Mighty contributor here.
Originally published: December 13, 2016