How Standing On a Stage With a Shoebox Helped Me Become a Self-Advocate
---
Bill and I were the best of friends throughout college. We met at a time in my life where I was trying to find out who I was and how I was going to survive in a world where I would face extreme prejudice, given my visual disability.
October of my freshman year, I joined a community service project, where I met Bill — a slightly older gentleman who used a set of purple crutches as a second set of feet. I was to be his mentor, so the program said, but the roles were actually reversed.
"Hi, my name is Billy, and I am a self advocate," he said with great pride. "I have my own apartment and work at a movie theater."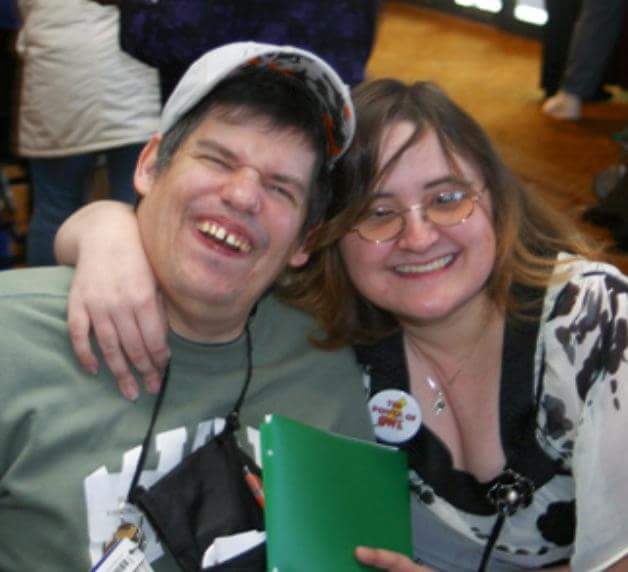 He went on and on about his accomplishments in detail — stuff the typical world would take for granted. He also mentioned these advocacy conferences he goes to and wanted me to join him for one. Although the deadline for me to join that year was past, I told him I'd give it a shot the next time one came around.
The year passed, and we became close friends, hitting up Starbucks every now and again for a latte before going to the movies where he worked. We spoke about many things, from my life at the college and his life trying to make friends and be successful. I told him how ashamed I was of being disabled and his reassuring tone told me, "Everything will fall into place if you reach for the stars."
It kept me from giving up on myself in my times of doubt.
When October came, Bill passed me an empty shoebox from the closet and told me to fill it up with things that meant something to me so I had it for the conference. I thought it was a display piece and managed to dig up some objects for the box. These included my college hoodie, my hospital ID from my work study, my sketch book, some Disney stickers my parents sent in a care package and some other things.
I got to the conference center the next day. I asked random hotel staff where this box display thing was, and nobody would tell me. Nobody knew a thing.
That was when Bill came wheeling from behind and told me, "Not yet." He had me place the box in his tote bag.
"But your bag is empty," I said, thinking he was going to make a box with me.
"Oh, I did mine years ago. Let's grab some coffee and head to the room. It's about to start."
So I entered the room full of about 100 or so people with varying disabilities. None of them, with the exception of a few from the group, had a shoebox.
Then it dawned on me.
"Oh, hell no! He seriously didn't do this to me," I thought. I would be one of the people presenting.
The shoebox, low and behold, was an "about me" box, a tool that made it easier to explain your story to others. Like a show and tell, but in this case, it emphasized more on the telling.
I gave Bill a look, and he mouthed at me, "Just trust me."
I let some others ahead of me so I could get the feel of what needed to be done. One gentleman, who happened to have Down syndrome, showed off his McDonald's employee hat with the reward pins on it. He also had some Special Olympics medals. Another girl had autism and showed off some things she loved, including her Hannah Montana CD. They showed off everything with pride, which was something I lacked.
When it was my turn, Billy gave me a nudge and sent me on my way with my box in hand.
"Hello," I said, as my voice echoed back to me from the microphone. Just as I was about to step back and shake my head to say "No," Bill chimed in with "You go, princess!"
And so I began.
"My name is Amanda. As you can hear, my best friend put me up to this. "
The crowd laughed.
"I am here to show you what's in my box, the things I am proud of. I am a college student in my sophomore year studying advertising communications with a minor in psychology. I also work at the children's hospital where I help kids keep their mind off their illnesses by playing with them and doing art projects. I love art, and I draw a lot when I'm not busy at work. I have a dream of working for Disney some day, and I plan to do this despite my disability. I'm legally blind, and it's hard for me to see things. It's hard for me to admit it. I play my disability off as if it's nothing. I never felt comfortable telling my story… until now."
I showed off the remainder of my box and wrapped up my speech. And as I did, I saw a few stand as they cheered, with Bill rolling up to me to give me a hug afterwards. "I knew you could do it, Mandy!" he said.
The year I was set to graduate was the year I nominated Bill for a leadership award, a high honor given every year at the conference to someone who helps others stand up for themselves. It was my way of saying "Thank you," as I was set off to explore the world on my own. He got it.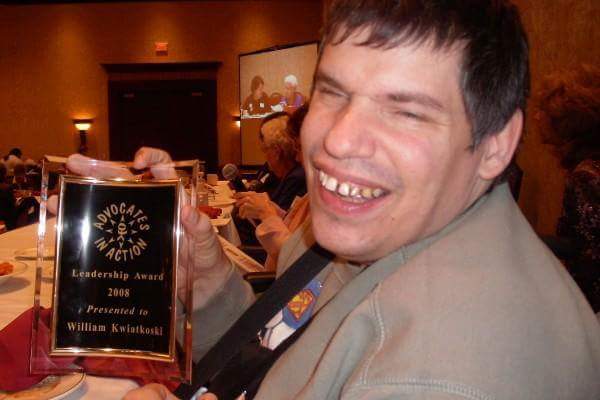 It's been about seven years since he won the award, and throughout everything that's played on in my life since then — from crappy relationships to the constant job hopping and finding my niche in this world — I look back at that day with the shoebox in hand, the day I learned everything was going to be all right, the day I became a self-advocate.
I want to give special thanks to Bill and the wonderful people at Advocates in Action Rhode Island for all you have done to help me become the person I am today. It's a great organization with a lot of heart.
Want to end the stigma around disability? Like us on Facebook.
And sign up for what we hope will be your favorite thing to read at night.
Originally published: March 9, 2015