New App Helps Blind People Recognize When Their Loved Ones Are Smiling
---
Thanks to a new app developed by Listerine, people who are blind or have visual impairments can now recognize when someone is smiling at them.
Listerine's parent company, Johnson & Johnson, teamed up with creative agency J. Walter Thompson London to develop the app, which was built around facial recognition technology and a phone's camera. The Smile Detector App can sense motion up to 15 feet away, and it notifies the user with audio or a vibration to let them know someone is smiling at them, according to Little Black Book, an advertisement news blog.
Oscar-nominated director Lucy Walker shot the short video above about the app. "Feel Every Smile" documents the experience of four blind participants using the app, which the Royal National Institute of Blind People has endorsed.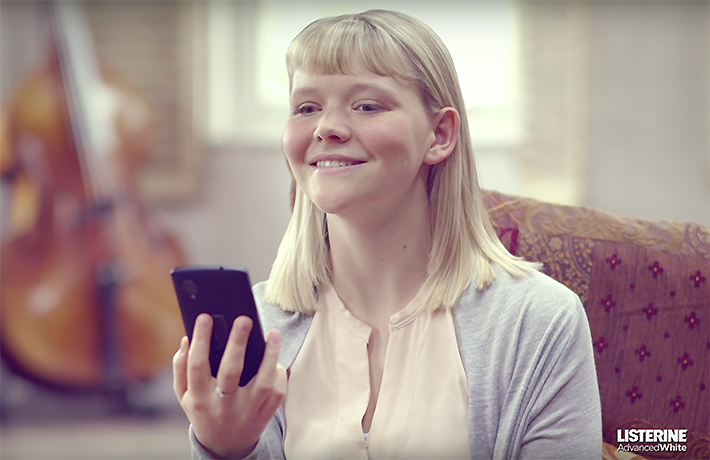 Chloe, one of the youngest subjects of the short film, sits down with her grandfather while playing a brainteaser game, and she lights up when she gets a buzz from her phone. "Is that why you're smiling, because you're about to lose this?" she jokes. But it's about so much more than that.
"When I first got [the app] I thought it was going to be a bit of fun, but actually it's really special," she says in the clip. "It's something that people just take for granted, knowing that they're being smiled at. But when you don't know that, you're kind of missing that interaction, so when you know you're being smiled at, it kind of makes you feel like, ah, that's nice, someone smiled at me."
Sarah, a young woman who has lost her ability to see, was excited to see how the app worked around her 1-year-old nephew. "I sort of remember my sisters and my family — I remember their smiles from when I could see, but because he's only one, I've never seem him smile," she says. As soon as she gets a buzz from her phone, she smiles from ear to ear herself.
"When creating this app, we wanted to make something that could help those that might miss some smiles, to once again be able to feel the power of every smile," JWT London creative director John Cherry told LBB. "Obviously we captured people's first use of the app and it turned out to be a genuinely powerful and emotional film."
Originally published: September 9, 2015