21 Tattoos Inspired by Life With Borderline Personality Disorder
---
Editor's note: If you struggle with self-harm, the following post could be potentially triggering. You can contact the Crisis Text Line by texting "START" to 741-741. For a list of ways to cope with self-harm urges, click here.
People with borderline personality disorder (BPD) sometimes experience an unstable sense of self, often coupled with heightened emotions and black and white thinking. And while it's sometimes easy for those with BPD to feel misunderstood, they want to be seen and heard like anyone else. Whether it's a reminder to the world or for themselves, tattoos are often a beautiful way to tell these stories.
We asked our mental health community to share their tattoos inspired by borderline personality disorder (BPD) and the stories behind them.
Here is what they shared with us:
1.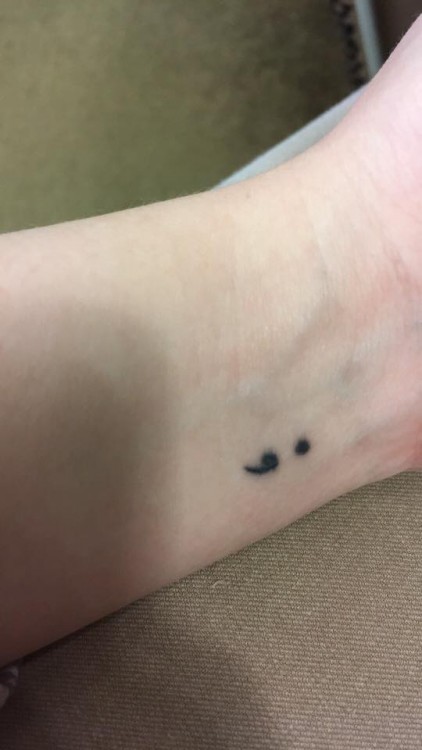 "My semicolon tattoo. I'm not supposed to have tattoos in my line of work, but this is my symbol of fighting. The fact that I made it to where I am now. It's my favorite thing." — Kennedy W.
2.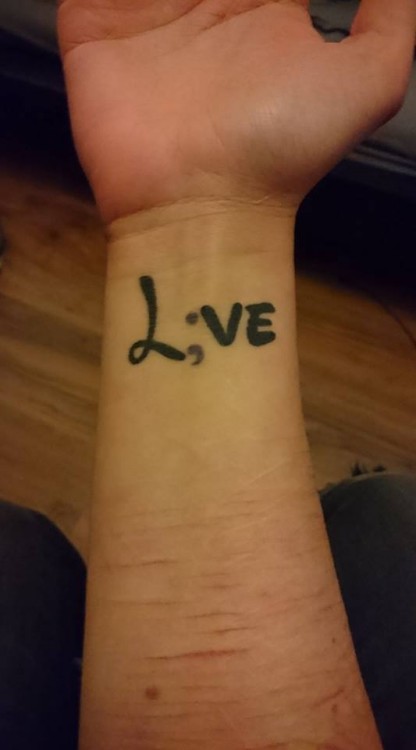 "I got this one last year after a few hard years with BPD and suicidal phases. Now I want to live and fight for my dreams and health. The tattoo is in a Disney design to remind me of my inner child who I want to protect and take care of. Stay strong everybody and fight." — Kim K.
3.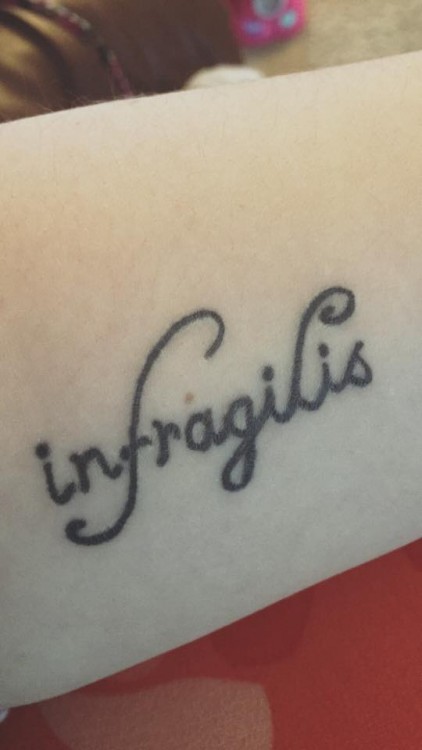 "Latin for unbreakable. A constant reminder that when I feel like I'm breaking I'm actually getting stronger." –Ashleigh T.
4.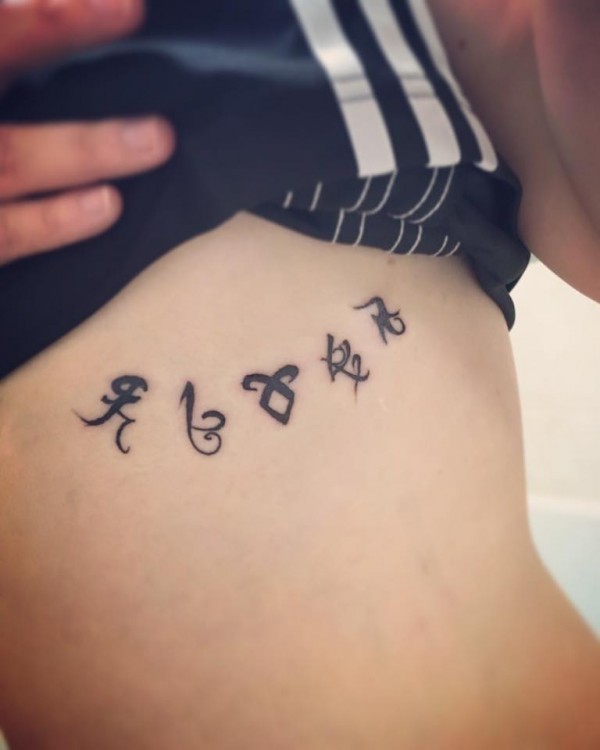 "I adore reading, and these runes are taken from my favorite books — they mean heal, strength, angelic power, fearless and love. To help me through the bad times." – Courtney S.
5.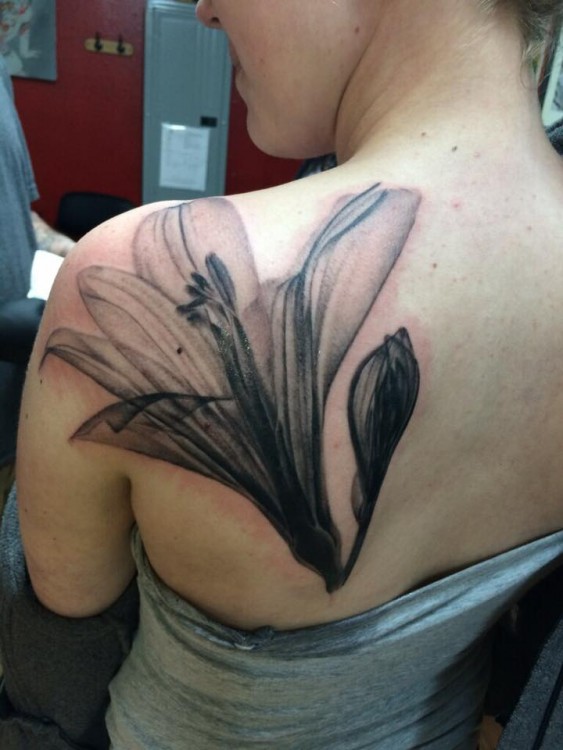 "Things are not always as they seem. This is my flower X-ray to symbolize that things may look good on the outside, but the inside is where the struggle lies." — Amy K.
6.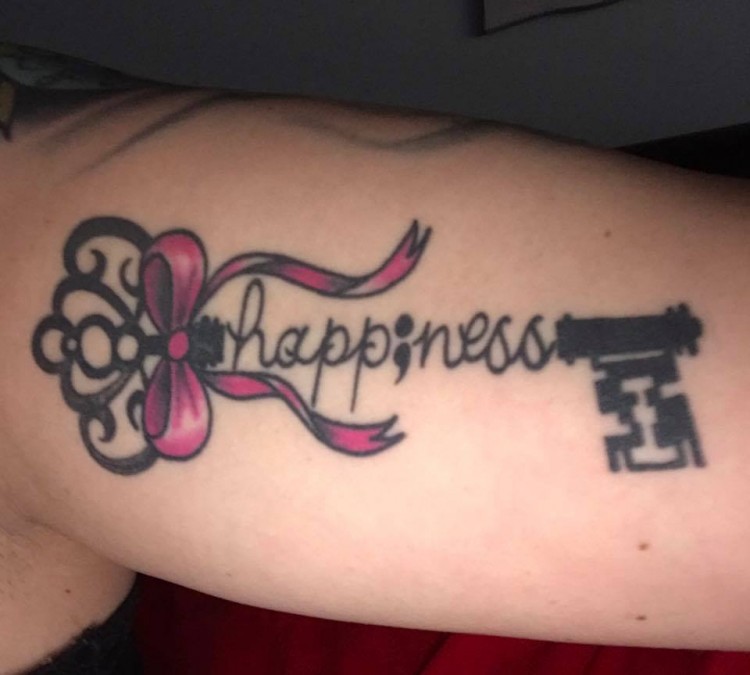 "Through my struggles over the last seven years, I have always tried to 'get back to happy.' Got this tattoo last year as a reminder to keep going and to keep working on getting back to happy." — Alison T.
7.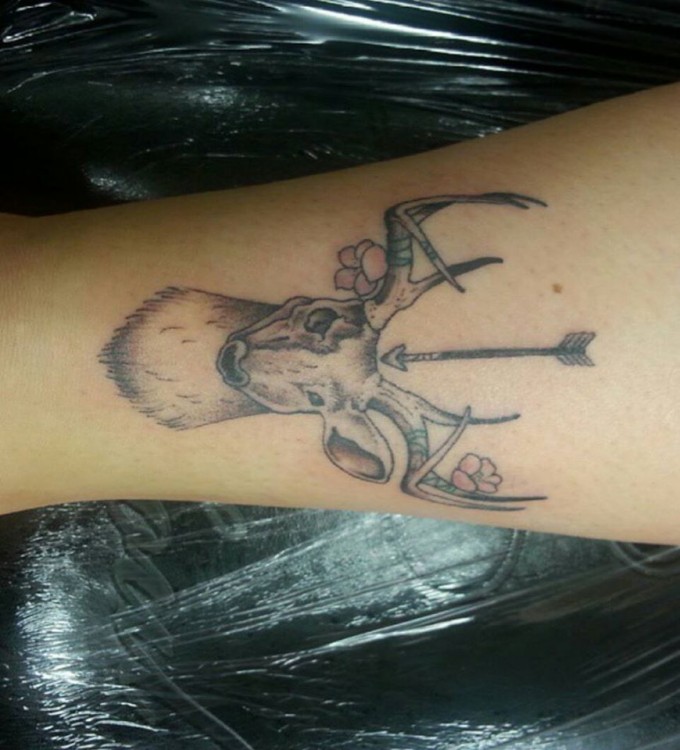 "A stag to represent strength and courage. It's half skull because of the times I wanted to give up. The flowers wrapped around its antlers symbolizes 'a wound to heal.' The arrow means no matter how much life pulls you back, you will go further in life. It's not everyone's taste, but I love the tattoo I designed for myself. It keeps me going through my battles." — Chloe H.
8.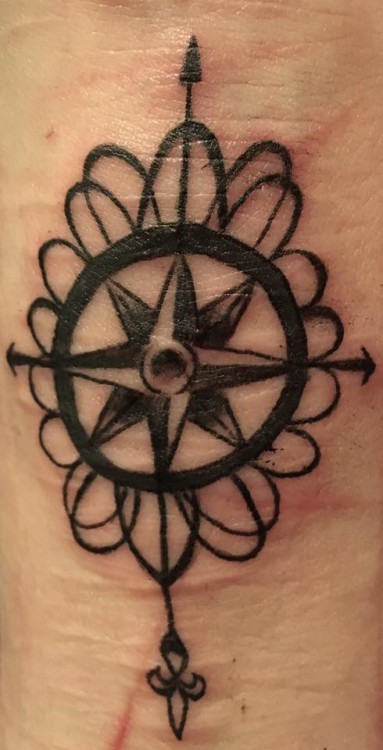 "My daughter's compass to keep her heading in the right direction! She also has footprints on her other wrist to keep her moving forward." — Emma B.
9.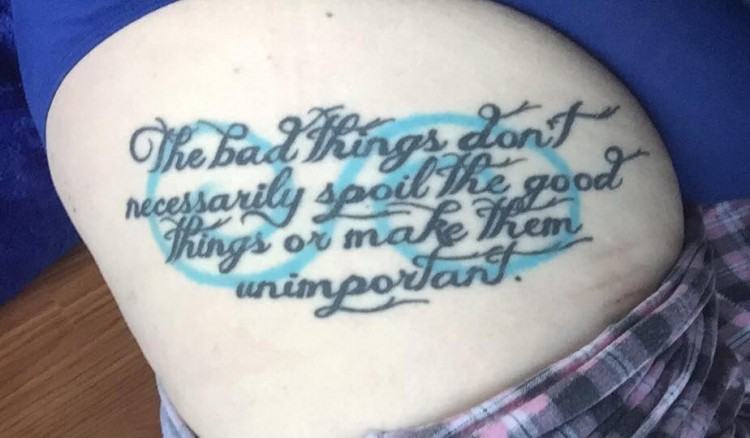 "This is a quote from 'Doctor Who.'" –Milo M.
10.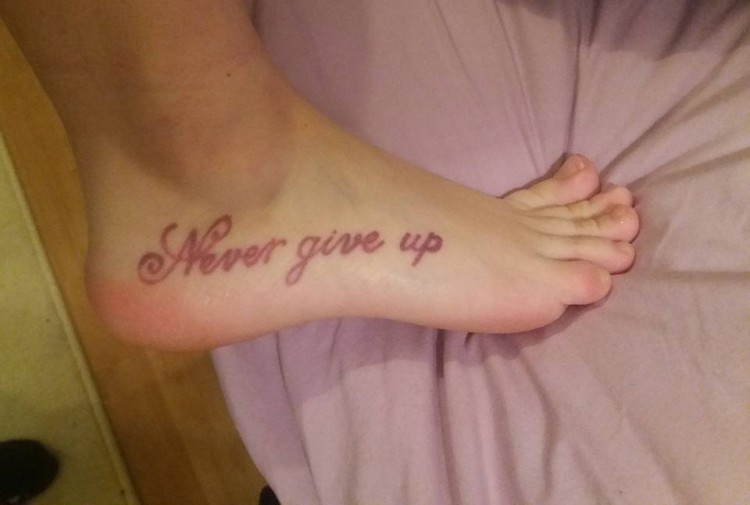 "Diagnosed with BPD at 19 and got this two years after. It's kept me going at times." –Anna L.
11.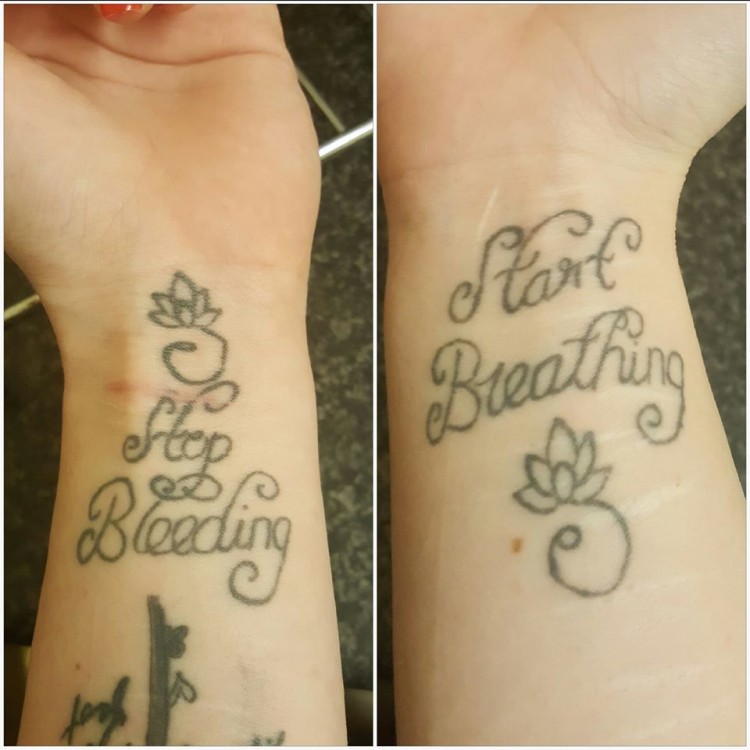 "Got it about two years ago! When I look down at it in times of struggle, it reminds me to take a moment and breath!" — Beckie-Louise C.
12.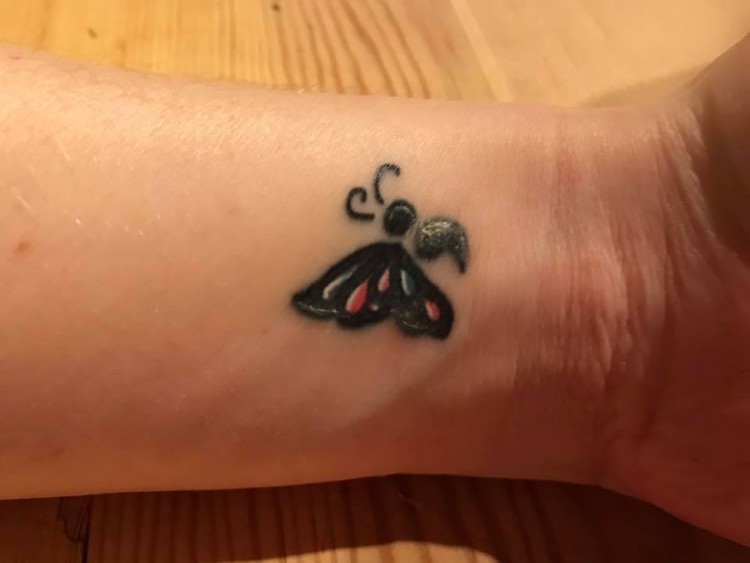 "Semicolon butterfly. Small but with meaning." — Kate M.
13.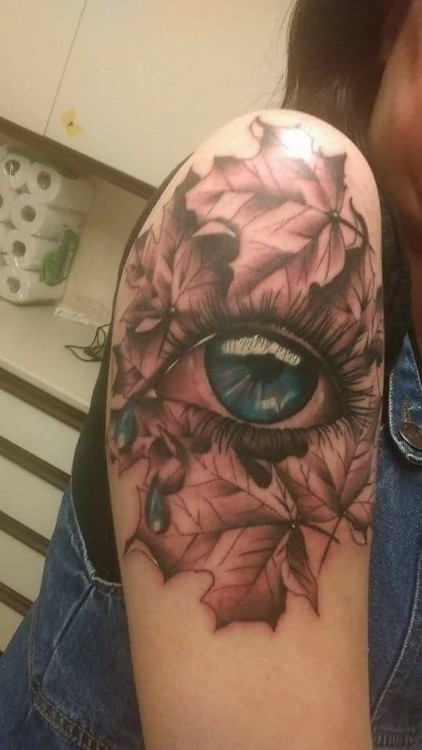 "Tears water the fallen leaves and in time the tree will regrow." — Linzi D.
14.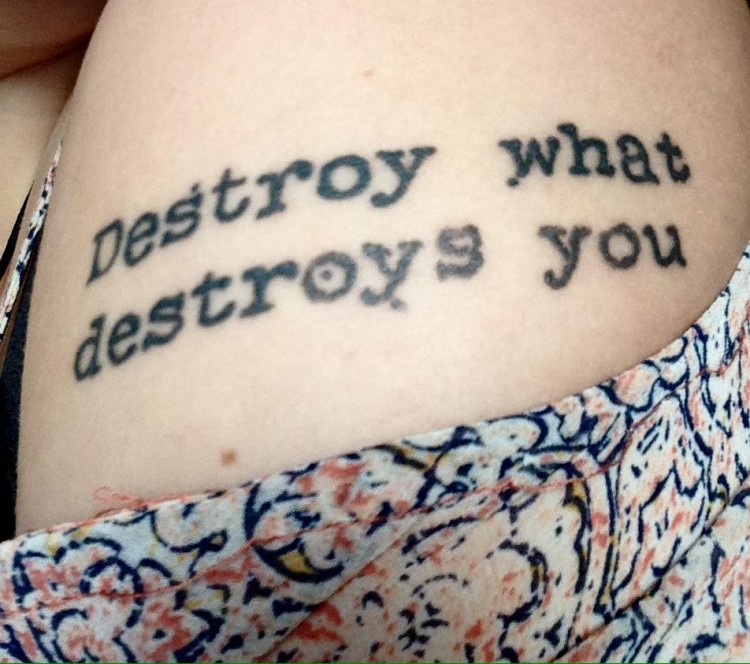 "Keep fighting." — Marie D.

15.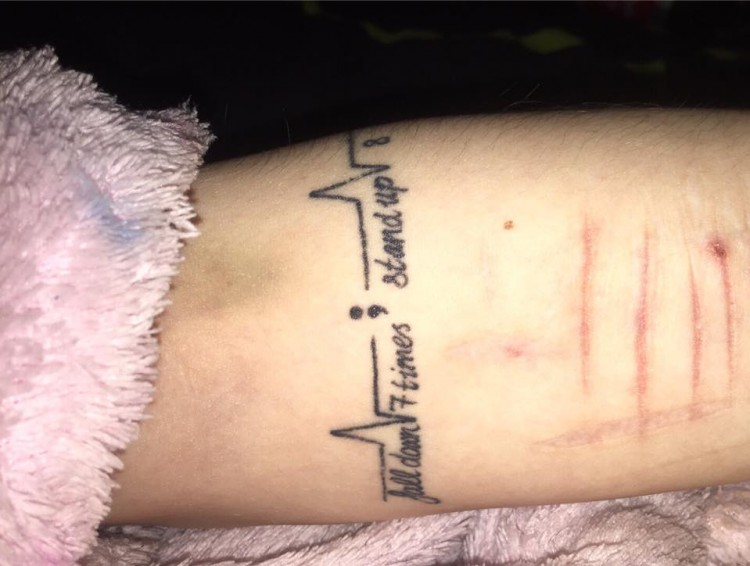 "Fall down seven times; stand up eight." — Lana J.
16.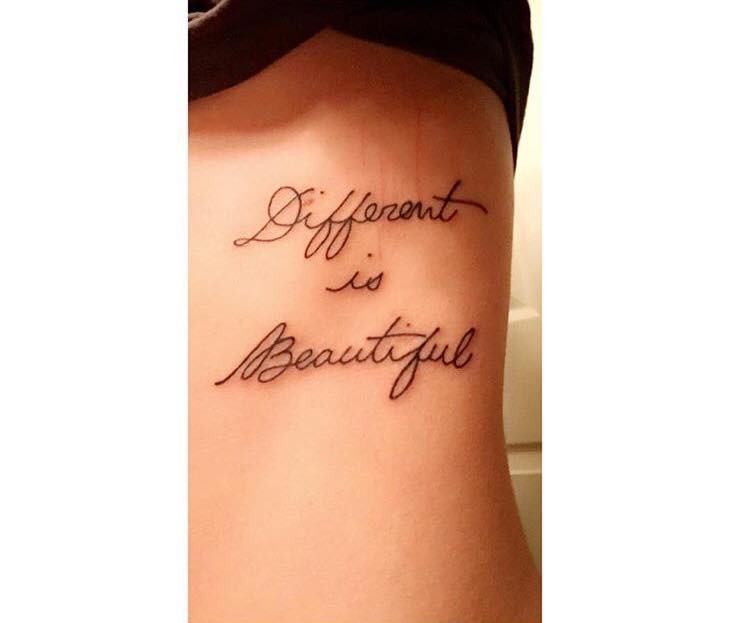 17.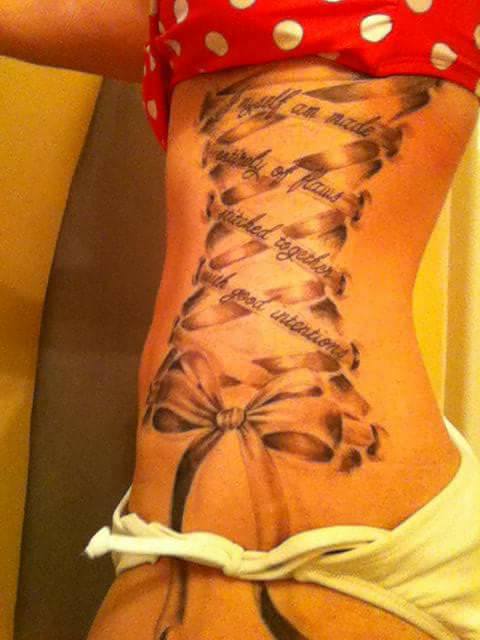 "I myself, am made entirely of flaws, stitched together with good intentions." — Mary D.
18.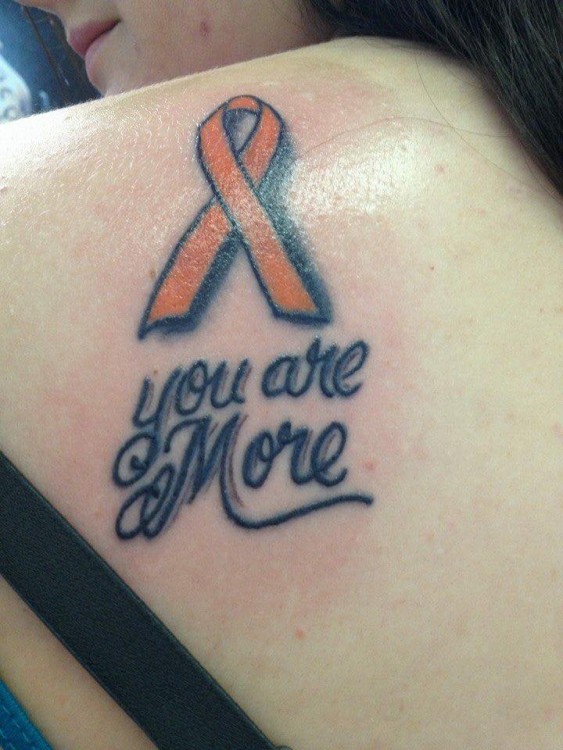 "The orange ribbon represents self-injury awareness. The phrase is from a song my sister sent to me while I was in treatment. More than anything, at that time I needed to hear that I was more than my injury, more than my past and more than my diagnosis. This was five years ago. I am now married, graduating graduate school in May and a homeowner. I am more than what I spent years telling myself I was." — Darbi H.
19.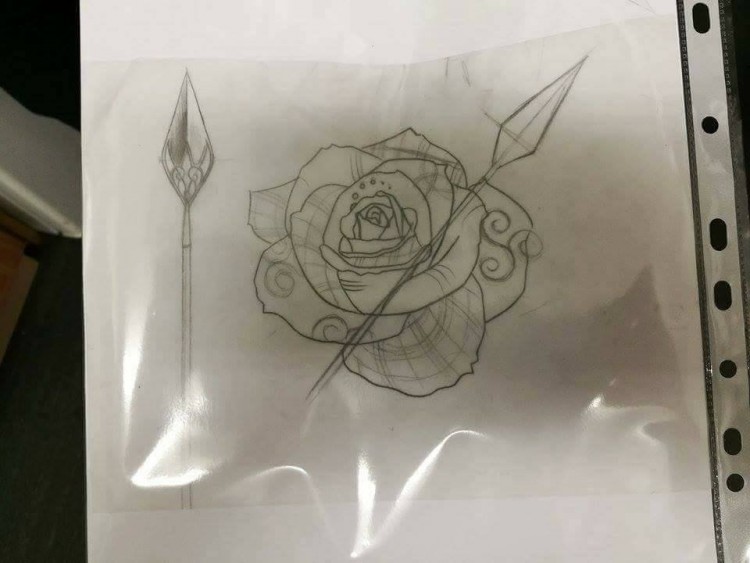 "I'm getting this done next month — a blue rose to represent my irrational choice of hair during my hardest period and a celtic to represent Boudicca because my mum has always called me her warrior queen." –Isobel T.
20.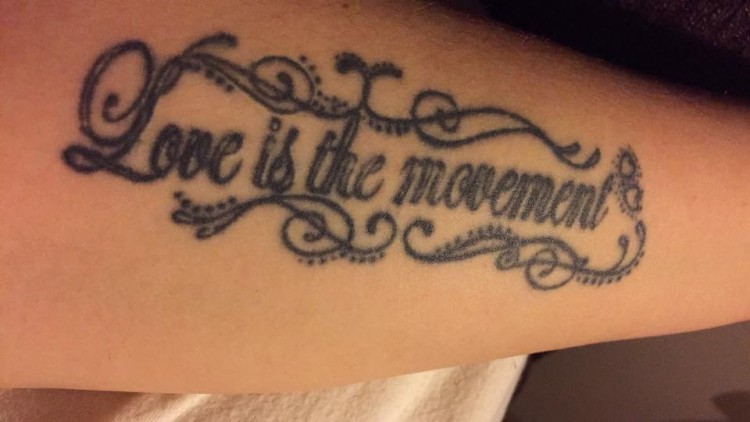 "I got this before I was diagnosed. This tattoo is inspired by a charity, To Write Love on Her Arms, which helps support victims of self-harm and suicidal thoughts. Love is the movement." — Ashleigh B.
21.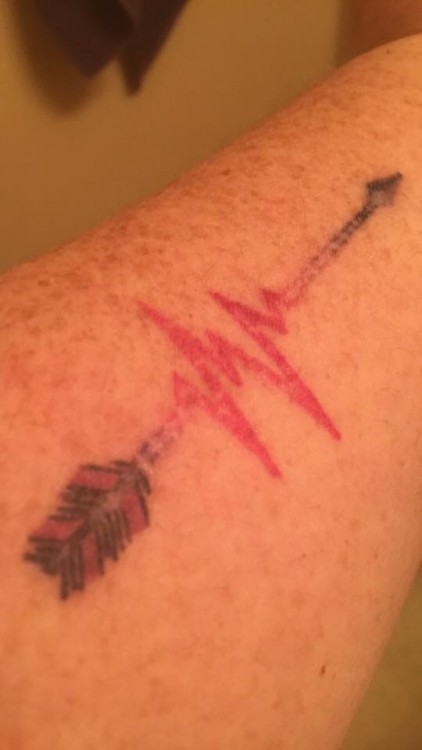 "The arrow represents that I'm always moving forward and the heartbeat reminds me to 'choose life.'" — Wendy E.
If you or someone you know needs help, visit our suicide prevention resources page.
If you need support right now, call the Suicide Prevention Lifeline at 1-800-273-8255. You can reach the Crisis Text Line by texting "START" to 741-741.
We want to hear your story. Become a Mighty contributor here.
Image via our Mental Health on The Mighty page.