15 Unexpected Ways Borderline Personality Disorder Affects Everyday Tasks
---
When asked what everyday tasks borderline personality disorder (BPD) unexpectedly affects, Mighty community member Alicia M. said, "I'll just be the person to openly admit this: everything."
She's not the only one. When you live with a condition like BPD that affects your emotional regulation, it's hard to keep it from affecting your daily functioning. Classic symptoms like frantic efforts to avoid fear of abandonment, "splitting" and dissociation undoubtedly affect daily parts of life like getting chores done, communicating with others and your job.
No matter what your experience with BPD is, we want you to know you're not alone and there is help available. For more information on managing BPD, check out our in-depth explainer that answers frequently asked questions about BPD.
We wanted to know the unexpected ways BPD can affect daily tasks, so we turned to our BPD community to share their experiences. Below you can read what they shared.
How does BPD affect your daily functioning? Click on the image below to share your answer!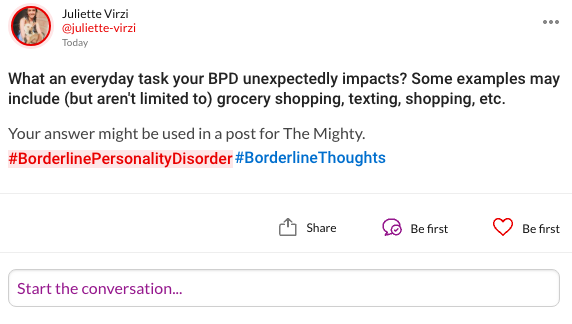 Here's what our community shared with us:
1. Texting
"I would say texting. I want to tell all that's going on in my mind, but it's absolutely impossible to do." — Laura D.
"Texting. I want/crave talking to people at times but then continuing the conversation or friendship I initiated suddenly becomes just too much. At times it feels like my fingers weigh tons and I can't manage to type anything. I've begun to avoid opening messages, sometimes for only hours, but also for days as well. When I'm in the mood for people, I can overdo it and message everyone, yet the moment I've lost interest and feel down, I block up on all sides from socializing." — Omar L.
2. Driving
"Driving. I'm totally paranoid about what other drivers think of me. If I let someone out and they don't thank me, I get disproportionately angry. If someone is behind me, I worry they're judging my speed. I worry the person in front thinks I'm following them and the list goes on. I'm also quite erratic as a driver, sometimes overly-cautious and anxious and other times reckless and speedy. All dependent on mood!" — Kim A.
"Driving! I have an irrational fear of having an accident, thinking something is wrong with my car or everyone else is out to get me and drive aggressively." — Susan L.
3. Work
"Working. I have such a hard time finding and keeping a job because of my anxiety. I constantly feel like I won't be good enough and I'll be let go under pressure." — Bree C.
"Working. I have a hard enough time manufacturing reasons for me to care about doing things for myself that actually benefit my life. As I get older, it is nearly impossible to do useless tasks assigned by someone else simply to justify the amount of hours I'm forced to leave my home." — Thomas D.

4. Cleaning
"Right now BPD triggers have me so upset, mad, angry, depressed, dejected, teeth grinding and crying that I'm afraid to do dishes. [I'm afraid] I might break them because I'm distracted and dizzy." — Corina S.
"Cleaning for sure. I try but once my mood changes to something negative/stressful, my day is shot. I'm so embarrassed my house is filthy but sometimes I just can't force myself to get it done." — Marissa P.
"I find daily chores incredibly daunting. I will plan to do them, but once I'm there, all motivation and energy is drained from me. I stare at crumbs on the table and cannot find it in myself to care enough to grab a simple washcloth to wipe them up." — Heather M.
5. Maintaining Relationships
"The mood swings make it so hard to go through my daily life, especially working or maintaining relationships. The smallest things set me off into rage that is basically impossible to come back from, I lash out at customers or my significant other. And when I'm finally able to bring myself out of it, I'm immediately greeted with [debilitating] shame and guilt so strong that I can't help but cry, even at work." — Kierstyn D.
"Communication… Sometimes, I am overly enthusiastic to speak to my friends but then some days, I don't wanna hear from any of them and end up feeling as though they don't truly care and are just using me." — Shalena V.
"Talking to people. I'm either overly excited and annoying or awkwardly and aggressively quiet." — Aurorah B.
6. Talking on the Phone
"I absolutely dread talking on the phone, sending voice memos, voice chat or FaceTime. I don't even know why… I think I'm scared of sounding 'stupid' because I don't have as much time to think of what to say like I do with texting. It literally fills me with anxiety to the point that I have a panic attack and feel like I could throw up." — Victoria R.
7. Walking the Dog
"Walking the dog. It can be so frustrating when she pulls and I don't have much patience but I'm I'm too firm with her. I'll feel crazy guilty and have more problems after…" — Rishele S.
8. Taking Care of Kids
"Caring for my kids. I have my mom staying with us because I can't even get them ready for school or be around because they are too loud and I can't deal with it… I feel like the worst mom… so debilitating." — Joanne M.
"Picking up my daughter from school… Some days I feel so disconnected from everything and everyone in my life that the very act of going to the school and waiting in the parking lot for 45 minutes (I have to get there that early for a parking spot) is a nightmare. I sit with my feelings of emptiness and loneliness and disconnection and cry." — Julianne J.
9. Shopping
"I hate going to busy stores, the mall, grocery stores etc. I get overstimulated and hyper-anxious. I've definitely disassociated in the mall before. Once I got my diagnosis and started DBT, I was able to notice these patterns and avoid them or cope ahead." — Erin B.
"Grocery shopping can be a real issue for me, as I disassociate, get confused and have a lot of anxiety." — Su K.
10. Opening Emails
"Opening replies to texts and emails. Just always scared of what the reply will be. Will they hate me for asking this question? Will they laugh at me? Was I acting 'crazy' or paranoid? Did I just get everything wrong again? Did I unnecessarily worry someone?" — Fiona M.
"I'm scared of getting emails. I always think it's going to be bad news about me, from my boss or friends. I have terrible anxiety when starting up my computer in the morning. The suspense of not knowing what's in there is overpowering. I've had to turn off the email alert tone as it was scaring me during the day." — Sam F.
"Work emailing — really easy to misread them and take things personally that weren't about you at all." — Laurie E.
11. Getting Out of Bed
"Generally getting out of bed… With no motivation, it's hard to do anything I need to do — and I automatically think there's no point in anything, so I may as well stay in bed." — Abby A.
"Getting out of bed is one of the biggest challenges that comes with my BPD. Before I even open my eyes to check what time it is, I'm already worried about what could make my day go wrong." — Holly B.
12. Doing Homework
"It's really hard to study and read because of my symptoms sometimes. If I'm dissociating, I can't focus on the words in front of me. If I'm shaking with rage, my thoughts are racing, and I can't slow down to get my homework and studying done. If I'm preoccupied with thoughts of abandonment or flashbacks of times I've been treated badly in the past, it seems like my mind keeps switching away from the task at hand, and I keep getting angry and depressed. I have disability accommodations at college, and when I absolutely need it, assignment due dates can be extended. The symptoms are both psychologically and physically painful. The intensity at which the symptoms hit is totally underestimated." — Kellyann N.
"Homework, it makes it really hard to be able to get anything done. I know I can do it but it makes me feel impossible to achieve." — Rose L.
13. Exercising
"Exercising. I rarely get off the couch or even out of the house. And going to the gym basically doesn't happen because I can't/won't go alone." — Tess B.
14. Cooking
"Cooking… I want to, I am hungry but I don't want to. [When] I finally do it, I dread the clean up. My anxiety spirals…. the next time I don't do it at all…" — Jenna R.
15. Eating
"Eating and hygiene. My brain has so much trouble with impulse control." — Amy H.
"Eating. I find myself apologizing because I'm anxious about eating, and the fact I need to eat. Then I hate myself because I've eaten. And apologize for that." — Cassy C.
If BPD negatively impacts your daily functioning, you're not alone. No matter what symptoms you are currently battling, there is help available to you. Dialectical behavior therapy (DBT) is the gold standard treatment for folks with BPD. You can read more about it here.
What everyday tasks does your BPD affect? Let us know in the comments.
Unsplash photo via Avery Klein
Originally published: February 8, 2019