What Mental Health Professionals Need to Know About People With Lived Experience
---
Today I ran several Google searches, one being the bog standard broad scan of the entirety of the internet that we all do whenever we seem to have the vaguest of questions these days. Several however were of its scholarly search engine that scans published research and written papers. I was searching for evidence of "service users" who still carried their diagnosis of a mental illness, and yet work as a qualified professional in the health and social care sector. I'm not referring here to those of us who like myself at this current time (albeit currently voluntarily) hold peer status, rather I'm referring to those who have trained and have become equals with their "mentally healthy" professional counterparts.
Don't get me wrong, I personally highly value my peer status. I'm proud to say I can talk about my mental illness openly within the mental health setting with those who share this collective and very commonly experienced struggle. Have we forgotten how common the experience whether diagnosed or not? Do we remember that a person dies by suicide every 30 seconds? How many lives will be gone by the time you are through reading my words? What could have enabled them to stay? I am painfully aware that peer status has become a tokenistic stance within the broader system by those who hold the ultimate power.
You see the thing about peer status is that it still comes with this notion of a pat on the head and a cookie. How good it is that you are able to use your experience to help those going through similar circumstances to you! You are told that in this evolving sector where stigma has long been relinquished and lived experience is now a currency as valid as book smart knowledge, you are held in parity of esteem. It is evident however that privileges awarded to those with letters after their name, or even those in the lower graded jobs of the sector but held by those without a diagnosable/or at least disclosed diagnosable mental illness, are off limits to peers such as myself.
Peers don't have access to research catalogues to armor them with equal knowledge, unless of course we pay for an Athens account privately (the price of which stretches even those in full-time salaried jobs to its limits.) We are often paraded as a badge of proficiency by NHS trusts, with some (although not all) professionals claiming to have co-produced with a service user when their level of their involvement with the peer was not sufficient to even have mascaraed as a consultation, even less a conjoining of two experts from separate fields.
I may lack many capacities by my own admission, but the capacity to learn, grow and study and the capacity to claim that I am indeed an expert in borderline personality disorder — these are not amongst them.
I refuse to believe there are not professionals currently working in the sector who are still living with their mental illness, and yet I have a feeling they would not have been given their qualifications or their position by being open about their diagnosis.
This frustrates and angers me. In a sector that claims we have outgrown our prejudiced roots and have developed our ideas of recovery towards the concept of living a meaningful life, even in the face of symptoms, we are still forced to lie our way into the arena in which we hold so much knowledge, experience and have so much to give.
If I wish to turn the odds in my favor of returning to university successfully then I must lie.
It isn't made explicit that this is what is required of me, that would be seen as discrimination. No, instead the ethos of accepting diversity and disability and being an equal opportunities institution is worn by the deans like a medal. This doesn't tally, however, with the degrading suspension from university and the literature that accompanies the re-application process which makes abundantly clear — only those who are "psychologically healthy" on paper will be allowed to study.
This of course in itself is some what ridiculous because as we all know, there are a number of people who are far from being in a position of being wholly "psychologically stable" and yet fly under the radar. There are health and social care students who rely heavily on alcohol to destress from the demands of their studies and placements. There are those addicted to legal and illegal substances, there are those who experience anxiety and depression but have always hidden it far enough below the surface that they didn't get caught in the "occupational health net." Occupational Health has been developed not as something that equips and enables those of us with a diagnosis to study, but in fact it's been designed to screen us out.
There will be those of you who read this blog as nothing more than the rantings of a borderline patient who refuses to accept her diagnosis means she isn't stable enough to work with vulnerable adults because she classifies as one. To you there is probably little I can say, as your way of thinking is probably fairly indoctrinated by your training to date, that has lead you to believe there cannot ever be a meaningful life lived with BPD, and most probably that neither can it be overcome.
Why can I not find any literature on the internet that backs the physician who still lives with their mental illness and practices? Most likely because the two are incompatible still. The bureaucracy that so pollutes the system means individuals are driven to lying and hiding in dark corners, too frightened to self-disclose they themselves know mental illness intimately.
Many a story is written about those who have bravely fought and won their battle against their mental illness with their prize being their graduation from peer status into university training and qualification as a "professional." Now please don't think I disdain these individuals, far from it, I am indeed full of admiration and pride and respect for their achievements. I don't however think the achievements of one group of people should demean the validity of another. Our commonality is that we have or have had, a diagnosable mental illness, but whether that illness stays or recedes in its symptomatology has nothing to do with whether we are capable of being physicians.
If we truly believe recovery can be a life lived in the face of symptoms, then why does the presence of absence of symptoms (regardless of the way in which they are managed or do or don't manifest in an individual's behavior), automatically award or remove an individual the privileges of becoming physicians?
The main premise of Occupational Therapy is that no behavior ever occurs outside of the context of a person's socioeconomic, psychological, physical or political environment. When engaged in meaningful occupation, my symptoms reduce, my positive self-management behaviors increase and so does my level of occupational functioning. At university I lived most of my life blissfully in the experience of occupational "flow." My needs were challenged sufficiently for personal growth, but not so much that I lost the all intoxicating enjoyment of learning that was in line with my passions, heart and belief system. Taken out of this environment and with occupational limitations and restrictions placed upon me, unsurprisingly my functioning and my mental health is detrimentally affected. How were my professors confused by this? I cannot fathom how they can still fail to practice what they literally preach on a daily basis.
By changing the environment, behavioral adaptation can be enabled and during that phase of greater functioning lies a greater degree of psychological plasticity, allowing for the determined individual to attain personal growth through privately engaged in therapeutic modalities.
I am torn.
I don't want to lie and become part of the problem. The lies are the problem, not the labels or those who do or don't wear them.
I want the right to study, learn and practice. I want equality of access to learning materials to increase my skills level, my awareness of current evidence based practice and to allow me the knowledge that is reserved for the "mentally well."
The mentally wells privilege isn't talked about unless in hushed tones. We talk of homophobia and racial discrimination, but where is the open dialogue on the "mentally well supremacy"?
I want to be a voice in that conversation but nobody else seems to be talking. Silence is a cruel weapon to attempt to disengage those of us who carry our diagnosis, but also a voice with which to explain it to you with.
I can only truly speak for myself, but I can guess that I am not the only one in this conundrum. If only for the fact that I know professionals who don't have their worlds in perfect order and several who live in perfect disorder and in fact have had a much greater beneficial effect on my life because of their willingness to let me see it. So if I was to dare speak for the collective I, would say just this:
Don't patronize us. Don't give us fake medals. Don't ask us to learn to hide and lie and pretend we are something we are not. We just want to be equals in a world that will only ever lift us up as underdogs rather than leaders. We have the same heartbeat as you, we have the same physiological structure, we are just like you but with different life perspectives and experiences. We have different things to offer, but that doesn't mean we can't also offer the things you do, if we are allowed to do so.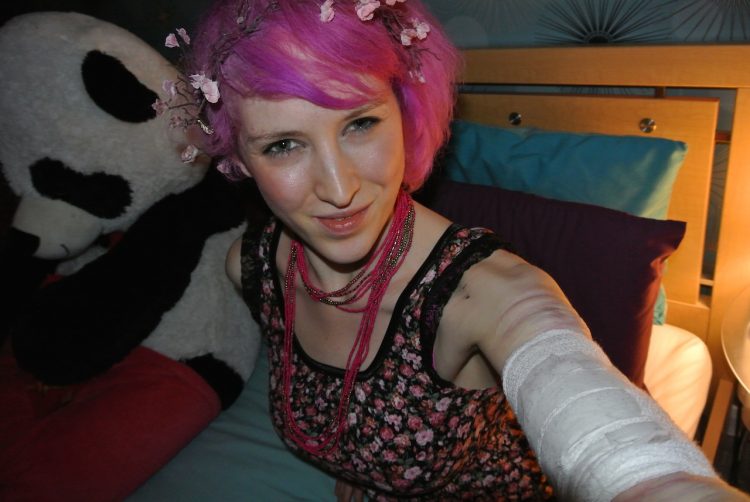 If anyone reading this relates and wants to talk then please do drop me a line.
It's time the silence is broken, it's time Google knew this conversation was and is possible.
So let's talk…
Follow this journey on Beyond the Borders.
We want to hear your story. Become a Mighty contributor here.
Thinkstock photo via Savaryn
Originally published: May 20, 2017