Pete Davidson Dismisses Stereotype That People With BPD Can't Be in Loving Relationships
---
On Monday, People reported that singer Ariana Grande and comedian Pete Davidson were dating. The news came after Grande broke up with Mac Miller, a relationship she called toxic after a Twitter user said it was "heartbreaking" she'd break up with someone who wrote songs about her.
Some social media users then posted that Grande left a "toxic" relationship for a relationship with someone diagnosed with borderline personality disorder (BPD), implying that people with BPD cannot have stable, loving relationships.
Davidson first spoke about his BPD diagnosis in September, and has since been open about his mental illness on sketches for Saturday Night Live.
On Thursday, Davidson shared a message on his Instagram story to address this stereotype, after hearing what he called "'people with BPD can't be in relationships' talk."
"I just wanna let you know that's not true," he wrote. "Just because someone has a mental illness does not mean they can't be happy and in a relationship. It also doesn't mean that person makes the relationship toxic. Everybody is different and there are a lot of treatments for mental illnesses and I have done/am doing all of them."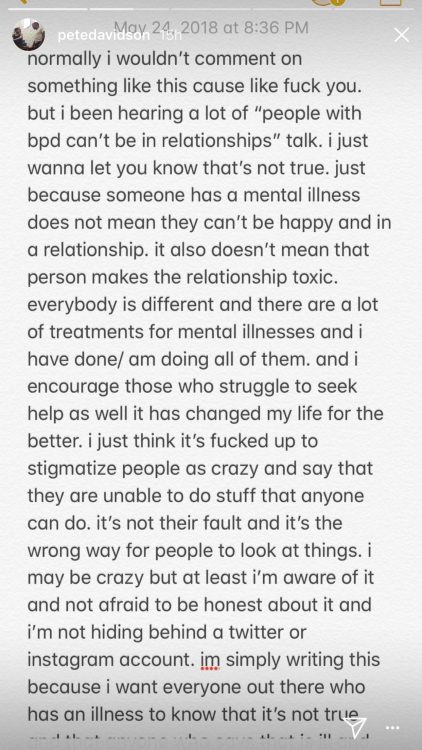 Davidson also gave a shoutout to those struggling with their mental health, saying he wants everyone out there with a mental illness to know what people say about them isn't true.
"For all those struggling I want you to know that I love you, and I understand you, and it is going to be OK," he wrote.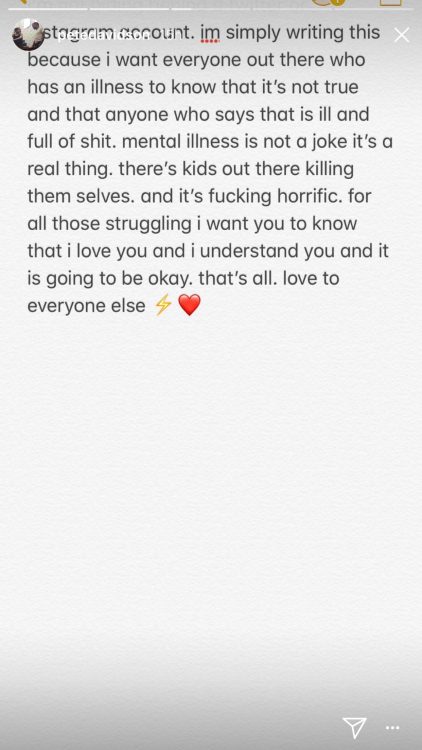 People on Twitter living with mental illnesses came to Davidson's defense, explaining why this stereotype was so hurtful:
I have BPD and my relationship is the best one I've ever had. We've been living together two years now and honestly never get tired of each other. When my BPD is bad he helps me calm down. It's healthy. We're happy. So there!

— Abi McManigan (@Abimackreads) May 25, 2018
mental illnesses do not define the stability of relationships

— j ???? (@ntltclipa) May 24, 2018
honestly don't understand why people demonise those who suffer from borderline personality disorder ???? massive respect to Pete Davidson for speaking out. We are able to have relationships, friendships and every other NORMAL human interaction just as everyone else can.

— meg (@breathinmeg) May 25, 2018
It's possible to be in a happy relationship if you live with a mental illness. Here are some pieces from Mighty contributors exploring that topic.
Lead image via Twitter and Pete Davidson's Instagram
Originally published: May 25, 2018