When Life Gives You Lemons, Make Sweet Tea: How I Survived My Brother's Brain Tumor
---
Bright and early Saturday morning, Tracy, Dad, and I ate a morose breakfast of cold cereal before climbing into the car. We rode in tense silence to the hospital, Tracy drumming her fingers on her knee the entire time. When we got there, we hurried across the parking lot—Tracy and I jogging to keep up with Dad. We followed him through the broad metal double doors to a small side room where Mom was already waiting.
"Daniel's resting in his room," she said, reaching over to squeeze Tracy's hand and giving me a weak smile. She looked pale and exhausted, her eyes puffy. Dad handed her some coffee he'd brought from home, and squeezed her shoulder.
We sat in the waiting area for a few minutes before a tall man in scrubs and a white overcoat showed up.
He shook Mom's and Dad's hands, then escorted us into his office. "I'm Dr. Gill, I'm a neurosurgeon here," the man said to Tracy and me. I zeroed in on how he'd said he was a neurosurgeon. So, it was going to be surgery, then? My heart started to gallop. Surgery seemed so much more violent than chemo.
We each took a seat in Dr. Gill's office—Mom busy pretending not to study the degrees on the wall, Dad's eyes skimming the bookshelf, and Tracy and me by the door, just quiet.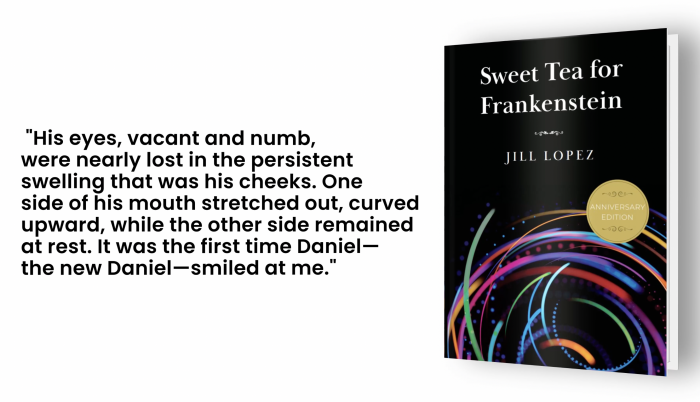 Dr. Gill was carrying some charts and several MRI scans. He set the charts onto his desk and situated two of the scans into a glowing rectangle on the nearest wall. He sat down heavily in the black leather swivel chair behind his desk and got right to it. "From these images we can tell Daniel's tumor is a benign pilocytic astrocytoma with an accompanying cyst. The tumor's the size of a golf ball, and it's all situated right in the middle of his right hemisphere, in his speech and language area."
He pointed out varying angles of the tumor and cyst on several MRI images, including one that showed which parts of Daniel's brain were in charge of what function. He switched them out for other scans and explained how they had injected Daniel with a special dye that only reacted to cancerous cells. There it all was in shocking, glowing black and white—blobby foreign objects surrounded by glowing brain matter. I couldn't make sense of it, but none of it looked good.
"So what does that all mean for Daniel?" asked Mom.
Dr. Gill leaned forward in his chair. "Well, the fact it's not cancerous is great news. We want to treat it surgically, but due to the location and size of the tumor and cyst, it'll be a long and difficult surgery. Plus, there are some risks we're taking by operating on a tumor located in that area. Daniel could lose his ability to speak, or could lose his ability to understand words altogether."
I saw Mom shrink into her chair. I could almost see the heartbreaking scene playing out in her head. Daniel staring at her blankly while she tried to make him understand "I love you."
But Dr. Gill kept right on going. "And of course with a surgery this intricate there is always the risk for paralysis or something more serious. We need to be prepared for every possible outcome." Dodging my parents' wide-eyed gazes, he cleared his throat and picked up one of the charts.
I heard a heavy sigh come from Dad's corner of the room. "There's no reason for us not to expect everything will be fine, right? This will be a long and difficult surgery, but Daniel could come out of it just fine?"
"Of course," Dr. Gill answered, as if that part wasn't as important as the terrible things that could happen instead.
Or he could come out a vegetable, I couldn't help but think. What would that be like, for Daniel not to understand what we were saying? This was all so weird, so wrong. Because Daniel is super smart. But now? What if he couldn't talk? What if Daniel could never walk again?
I glanced at Tracy out of the corner of my eye and saw a tear slide down her cheek. I reached out to hold her hand, and she squeezed mine back. Slowly, confusion and worry crept their misty tendrils into my thoughts. Daniel was only ten, so he'd be okay, right?
Originally published: December 8, 2022