This Little Girl With a Brain Tumor Has a Request: To Get a Letter From Your Dog
---
Update: Emma Mertens died on November 17, 2019 at 8 years old. Mertens' parents shared in a Facebook post that "she fought so hard but it was time to go home and leave the pain behind. In her final hours, we told her how many people love her and that it was ok to go. We will miss her dearly." Mertens founded the nonprofit organization Emma Loves Dogs, which funds animal-related causes.
When 7-year-old Emma Mertens was diagnosed with a brain tumor, she had a request that any animal lover would understand: she wanted to see pictures and letters from dogs.
Within a few days, Mertens' request went viral. She's now received 50,000 pictures from at least 20 different countries, according to her dad Geoff's estimate.
Last month, Mertens was diagnosed with a rare and inoperable brain tumor called diffuse intrinsic pontine glioma (DIPG). Mertens' parents, Geoff and Tammy, started asking friends and family for photos and letters from their dogs since Emma loves them. Though they initially sent requests using Facebook Messenger, social media posts about Emma went viral.
One post shared frequently is a photo of a typed letter tacked to a wall, though it's unclear who made it or where it was posted.
The family set up a PO box and email address, and people have also been posting photos and letters on Mertens' GoFundMe page.
"Hi Emma! Our names our Peanut, Minnie, Gracie and Maxine we are Chihuahuas," one post on the GoFundMe page reads. "Our little sister (hehe she's bigger than us) is Nugget and she's an Alapaha Bulldog. We live in Missouri. A couple of our favorite things are cuddling and playing with our stuffed animals. We heard you weren't feeling well and wanted to send you big hugs and kisses!"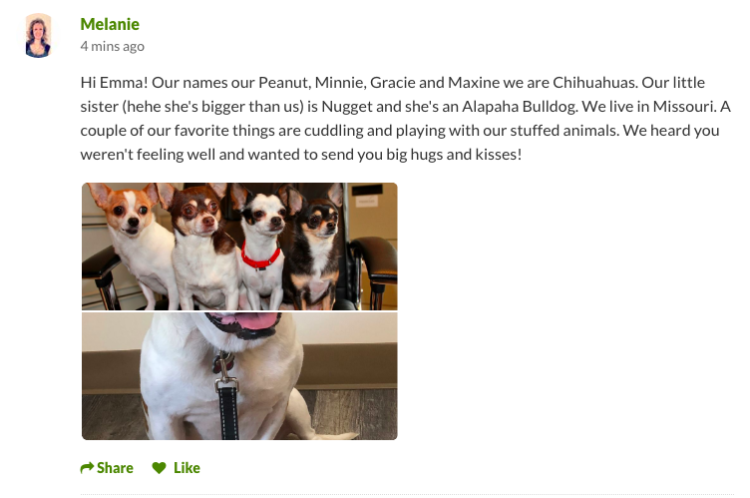 "Hi Emma! My name is Jasper!" another post reads. "I live in Kansas with my mommy. My favorite thing to do is chase squirrels and eat peanut butter snacks! My mommy told me all about you and I just wanted to let you know that I think you are so brave!!! Keep on fighting- my mommy and I will be praying for you. Sending you licks all the way from Kansas! Love, Jasper."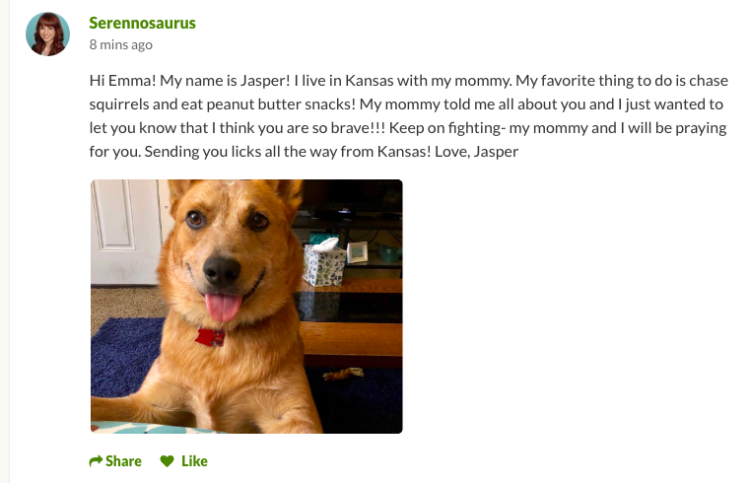 On Mertens' CaringBridge website, Geoff shared that Emma is doing radiation treatments, and has met with the Make-A-Wish Foundation to plan a wish that "has to do with animals." The first time they checked Emma's new email address, she had 274 emails. As of yesterday, the inbox was completely full at 2,500 messages.
"People from The Netherlands, England, Australia, Venezuela, Italy, Germany and almost every U.S. state sent Emma an email with stories and pictures of their dogs. She was ooing and ahhhing at all of them," he wrote.
"Many pictures of puppies really made her laugh or smile," he added. "Thank you to everyone who is trying to put a smile on her face, we appreciate the gesture."
You can send photos and letters from your dog to Emma Mertens P.O. Box 230 Hartland, WI 53029.