When I Decided to Pursue Pro Wrestling as a Person With Cerebral Palsy
---
It's almost my birthday; I have lived 29 years on this here planet they call Earth. There have been many constants in my life, but the one thing that has always been my obsession, besides disability advocacy, is professional wrestling. Wrestling is my muse, my starlet, my drug and my passion. Wrestling has helped me deal with my disability, and in the future I will use wrestling to show the prejudices society has towards disabled people.
I know what you're thinking, "He's writing an article that is somehow going to demonstrate symbolism between disability and pro wrestling? How is this possible?" Well, let me lay the smackdown on your brain.
It all started when I was 5 years old. I was changing the channels at a rapid rate when I came upon something special and breathtaking: pro wrestling. Wrestling was unlike anything I had ever seen before; it was dramatic, it was colorful, it was athletic and it was "entertainment." More importantly, wrestling made me forget that I had physical challenges and made me focus on something other than my disability. It gave me an outlet to escape to, a place I called home without actually leaving my house. It provided utter joy, something it still does to this day.
We people with disabilities can be the biggest wrestling fans in the world. I met my best friend Kyle and formed an instantaneous connection over our love of wrestling. Even though he has fallen out of love with the sport, we still talk about it and our debates can go on for hours. When we disabled fans see a wrestler, we are often immediately in awe of that person's ability to perform on a theatrical and physical level. We appreciate what the wrestler can do because we want to do it ourselves.
However, one wrestler took it a step further, my nemesis/mentor/icon of the disabled lifestyle Gregory Iron. Gregory Iron let me know I could be a professional wrestler. He was someone who had the same disability as me, cerebral palsy, and is not only surviving, but thriving. He had been negatively affected by his disability and yet seemingly rose above all the past drama to create something new and fresh. He gave me hope for myself.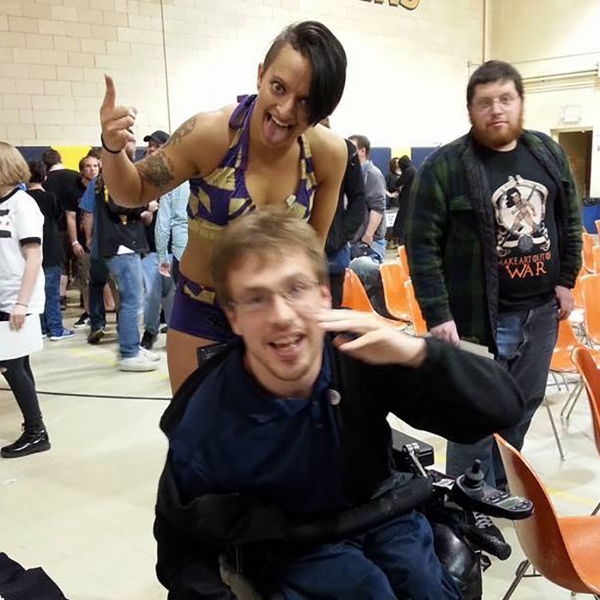 In college, people would ask me "Justin, what do you want to do with your life?" My answer of course was "I want to be a professional wrestler." However, there were a couple questions I had to address, such as "was I going to wrestle" and "how do I become a part of my beloved industry?" For some reason I thought to myself that I was going to wrestle someday. I had denied the fact that my physical limitations would prevent me from doing a German Suplex or even a basic side headlock take over. But I was still determined to pave my way in.
I was 26 and eager to interject something new and exciting into my life, but more importantly to achieve my destiny in professional wrestling. I stopped at a place in Chicago, where my buddy Matt got trained; I thought for sure I was a shoe-in. Then I heard words that still resonate with me, "I didn't know you were in a wheelchair." It was disturbing and disheartening, but didn't stop me from trying again. Luckily my other buddy, also named Matt, told me my future trainer was looking for some new people to train on Facebook. So I sent him a video of me talking. He liked it and I have been training ever since.
It was a crazy journey, but the fact that someone gave me the tools to succeed and believed in me enough to let me try has been a blessing. I now train for Underground Wrestling in Villa Park, Illinois. My trainers Shaun and James have been encouraging and very helpful in teaching me how to construct a successful promo. A promo is basically when someone talks about a particular topic in order to enhance the story that is going on at the time. I usually try to convey a cold and calculated type of anger, since my character is constantly objectified and ostracized because he's in a wheelchair. I felt like it was necessary to play the "bad guy" because it would be easy to get cheered as the good guy — all I'd have to do was simply roll out in my wheelchair. But it'd be much more difficult to get people to realize they are constantly judging, simply because they see my wheelchair instead of me.
Pursuing my goal of wrestling has been very rewarding; I have been training for 2 years and I'm on the cusp of turning a lifelong dream into reality. Regardless of what happens, I will always support this industry, and I will always feel blessed to know people like Shaun, James, Peter, Storm, Brian, James Hofbro, Ryan Patrick, Ismael and Briana, who helped me in my journey and supported me despite my limitations. Never give up on your dreams!
The Mighty is asking the following: What was one moment you received help in an unexpected or unorthodox way related to disability, disease or mental illness? Check out our Submit a Story page for more about our submission guidelines.
Originally published: June 21, 2016