The Cross-Generational Power of Being Open About My Disability
---
My friend has a wonderful son, Ryan. He is remarkable and our time together is cherished. I have known this kid his entire life (12 years) and I am able to say he has so many of his mom's personality traits.
It was a normal summer evening and annual visit with my lifelong friend and her family. Six of us were headed to to a beach town 20 minutes south, so we had to take two cars. I drove separate and Ryan announced he would ride with me as I followed the full car of his mom, grandma, sister and cousin. I adore each of these kids who are now 12, 13 and 14 years old. I'm also an educator, therefore I should have no difficulty in carrying on a conversation with a 12-year-old boy. But I still wondered, how am I going to fill the awkward moments of silence with this kid? I'm cool, he's cool, but still, he's a 12-year-old boy.
There are some pretty outstanding stories about Ryan. He's active, smart and perceptive beyond his age and sometimes in the school setting or a setting when it's time to be boring, this can be tricky. However, I've also been told he has paid for a homeless man's meal at Chick-Fil-A with his own allowance and has asked an elderly woman who was sitting alone in a food court if he could sit with her to chat.
Needless to say, my chat with Ryan on the way to our destination was far from boring or awkward. He asked me if I had ever traveled out of the country which lead to a discussion about cruise ships and motion sickness. He described his two destinations of where he would like to travel as "Fiji" and "San Francisco to see the Oakland team play in the NBA."  Ryan also told me about his illness on the day of sixth grade graduation, and the reasons why science camp was no fun. We filled our car ride with great conversation!
On the car ride back home, Ryan asked what I wanted to be professionally when I was a kid. I explained to him that I am working at the job I wanted when I was 15 years old. He was intrigued by this and asked what an occupational therapist did. We discussed similar professionals that helped him at school.
This was not the conversation I was expecting to have when Ryan said he wanted to ride with me in my car. But I really wasn't prepared for what we discussed next.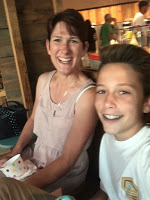 He explained to me there was a classroom in his school for kids that needed help with learning. Then he proceeded to tell me about his really cool friend Dylan. He said "Everybody loves my friend Dylan, he has more friends than anybody else in school and he has cerebral palsy."
I responded by asking if he knew why I walked and talked differently than everyone else. He very maturely said, "Yes, because you have cerebral palsy just like Dylan does." It was just natural for him. I was thinking, how did he know all about this? I had forgotten these lifelong friends of mine needed an explanation of what was up with me and my differences (which is just the reason why they're considered friends for life).
I've always wondered why the kids in my personal life don't have as many questions as the kids I see and work with every day at school. For many of these kids I have been around since the day they were born, so they just see me as "Kim" (many of them call me Kimmie) and don't know my motor output should be the same as other adults. As Ryan and I were having our conversation, I began to realize that some of my closest friends have more than likely answered questions or talked to their kids about why I am "different" than their other friends. There are no better people to be sensitive about how to explain my CP. These are friends who know me for me first rather than seeing or thinking about my challenges. So, it's only natural they taught their kids to act the same way.
We veered off topic and discussed bullying, and Ryan's perception was, "We're all the same — it's not like any of us are aliens or anything." I shared that my perception of bulling was that it's pretty amazing we are all different, because if we were the same, it would be boring. Then we continued to talk about Dylan, apparently the coolest kid in school. When I told Ryan, "Well, you never know, you and Dylan…" he interrupted me and said, "Could end up being friends forever, just like you and my mom."
Later that night, Ryan's mom told me Dylan is a cool kid and he told Ryan he gets really mad when people treat him differently than other friends. Ryan asked him if he was one of the people that did that, and Dylan was able to say no.
So there you have it. By being myself around people I am comfortable with and care about, I have been able to help a friend's child mature into a genuine friend who has an open mind. And because Ryan is very good at being who he is, showing his strengths as a good friend to others and sharing it with me totally made my day!  
Getty photo by Hybrid Images.