How a Lifetime of Creative Problem-Solving With Cerebral Palsy Set Me Free -- Literally
---
I am a woman whose basic intelligence is questioned whenever I leave the comfort of home. Cerebral palsy is the culprit. "Accidents" seldom happen to me – at least that's the message I've received throughout my 57 years of stares. I am not afforded the kindness others receive to simply bumble a stack of notes or have a wet, slippery jar fall from my grasp. Meticulous forethought precedes most actions I take in an effort to avoid such judgment. Now that I have set the scene, on with my tale.
I just wanted yesterday to end. My 16-year-old pug, Athena, reached the next realm. Louie, my toddler Maltipoo, knew something was "off" when I returned home without her. I had spent three sleepless nights mulling over the decision to let her go. I barely slept while she wandered aimlessly around the house, clacking her claws against the floor's wooden planks with the occasional grunt. Her stomach was weak and refused to keep anything down.
I prepared for bed so I could sleep away some of my sadness in my sun-filled room. The nightstand clock displayed "6:38 p.m." as I meandered towards the ensuite bathroom. I grabbed the TV remote from the foot of the bed, tuning into QVC background noise to minimize Louie's "reactive-to-strange-sounds" barking. He had darted across my path before jumping into bed to await my return while I continued towards the sink.
I went to dry my dewy, washed face with the towel hanging behind the bathroom door. I had removed the doorknob a while back due to its stiffness and recently had reinstalled it when listing my house for sale. It remained difficult to open. I never closed the door to avoid the dexterity and strength challenge of opening it.
Pent-up emotion surfaced. I leaned into the towel in a bereaved, dazed moment. The door shut. Rapid, short breaths replaced my budding sobs. "You're OK, Jen. The knob is stiff, but it will open." 10 minutes of frantic knob twisting ensued – and failed. "Oh, shit! There's no way out!"
My son, Anthony, had flown in for a visit to say his goodbyes to Athena. He had left two days ago — and no one was expected to come over anytime soon. Nobody was coming to help me.
I pillaged the room's "escape" resources — nail clippers, blow dryer, towel rods, soap, and green-handled floss. "C'mon, MacGyver instincts. Kick in!" I prayed to my guardian angels for guidance and strength.
The bathroom's garden window above the tub was built not to open. I tried to smash it with the blow dryer. No luck. Towel rod strikes on the door failed too. I mustered up my anger and hauled off to break down the door. Nope — it didn't work! When night fell, I sporadically started turning the bathroom light on and off in hopes to catch a neighbor's attention.
I made countless attempts to open the door with a pair of outstretched nail clippers as I had seen portrayed decades ago on 70s detective shows – except Starsky and Hutch used a plastic credit card to slide past the lip of the door. The clipper snipped the skin on my hand whenever the door seemed close to opening. I wrapped a Band-Aid around my skin to avoid further damage. However, it did not prevent blisters from forming. My effort with the floss handles also proved moot. "Damn! There's no way I'm getting out of here if I injure my hands."
I turned off the light and laid down whenever hot sweat rolled into my eyes. I drank from the sink's faucet to rehydrate knowing that my most important resource — my strength — was limited. Cerebral palsy requires me to eat protein every few hours to maintain energy — and I didn't have any food with me.
Stillness allowed whispers to creep into my mind. "There's no way out. After all the hell I've gone through in this life, I'll starve to death?" 
Louie's whimpers interrupted my episode of nonsensical thoughts.
"I'm here, Louie." My fingers struggled beneath the door to feel his warm licks.
"I p'omise I'll get out of here soon, Lou. I p'omise."
Another round of clipper-probing, window-banging, and light-flickering commenced — with no success. It was the first of at least twelve more rounds. Honestly, I lost count.
Morning sunlight filtered into the room as I laid on my makeshift towel-bed. I knew that it must be nearing 6:00 a.m. QVC's Alberti's faint laughter floated into the room. Did I fall asleep? The remaining hanging towel rod caught my eye when I gazed upward. There are tiny screw holes in the wall that hold it up.
I was engulfed in hope as I dismantled the rod and started to chip away the plaster with one of its screws. "Please… don't be pipes in the wall!" My anticipatory strength took hold.
I pounded the plaster with the blow dryer once the hole was large enough. There were no pipes!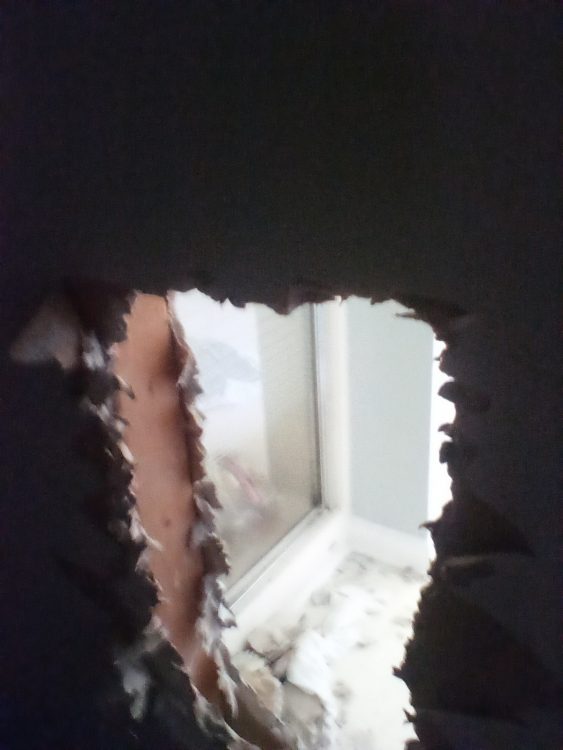 To prevent further blistering, I wrapped the dryer's handle with a pink T-shirt that I had previously carelessly left on the floor. HGTV stars' voices bantered "Demo day!" in my head as I increased my strength with each strike. Burning sweat dripped into my eyes, down the back of my legs, and everywhere else. "Slow down, Jen! You know you're getting out of here. Take your time."
I regained strength with intermittent sits on the ceramic throne's lid. "Get up! Let's do this." I continued pounding. I was then met with what seemed to be wall-spanned, hard cardboard. "Damn! There's more?"
Once I got through the brown plank, I found a second wall. "Don't cry now. You've got this!"
I commenced the screw-picking once again.
Hours later, escape loomed. The newly constructed exit was impossible for my body to slide through. I stuck my head into the darkened closet and immediately heard an imaginary Jack Nickolas shout, "Here's… Jenny!"
My pounding continued and intensified until my twisted body wormed through my new masterpiece. Like a butterfly from a cocoon, I emerged after spending 16 hours trapped in my bathroom and was met with both a tail-wagging Louie and my son Anthony's ringtone. It was 10:27 a.m.
"Hel…lo," I gasped.
"Why are you out of breath, Mom?" he replied.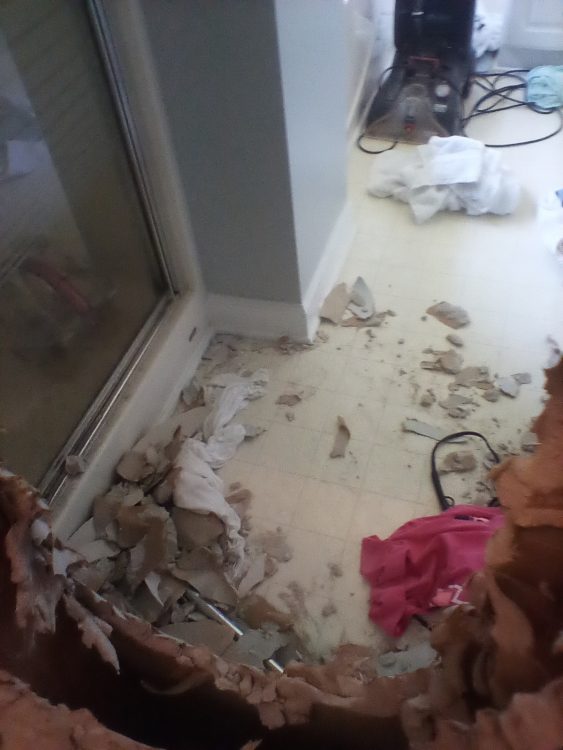 Getty image by Westend61.
Originally published: March 15, 2022