My Christmas Wish as a Person With Cerebral Palsy
---
I remember sitting in my first hour class, watching students give and receive gifts from their friends. It was my second year at my new high school, and I still struggled with making friends. Many of the kids didn't know how to react to the way my cerebral palsy causes me to speak and move. I became the kid who was just kind of there, invisible to many. I was going through the lowest part of my life. Just like the year before, I felt empty inside, knowing I didn't have friends to share the Christmas cheer with. I remember talking to my mom about this the morning of the last school day before winter break.
But a few hours later, something happened that I will never forget. Like every morning, I sat at my desk watching the clock as the other students chatted with their friends. Out of the blue, one of my classmates placed a small gift box on my desk. This girl had never really talked to me before, so I was very confused why she set it on my desk. I was assuming it was hers or for someone else. Then she said, "I wanted to get you something. Merry Christmas." Inside the box was a pink princess Gigi's cupcake.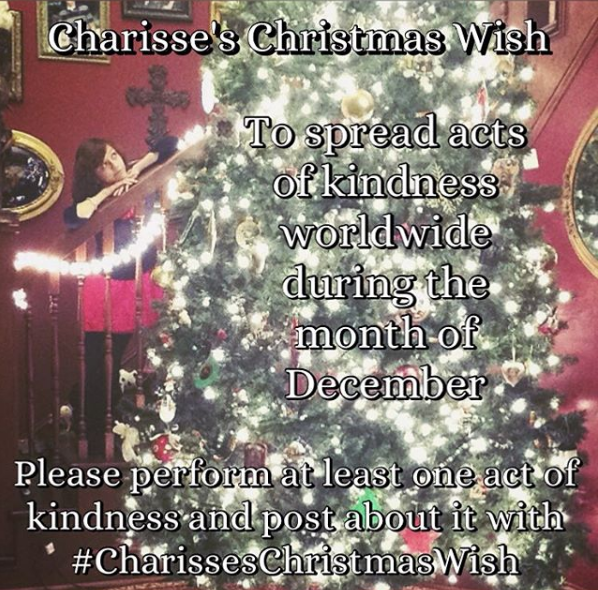 Then another classmate handed me a small red gift bag. Inside was a little stuffed reindeer and some Hershey's Kisses. I was so surprised, I was speechless. I couldn't believe what happened. My eyes teared up with joy. It wasn't the gifts that overwhelmed me with happiness, it was knowing someone thought of me when I believed no one ever did.
These acts of kindness left a smile on my face the whole day. Those girls will never know how powerful their small gifts were. They will never know how long I will remember that moment.
I believe kindness is the greatest gift you can give someone, especially during the holiday season. My Christmas wish is to spread random acts of kindness worldwide during the month of December. I'm asking others to perform at least one act of kindness. I want others to experience the power of kindness. Your act of kindness can be small or big. It can be donating toys, paying for someone's coffee, giving someone a compliment, or just sitting by someone who may be sitting alone. Anything!
I would love to hear your act of kindness. Please post about it on social media with #CharissesChristmasWish and let me know where you are from. You can make someone's holiday a bit brighter!
Follow this journey at Charisse Living With Cerebral Palsy.
We want to hear your story. Become a Mighty contributor here.
Originally published: November 29, 2016