Finding Self-Confidence Through Physical Fitness as a Person With Cerebral Palsy
---
Hi, my name is Tiffany Eickhoff. I'm 28 years old and from Saint Louis, Missouri. I was born with cerebral palsy.
Two years ago, I made a drastic change in my life. At that point, I was just graduating college and was at a very unhealthy weight. I got to the point where I couldn't walk or stand for long periods of time without my body hurting. With my whole life ahead of me, I faced the fact that I needed to improve my health and give myself a chance to live the best life I possibly could.
A few weeks after I graduated, my health journey began. I started working out a few days a week in a group fitness class with trainers and a few days a week on my own. I also took a huge leap by completely changing my nutrition. I gave up soda and now lead a paleo lifestyle. My diet consists of lots of veggies, protein (mostly meat), seafood and fruits. I cut bread and fried foods from my diet and eat very little dairy. Every once in a while I treat myself, but I feel so much better now. It's all about striking a healthy balance.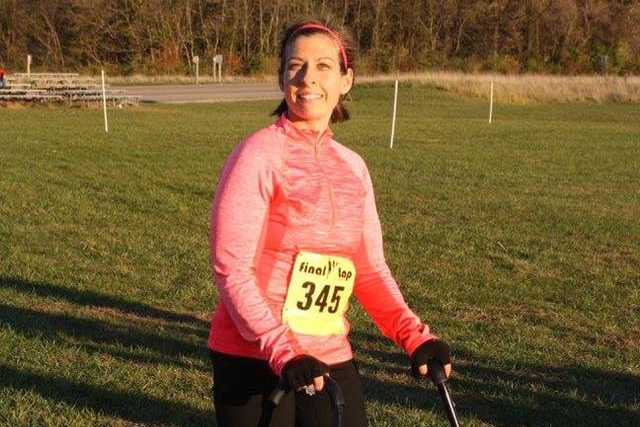 While these changes to my lifestyle took time and perseverance, my quality of life is much better as a result. Over the past 21 and a half months so far, I have lost 70 pounds. I am down to only having to walk with one cane and rarely ever use my wheelchair any more. I even raced in my first ever 5K on November 14th of last year, and completed my third 5K on April 2nd! The positive impacts have also been reflected in my mind and spirit, giving my overall self-esteem and confidence the boost it needed. Now, I've gotten into fashion and enjoy putting outfits together and taking more pride in my appearance. I also gained the courage to start learning how to drive again and got my driver's permit.
Being healthy is a lifestyle for me now. I realize it's a process, and take it one day at a time. I keep getting stronger every day and continue to reach for higher goals that allow me to live life with greater independence. Next up, I want to complete a half marathon, marathon, and triathlon. I am currently learning how to drive with hand controls, and hope to get my driver's license soon. Eventually, my goal is to live completely on my own and totally support myself. Life is about the journey. I am confident, driven and determined that the sky is the limit for me!
Editor's note: This post is based on an individual's experience and should not be taken as medical advice. Please see a medical professional before starting any diet or exercise program.
This story originally appeared on Miss Amazing's Musings.