The Moment I Realized I'm Meant to Be a Special Needs Dad
---
We didn't shoot off any fireworks on the Fourth of July.
We didn't even watch others shoot them off. Nor did we attend our city's big fireworks show. My son with special needs is in bed by 8:30 at night when it's barely dark.
No time at the pool or the lake.
No backyard games and activities.
No sports and Independence Day festivities.
Holidays are anything but typical when you have a son who is both cognitively and physically challenged. Sometimes they're reminders of how different our lives can be.
No summer trips to the beach or Disney World. No roller coasters or water slides. No Facebook posts of our travels and experiences.
I think a lot about the dad I would have been if my son were typical.
We would do so many activities together as a father and son. Ball games, camping, backyard fun, fishing and watching sports together. I was ready to be a typical dad to a typical son.
But this? I wasn't ready for this.
No one is ever really ready to be the father of a child with special needs. Sometimes I grieve the life that could have been and the father I would have been as well.
But last night, my now 17-year-old non-verbal son and I sat on a swing on our back deck as dusk fell.
No one said a word. The only sounds were from the birds singing in the trees and our feet as they periodically scraped the deck.
We rocked back and forth in the silence.
Back and forth.
And then it happened.
Jon Alex leaned his head over and rested it on my shoulder. He looked up at me and grinned.
As we continued swinging, I put my arm around him and told him I would love him forever. I told him to always remember how much I love him just the way he is, and I reminded him that will never change.
We continued on for quite a while in silence. Father and son.
Love requires no words.
Then I realized we had fireworks after all. They were just shooting off in my heart.
I'm not the dad I once hoped I'd become. Instead, I believe I'm becoming the dad God hoped I would become.
I believe God didn't give me Jon Alex because he thought Jon Alex needed me. I believe God gave me Jon Alex because he knew I needed Jon Alex.
No, I wasn't ready for this.
But I wouldn't miss it for the world.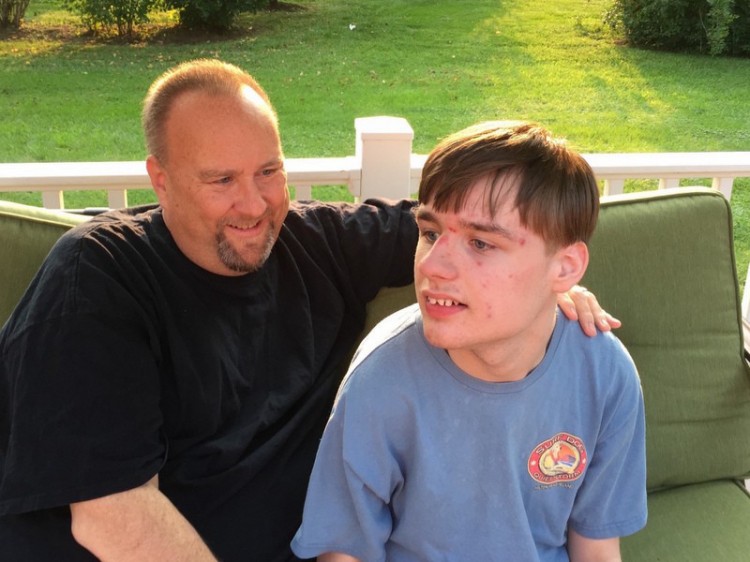 Follow this journey on Goodnight Superman. 
The Mighty is asking the following: Tell a story about a time someone helped you and/or your child when you needed it most. If you'd like to participate, please send a blog post to community@themighty.com. Please include a photo for the piece, a photo of yourself and 1-2 sentence bio. Check out our "Share Your Story" page for more about our submission guidelines.
Originally published: July 8, 2015