To the Hospital Security Guard Who My Daughter Asked for Crackers
---
I don't know you at all, but I saw you when we walked into the hospital for my daughter's appointment at the Cerebral Palsy Clinic. She's an old pro at her frequent doctor's appointments. On this day she was excited about getting a new prescription for AFOs (leg braces). She's always nervous, though. She's had many Botox injections that are very painful. She's been through the operating room a few times, had an MRI, and we've even travelled to New Jersey once for SPML surgery. She puts on a brave face, but she is always nervous whenever we go to the doctor.
After our appointment was over, she was hungry. She remembered that last time we had been there we got sent to radiology and they had her favorite crackers.
"Mom, can we just go see if they have those crackers?"
I really didn't think anyone would just give her crackers if we didn't have an appointment in that department, but then she caught sight of you. Hey, let's ask the policeman if he knows where the crackers are!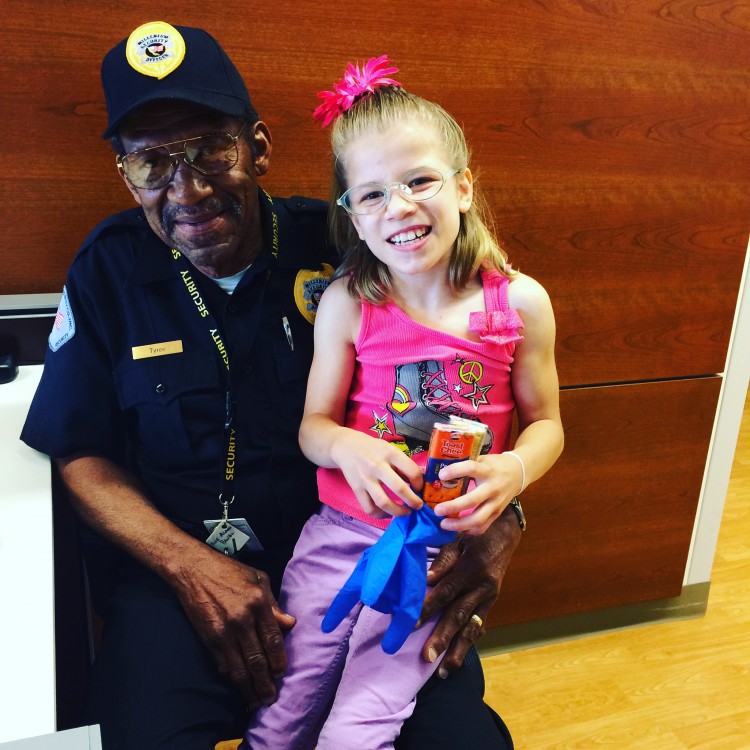 So she came over and asked if you knew.
I expected you to just tell her that you didn't have any and leave it at that. Your job was to sit at the front entrance, not go find a little girl crackers, but that is just what you did. You told her that you'd be back in a minute then you got up and went searching for crackers.
When you came back with her favorite kind, her day had been made.
I wanted to thank you for being kind. You don't know her history and you certainly didn't owe us anything, but you went above and beyond your job to make a child happy. This world sometimes seems so full of negatives, and you have certainly lived long enough to know that better than I do. Your small act of kindness was appreciated more than you know, and it did not go unnoticed by me or my daughter.
Originally published: August 7, 2016