The Only Word That Matters When You Describe My Son With Special Needs
---
"Cerebral palsy. Autism. Epilepsy. Intellectually disabled. Cognitively impaired."
I read the words over and over in a whisper.
In fact, those words seemed to leap off the page despite the rest of the wording that filled the legal document I was holding.
They were only eight words, but those were the eight words used to define my son.
Our son has just turned 18 years old. Along with that came a new round of responsibilities for me as a dad.
I was supposed to be helping him pick a college.
I was supposed to be assisting him in determining what he wanted to do with his life.
I was supposed to be teaching him to be responsible for himself.
That was before those eight words. Cerebral palsy, autism, epilepsy, intellectually disabled and cognitively impaired.
Instead, I find myself, upon his 18th birthday, obtaining legal conservatorship and applying for SSI assistance for him. I will be responsible for him for the rest of my life.
In my hands was a medical avadavat from my son's neurologist. We had obtained the document as part of the necessary documentation for filing for conservatorship.
His whole life summed up in those eight words.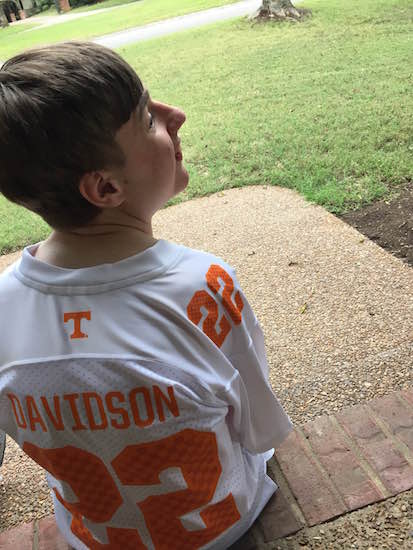 I thought back to that first time I held his newborn body in my arms. I had looked into that face for the first time in awe of what I believe God had presented to me. I had trembled with the thought that I was now a father.
Over the past 18 years, we have endured pain, hardships, challenges and trials we never imagined or dreamed we would face. Many is the night I have wrestled with God. Many are the days I have questioned, pleaded, begged and implored God to change our circumstances.
I have so often felt clueless, helpless and hopelessly inadequate as a special needs dad. I have wandered the caves of unbelief, doubt and despair searching for meaning and understanding that I never found.
But I realize now that autism, cerebral palsy and epilepsy are not the true source of my pain at all. I believe the pain and anxiety in my life are the result of my unwillingness to surrender my dreams, desires and plans to the will of God, whose plans for my son's life are so different from mine.
At my essence I am a control freak. And the fact that I did not get to choose the path for my son's life still taunts me and often confounds me. Faith is accepting that God's will may not always align with my will.
I think about my own life, my 48 years. And I wonder what eight words God might use to describe and define my own impairments.
Hypocritical. Judgmental. Self-righteous. Selfish. Grace-deficient and temperament-impaired.
The longer I gazed at the words used to describe my son's impairment, the more I realized just how inaccurate they really are to me his father.
As his father, I look at my son and an entirely different set of words come to my mind. Words that paint a far more accurate picture of who and what he really is to me.
Unconditionally loved. A perfect gift. A masterpiece. A vessel of God's grace. My son.
And in that moment I realize that those are the same words my Father uses to describe me, his son.
So just as I stand, raise my hand and pledge my life to be my son's advocate, I believe my Advocate stretched out his hands as well and pledged His life to become mine.
I never got to be the father I planned to be. But now I'm not sure anyone would have been proud of that guy anyway.
The night he was born, as I held him in my arms, I whispered, "I'm your dad. I'll always take care of you, son."
Now that he is 18, I still mean those words. And of all the words you can choose to use to describe him, ultimately there is only one word that matters.
"Mine."
The last 18 years are only the beginning. "I'm your dad. I'm still here to help you."
A version of this post originally appeared on Not Alone.
The Mighty is asking the following: What's one thing people might not know about your experience with disability and/or disease, and what would you say to teach them? If you'd like to participate, please send a blog post to community@themighty.com. Please include a photo for the piece, a photo of yourself and 1-2 sentence bio. Check out our Share Your Story page for more about our submission guidelines.