What I Owe to Cerebral Palsy
---
Dear Cerebral Palsy,
I spent many hours in my youth day dreaming about who I would have been had it not been for you. Sometimes my dreams were grand, and able-bodied me would have been an Olympic gymnast who competed in Atlanta for a gold medal (I am short; that's really all you need, right?), while other times my daydreams centered on that cute boy asking me to dance. As an adult, this is what I've come to understand: without you… I wouldn't be me.
We have had our bad days, like when I ate lunch in the bathroom for most of fifth grade to avoid the teasing and bullying. If able-bodied me had avoided that, would I have still talked to the girl crying in the back of Spanish class in sixth grade? I can't imagine the last 20-plus years without that friendship.
We had our days filled with arguments and anger. I thought my parents pushed me too hard because of you one second and held me too close the next. Instead, you gave me the chance to see them in a different light; my mama was the friend I had when no one else was there, my dad the strength I needed to keep moving forward because he never let me say never. Every single day I am grateful to be their daughter… but would able-bodied me have seen it? How they sacrificed for their children?
We have had days filled with physical pain and struggle that came with hours upon hours of therapy and stretching to gain control of my body. If I hadn't done that, would I still have decided to be a therapist myself? Or If I had would have been nearly as able to support my patients and say "I understand" with actual meaning behind it? Or worse yet, would my pity keep me from pushing them in the way I was pushed? Because I need to know I do everything I can to help them reach their full potential.
We had our days where you made me blind with jealousy for my able-bodied siblings. I wanted to be them so badly. I now know that their lives revolved around my treatment and they had every right to their own jealousy and anger. But they were also my best friends and biggest defenders. Would I have seen the strength in my sisters if not for you? Would I have been as close to my brother?
We have had our days when little things become big. Frustrations became all too much. It was on some of those days that you afforded me a unique opportunity to see the good in people; that man who stopped to hold an umbrella in the pouring rain because my hands were full of crutches, that teenager who shyly asked if she could help me load my groceries, my mom mentioning out of the blue how proud she was of me.
We had our days when I blamed you completely for the fact I was alone. That cute guy in college told me if it hadn't been for you, he would date me. I really wanted you gone then. I was sure I was going to be alone forever. Would able-bodied me settled for a person who focused on looks? Would I have missed out on the amazing man I call my husband? The one I fall a little more in love with every time he gets angry about something not being accessible, cracks a joke about needing to help with my shoes or knows exactly when I just need to be held without a word as a wave of pain comes?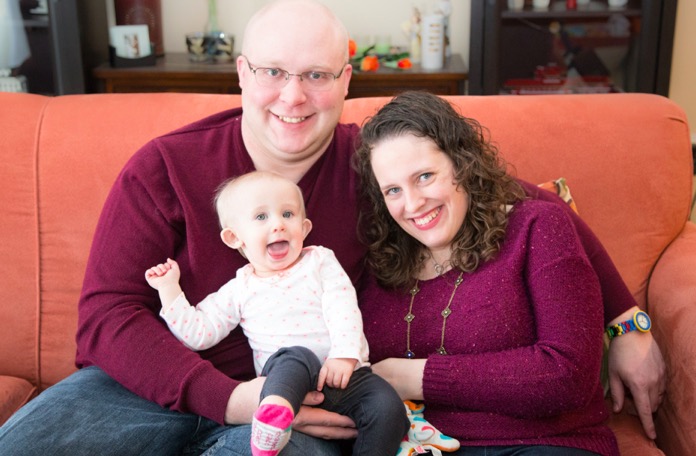 Even given the unique challenges you've placed on us as a married couple (I will spare you the gory details, but sex and CP can be let's shall we say… interesting) have shown me in a million little ways that he is my Prince Charming.
We had our days when anxiety paralyzed me thinking about being a mother who couldn't do everything for her child. You and pregnancy ganged up me. I wasn't sure I could deal with the pain and helplessness that two of you created for me. I was sure that this had been the wrong choice, that the amazing support from my friends and family weren't going to be enough… but then she was here.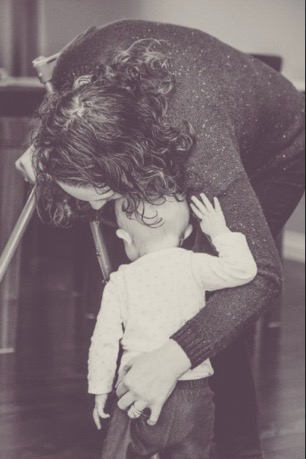 My body that so frequently betrays me did something so incredibly right. This body I have learned not to trust did something so perfect that even now, thinking of her, I have to catch my breath.
It's partially because of you that my daughter has so many involved adults that love her. There is never such a thing as too much love. In looking at her tiny face or hearing her infectious giggles, I know I would do it all again in an instant.
My dearest cerebral palsy, we are not done with our struggle. I know as I age these struggles will change, evolve and surprise me. I know, too, that every day I am grateful to wake up and be me.
I'm happy to be my parent's daughter, my patients' speech pathologist, my husband's wife, and my daughter's mother. I don't know where I would be if not for you, so as I think about where I am all I can say is thank you.
The Mighty is asking its readers the following: If you could write a letter to the disability or disease you (or a loved one) face, what would you say to it? If you'd like to participate, please send a blog post to community@themighty.com. Please include a photo for the piece, a photo of yourself and 1-2 sentence bio.
Want to end the stigma around disability? Like us on Facebook.
And sign up for what we hope will be your favorite thing to read at night.