When a Simple Question From My Student Left the Whole Room Speechless
---
I assist in a pre-K class that has students with "differing abilities" and then five "typicals" (students who require no additional resources).
One of our students, MJ, has cerebral palsy. MJ has the thickest darkest curly hair. I get the biggest smile from him when I run my hands through those curls. His smile brings one to my face as well.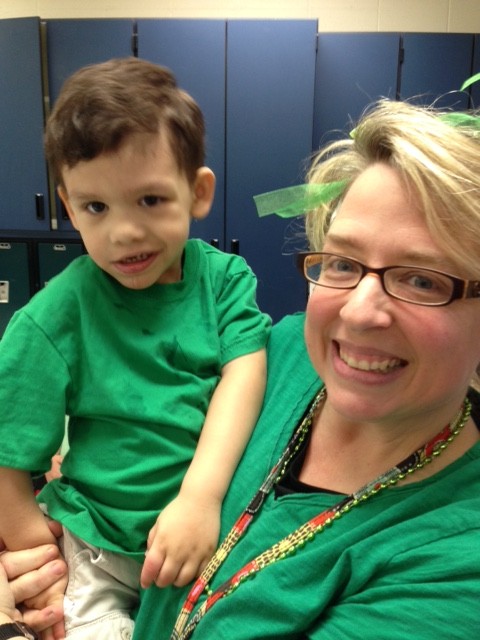 At the beginning of the year, typical students who have not had one-on-one daily contact with kids with differing abilities tend to kind of step back, stare and ask lots of questions. By the time the first 30 days of school have passed, it's like the kids have known each other forever. Speech teachers, physical therapists, teachers for deaf and hard-of-hearing students, and occupational therapists visit our classroom daily. We hear a knock and the kids look up and see which "helping" teacher it is and go back to what they're doing. It's like asking a student to pass a crayon; in other words, nothing out of the ordinary.
MJ's mom is expecting a baby. One day she was in class and all the kids were asking about the baby. Boy or girl? Boy. Name picked out? Christian. When is the baby due? March.
Then one of our typical students, Susie,  looked at MJ and asked, "Is the baby going to be like MJ?"
Silence filled the air. All the grown-ups looked around at each other. I took a deep breath and was going to remind the children about what cerebral palsy is… but then the student who asked the question, Susie, piped up in a very matter-of-fact way: "If he is going to have dark curly hair like MJ, he better get used to having Ms. Murray running her hands through his thick curly black hair. Ms. Murray loves those curls. She says the curls are his hair smiling." Susie went back to playing with MJ.
I couldn't help but smile and shake my head. My thought immediately went to MJ's differing ability, but this sweet classmate didn't even have that on her mind. It was the dark hair with curls!
P.S.: Christian Xavier was born March 25… and he has a head full of dark curly hair!
The Mighty is asking the following: Can you describe the moment someone changed the way you think about a disability or disease? If you'd like to participate, please send a blog post to community@themighty.com. Please include a photo for the piece, a photo of yourself and 1-2 sentence bio.
Want to end the stigma around disability? Like us on Facebook.
And sign up for what we hope will be your favorite thing to read at night.
Originally published: April 1, 2015