Why I Let My Daughter Struggle to Stand
---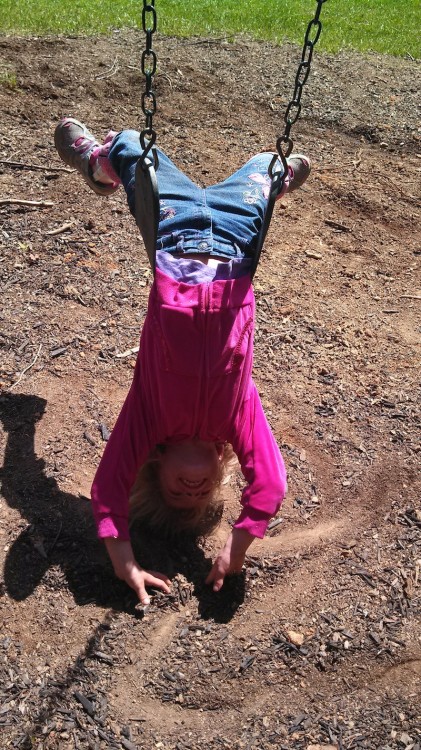 My daughter has cerebral palsy that is immediately obvious with her stiff gait and leg braces, but I'm the mom at the playground sitting on the bench letting her play without me.
If she trips on the mulch, I don't rush over to help; I let her stand back up. If she wants to climb up the ladder, I let her do it even if I'm sitting there holding my breath the entire time. I've seen every variety of well meaning people gasp as my daughter trips, then cast an annoyed glance in my direction before rushing over to grab her and stand her back upright. I've had to ask many people to please not help her. I've said over and over again: "She's fine. Let her do it herself."
I'm sure to the outsider I have at times appeared uncaring, however the opposite is true. My daughter never had the chance to try to walk during the first four years of her life. She spent those years in an orphanage where no one believed she could learn, so she never tried. At the age of 5, with AFOs and weekly therapy, she finally took her first independent steps. Like a toddler though, she fell often. The most important part of falling is learning how to get back up, so we spent hours teaching her how. Standing up is a hard skill to learn at 5 and 6 years old, but it's easier to learn at 6 than 10. Time was not on her side.
So when she fell, we would fight the urge to run over and stand her back up. Instead we would encourage her to get her legs back under her body and do it herself. At first, even she was resistant to the idea of doing it herself. For years no one had ever expected her to walk or stand. It was hard!
I knew she could do it, so I insisted she try. Every. Single. Time. It would take her a full minute to get her legs properly positioned to stand up. It wasn't that she couldn't; she just needed the time to figure it all out. Motor planning that comes naturally to an infant doesn't come so easily to an older, bigger child. I would sometimes assist her by holding her waist with my fingers, but I wouldn't pick her up. The glares I got told me what some people thought of my parenting method. Sometimes I didn't even want to go out in public with my daughter because the first time she would fall over, someone would see her taking more than two seconds to get up and rush in to help. I'd be forced to ask them to stop in what always felt like a horribly awkward moment.
But you know what? Today my daughter can stand back up almost immediately. She's learned to tell people, "Please don't touch me, I can do it myself." And she does.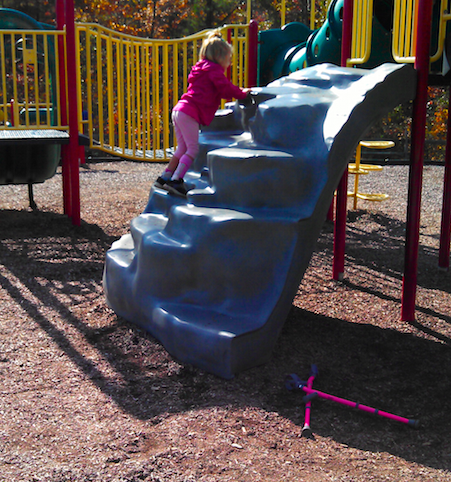 She also opens doors, goes up and down stairs, gets dressed, takes a shower, puts her shoes on (and ties them!) and buckles her seatbelt — all because I didn't give her a free pass when those things were still difficult. She's learned that just because something is hard, doesn't mean she cannot learn to do it. She's learned that while having a disability may mean some things are harder, it doesn't mean things are impossible.
Life isn't always accommodating or fair. Sometimes there's no easy way to accomplish things.
These days I let my daughter struggle to get her own cup out of the cabinet to get a drink. I let her struggle to load the dishwasher. I let her struggle to haul her laundry hamper downstairs. I let her struggle to do chores with her siblings. These are life skills that are hard for her now but necessary if she really wants to go to college like she talks about.
Someday she may want to struggle to learn to drive a car, or be a doctor, or cook a meal for her future spouse. It's my job to make sure she understands she can.
The gift of learning to be independent is too precious to take away — even if it's harder for some to open the package.
The Mighty is asking the following: What's one commonly held opinion within the community surrounding your disability and/or disease (or a loved one's) that doesn't resonate with you? If you'd like to participate, please send a blog post to community@themighty.com. Please include a photo for the piece, a photo of yourself and 1-2 sentence bio. Check out our "Share Your Story" page for more about our submission guidelines.
Want to end the stigma around disability? Like us on Facebook.
And sign up for what we hope will be your favorite thing to read at night.
Originally published: June 30, 2015