Balancing Life as a Cancer Survivor, Mom, and CEO With Chronic Illness
---
This article was originally published on Patient Worthy, on May 19, 2017 by Jean Martell. It has been republished here with permission.
Moms: The ultimate multitaskers.
Whether they're stay-at-home moms or working mom, these strong ladies have a way of getting stuff done, come hell or high water – or a chronic condition.
Cue Allison Moore, who in the course of her life has battled a rare cancer, a rare peripheral nervous system disease, and the important duties of wife and mother – and it hasn't stopped her one bit.
It must be a mom thing – and most definitely an Allison thing.
Allison was diagnosed with Charcot-Marie-Tooth (CMT) disease in 1997 after being treated with chemotherapy for sarcoma. CMT refers to a group of inherited disorders that cause nerve damage – mostly affecting the arms and legs (peripheral nerves). It is also known as hereditary motor and sensory neuropathy, and may cause loss of sensation and muscle contractions, and difficulty walking.
Although CMT ran in her family and carried the gene, she was largely asymptomatic until she received that chemotherapy. As Allison puts it:
I ran, I skied, I walked in heels — I didn't feel any different than everyone else. But after getting treatment for my cancer, everything changed. It was like 25 years of progression in one day.

Allison understandably was devastated. The treatment that saved her from cancer helped development the conditions that brought on her CMT. It's an irony worthy of O. Henry! And Allison doesn't mince words about how she felt: "I felt pissed; victimized. On some level I blamed myself for not being proactive."
But Allison was determined not to wallow in her new world order. Instead, she got to work.
In 2001, not long after her diagnosis, she founded the Hereditary Neuropathy Foundation, determined to set an example for her two boys Christopher and Thomas, that you are more than your disease. The foundation has two primary missions, per Allison: To move the needle on therapy development, and to promote a patient-centric advocacy from top to bottom.

People just don't know what CMT is. We don't have hundreds of millions of dollars, so we have to work a lot harder to fill a lot of the gaps in the research. Our goal in three to five years is to fill in those gaps that are preventing research and discoveries.
And filling those gaps is exactly what she's doing. The foundation is involved with everything from documentaries and children's books to drug and gene therapy development.
But it hasn't always been easy and Allison has constantly been mindful to balance this important advocacy work with what she considers her most important job: Being a mom. She recalls having to use their strollers as a walker or having to lay down the law that Mommy physically can't run after them if they wandered off. Allison even recalls a time when she wasn't sure she could continue to run her growing foundation or openly wondered if she had to significantly scale it back, because she was concerned she wasn't putting in enough hours at home.
But her boys played a major role in convincing her to forge ahead with her foundation and reassuring her she was balancing all the hats she wears just fine – and they did it with three simple words:
"Mommy, keep going."
And as they grow older, her sons helped play a role in the foundation and have developed a sense of compassion and entrepreneurialism in them. In fact, the foundation has been a family affair, with her husband Robert and sister Courtney getting involved and picking up the slack when Allison has her bad days.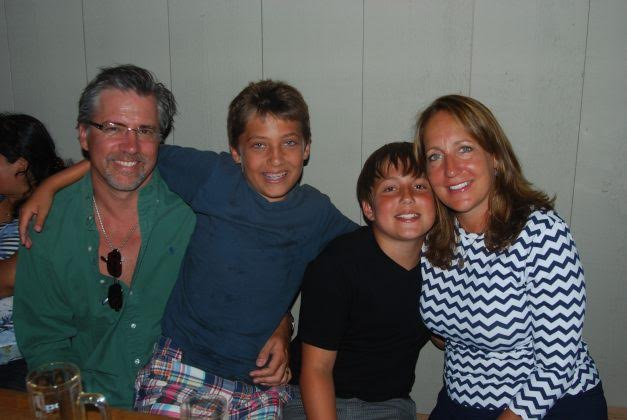 My husband is my biggest fan. He plays a big part in coaching me on many of our initiatives especially when it comes to refining my presentations at conferences, participating in roundtables and overall marketing of our programs. And my sister Courtney Hollett is my hero! She wants to cure CMT as much as I do! She joined HNF five years ago and I don't even know how we ever functioned without her. She does everything – most of all, putting up with me!
She sure knows how to balance and juggle various parts of her life! She's raised two exceptional gentlemen, she's a leading voice in CMT advocacy, she has folded in her family to help run her foundation – ain't she something?! And she's just getting started.

Our success in the last few years has been so rewarding. And you realize — hard work does pay off, as does perseverance. You just got to keep going, keep fighting, keep connecting, and keep working. And once you see the fruits of your hard work you realize — anything is possible.

Anything.
We want to hear your story. Become a Mighty contributor here.