Mighty Style Diaries: Eclectic Grown-Up Rocker With AFOs and Charcot-Marie Tooth Disease
---
Welcome to The Mighty Style Diaries, where our community showcases their favorite outfit and shares how they combine fashion with their illness or disability.
Today on The Mighty Style Diaries, we're spotlighting Lainie Ishbia, who describes her style as "eclectic" and "grown-up rocker" and must be functional for her disability, Charcot-Marie-Tooth disease. This degenerative nerve disease causes muscle weakness and loss of sensation in the feet, legs, hands and arms as well as poor balance and structural foot deformities. Here, Lainie explains how she preserves her sense of style while choosing pieces that adapt to her mobility challenges.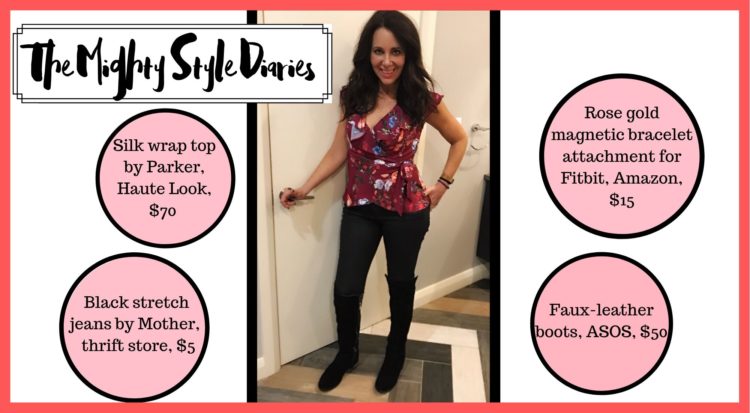 Name
Lainie Ishbia
Age
48
Location
Huntington Woods, Michigan
Diagnoses
Charcot-Marie-Tooth disease
How would you describe your style?
I would describe my style as eclectic. What I wear each day depends on my current mood, the weather, and of course what I'm doing. I love the "grown-up" casual rocker look and often pair denim with vintage concert tees and blazers. I tend to wear a lot of maxi dresses and jumpsuits in the summertime as they keep me fairly cool and work well with leg braces. I also like to pair feminine floral prints and silky camis with a great black leather jacket, or an all-black outfit with a pop of color. Of course, I am always wearing cute shoes over my AFOs (ankle-foot orthoses). I'm big on fabric and fit over anything else and quality over quantity. Although I'm a bargain shopper, I spend money on my quality staples like great denim, black pants, blazers, and soft tees.
How does your disability influence your style and the clothes you wear?
My disease has progressed in recent years and this has definitely had an impact on what I can easily wear. Although I have been a full-time AFO (leg brace) wearer for more than 20 years, my fine motor skills (I struggle with gripping things and small buttons, etc.) has greatly deteriorated. Although thanks to Tommy Hilfiger and other designers who are helping to bring adaptive fashion into the mainstream, people's physical challenges should not have to dictate and limit their sense of style. This is one of the main reasons I created Trend-ABLE.com. I am passionate about helping others with disabilities to feel more self-confident and to ultimately live their best lives. With my own "adaptions" (shared in many fashion posts and disability hacks) I wear what I want to wear when I want to wear it, just like everybody else… This includes trendy shoes, sandals, and boots over my leg braces.
Why did you choose the pieces you're wearing in your photo above?
I'm wearing a wrap silk top by Parker that I bought on clearance on Haute Look for $70. It is easy to put on and when the tie is loosened a bit, it can slip on over my head. I'm also wearing black super-stretchy jeans by Mother that I bought at a thrift store for $5 (retail for $200) and tall faux leather over-the-knee boots in a wide width that I bought on ASOS for around $50. All of my jewelry (including my deceased mom's heart diamond that I wear every day) is disability-friendly with added magnetic closure attachments. I am also wearing a Fitbit (gotta get those steps) with a $15 rose gold magnetic bracelet attachment I purchased on Amazon.
What fashion advice would you give others with chronic illness and disabilities?
My advice would be to think outside of the box and to not just settle for what fits or works. What we wear impacts how we feel and how we feel impacts how we think about ourselves and how others treat us. Comfort can coalesce with fashion… it doesn't have to be a choice between the two. Of course, if you wear leg braces or orthotics, my advice would be to follow my website Trend-Able for fashion tips, beauty hacks and inspiration.
Like Lainie's style? Here's how to get a similar look: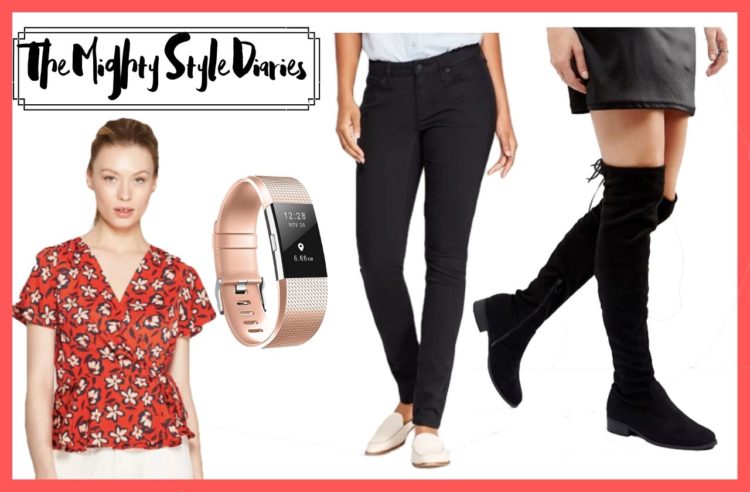 Red floral wrap top: Target, $24.99
Black skinny jeans: Target, $20
Black over-the-knee boots: ASOS, $56
Rose gold Fitbit band: Amazon, $4.98
Want to be featured in an upcoming Mighty Style Diaries? Here's how to show off your best look: