The Everyday Trauma of Losing a Child No One Talks About
---
As much as I joke about what I endured as a middle child, growing up the middle of three was pretty great. I learned so much from my younger and older siblings. As I got older, I always imagined I would also have three kids of my own. It seemed like a good number. A number that would complete our family. So I was elated, and a little nervous when I discovered this year that I would finally be a mother of three. I was now facing my 39th year on this earth, so unlike the other two pregnancies, we decided to wait to tell anyone because that's what people do, though it never made too much sense to me. 
We even waited to tell our families. It was so hard not to tell the kids or to share the news with our parents. I wanted everyone to share in the joy and the journey. I wanted to rub my belly in public and stop hiding my growing tummy. I wanted everyone else to wonder about the baby, who she would be, and who she would look like. But we waited until we knew the baby was healthy and strong. Then we started to tell people.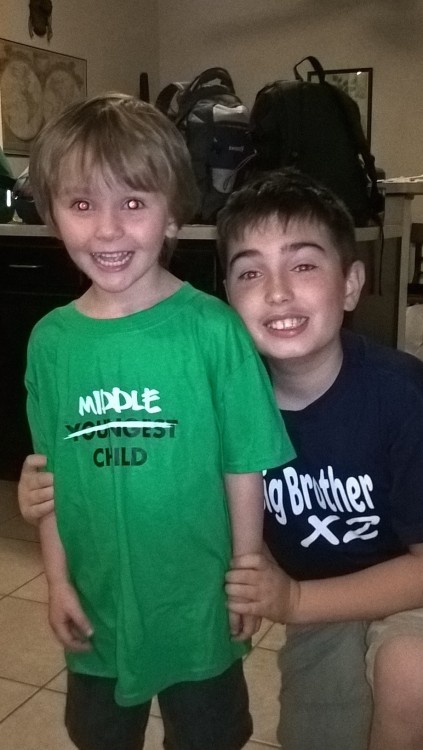 This picture to the right is from the day we told the boys, gifting them with shirts to celebrate the new baby. It was to be the picture I would eventually share in the obligatory Facebook announcement. I looked at this picture and wondered how being a big brother would be different or the same for my son Lourson this time. I laughed at how my other son Jax would come to accept being a middle child as he navigated the same challenges I did growing up sandwiched between the firstborn and the baby. I wondered about the first picture I would take with all three of my children and if everyone would be smiling as brightly as they were in this picture.
It is with the heaviest of hearts, and I do mean the very heaviest, that I am now haunted by those wonders. Those wonders wake me at 3 a.m. and pin me down in bed in the morning when I would normally be getting up. They follow me around as I wander from room to room crying. They are bold and present when I am praying the day will end so I can crawl back in bed. They stare back at me when I look at the face of the man I love, the man who has been scraping me off the floor and enduring my pain, much of it very loud and sloppy. 
Loss is ugly and mean. It is the absence of something that truly belongs. Sometimes it taps you on the shoulder and scurries away, only to revisit you from time to time in some watered-down version of itself. Sometimes it holds your face, staring at you, daring you to look away first. Then sometimes it bursts into your home uninvited and screams at you, threatening to hold your hand for the rest of your life. But eventually it dulls a little.
The loss of a child is all that and more. This last week I have tried to string words together to describe that horror. I couldn't. I couldn't imagine how this loss would ever be manageable or dull, even a little. I talked to a friend who has experienced the loss of a child and he said to me something that you always hear, but don't want to believe when it becomes the reality you are facing: "The pain never goes away, you just learn how to live with it." F*ck. I imagined having to hold the hand of loss for the rest of my life. I wanted it to leave my house. I wanted to "get through it." I wanted my mind to overcome the pain in my heart. That's the thing about grief, though. Logic doesn't stand a chance against grief. It can't fill the hole left by the absence of something that truly belongs. 
As I write this I am barely emerging from the worst of it and wondering why nobody ever talks about this part. I can't bring myself to cook a decent meal for my kids or be completely present in a conversation…And then there's the horrible crying. It comes out of nowhere and is constant. It makes you ugly and burns your face. It is so heavy that it chokes you and you find it hard to breathe. And nobody ever talks about the trauma of the worst physical pain a human can feel. The trauma. The actual physical pain that makes you scream, stumble, pass out. The kind of intense physical pain that serves as a cruel reminder of what you are losing, in case there was ever any doubt. Yet somehow in the middle of this nightmare, there is still the capacity to feel a tremendous amount of love, because it is love that is in fact the reason for this hell. Nobody talks about what you're supposed to do with that. 
Maybe one day I will find a way to not spontaneously cry while waiting in line. Maybe I will be able to walk through Jaxon's daycare without thinking about the crib his little sister was supposed to occupy. Maybe I won't feel the weight of Lourson's empathy telling me he is worried about what will happen to me now that the baby is gone.  Maybe I will be able to look at the love of my life without seeing how much he is hurting for me and postponing his own grief. Who knows. For now I miss waking five times a night to pee. I miss the swollen breasts. I miss the cravings and aversions. I miss outgrowing my clothes and needing a nap. I miss how brilliant and sharp everything was. I miss being with my baby, and dreaming, and completely loving all the possibilities this life held. 
Each morning now seems to start with missing; the kind of missing that you try to bargain with and talk yourself out of. The kind of missing that you fear will start this strong every morning for the rest of your life. It is the kind of missing that you wish would disappear because it hurts so damn bad, but you can't let it go because you think it has to exist to honor your child and remind your heart. It is the kind of missing that has changed you, and you will be tethered to that forever. It is the kind of missing that reminds you that hell and resilience can coexist, but it is a constant, hostile negotiation. It is pure love. It is heartbreak.
People usually end something like this by saying "Hug your babies tonight." That is valid. Yes, do that always. For me, it would be to share your happiness with people, and your grief for that matter. Tell people when something wonderful happens. Let people share that with you for as long as they can. I hate the fact that word of my daughter's life comes now in the form of an announcement of her passing. I would go back and redo that in a heartbeat. I would give anything to have others share those months with me wondering and smiling and talking and loving and celebrating her.
And if the time ever comes, share your grief. Openly "miss." Validate the pain. When this began almost a month ago I thought I was completely losing my mind.  It took an hour long conversation with my doctor to assure me otherwise (although that still comes into question at least twice a day). He said to me, "We have a strange approach to grief in America. We hide it and we try to do it alone, very quietly without disturbing other people. You lost your baby. You get to grieve." It was at that moment that I confronted the way I have grieved my whole life and knew it was not sustainable, not after this. This one I can not do alone.
I am very fortunate to have good people in my life who continue to amaze me with their kindness. They have sat with me, cried with me, listened, held my hand, and refrained from telling me how it was all going to be rainbows and unicorns again one day. They have not run from the grief, as ugly as it has been. Instead, they walked toward it and doused it with love. Thank you. 
Until the day I die, I will remember every detail of this. I will remember the date, I will remember the last place I went before it happened and what I was wearing. I will remember the headache that would not go away, the bizarre headache that told me something was wrong. I will remember the words I spoke to God on the way to the hospital, and I will remember every single second I was there. The doctor's face, his voice, and every horrible word he said to me. Every single cruel detail. 
But I do not want my daughter to be remembered as the reason for my grief or for why I am changed. She was not this experience. I write this now to make sure of that; to speak about what she was during this very short time and about the love she grew in us. She was Ruby Grace Foster. She was joyfully anticipated. We smiled thinking about her. She was feisty and she kicked my ass. I knew she was smarter than me, and that scared me. She slept every night with my arms wrapped around her, and she was loved completely. 
I will now honor her life with honest joy and honest grief. And I will love her forever. Under the weight of so much pain, I will love her forever.