This Was the Reality of My Baby's Brain Cancer
---
We are just beginning the month of August, which means we are getting closer each day to September. September is a month that has come to mean a lot to me. It is no longer just about the start of school and the beginning of fall. September is Childhood Cancer Awareness Month, which is a cause that has become so dear to me since my only daughter was diagnosed with brain cancer at just 4 months old in July 2012.
Childhood cancer never got a second thought from me before it showed up in my family. I saw the pictures of the smiling, bald, beautiful children on the St. Jude's commercials, and I didn't really understand what an awful disease it is.
I have always hesitated to share the pictures that show the reality of what pediatric brain cancer did to my little girl. It kills me to see them. I've considered deleting them from my phone so many times, but I keep them as a reminder of why I fight as hard as I do to find a cure for this horrific disease.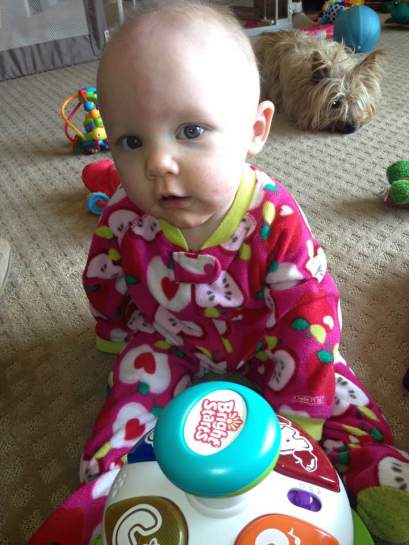 The picture above shows Olivia during her brief remission from brain cancer. She was able to sit up on her own. She was regaining the use of her right hand that had been severely weakened by the cancer. She was learning how to use a spoon, and she was working so hard to learn how to crawl.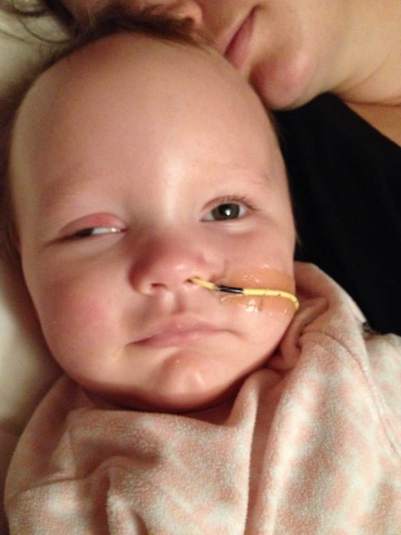 This picture here was taken just days before Olivia died at 20 months and 3 days old. With each day the tumor grew larger and made her head and face swell. She could no longer see. She slept all the time. She had no strength left. She was utterly and completely miserable. It is nearly impossible to explain the anguish I felt in that time.
Seeing my child die was the worst experience of my entire life.
Childhood cancer is not pretty. These kids fight hard battles that should never, ever be part of a child's life. They spend the majority of their time getting chemo, radiation, sitting in hospital rooms and watching life go by from inside the glass of the hospital building. They see countless doctors, nurses and specialists. They get MRIs, CT scans and go under anesthesia regularly. They take more medications than most of us have ever seen outside of a pharmacy.
Childhood cancer is a horrible disease that desperately needs a cure. I know the pictures of the reality of what it does are hard to see, but please don't turn away. Childhood cancer doesn't discriminate. No one ever thinks it will be their child, their niece, their grandson. But I can promise you there's probably not a single family affected by childhood cancer that thought it would ever happen to them.
You can do something. You can help give these children the future they deserve. You can be the change.
The Olivia Caldwell Foundation is a 501c3 nonprofit that raises money for pediatric cancer research. We have given $155,000 to pediatric cancer research since we were founded in November 2013. You can learn more and donate by visiting www.oliviacaldwellfoundation.org.
This post was originally published on the Olivia Caldwell Foundation blog.
We want to hear your story. Become a Mighty contributor here.
Thinkstock photo by Doucefleur
Originally published: August 4, 2017