He Became an Ironman to Honor My Daughter's Battle With Brain Cancer
---
August 29 was one of the best days of my entire life. I had the absolute honor of watching a man I had never met in person compete in the Coeur d'Alene Ironman Triathlon. He did it to remember my daughter Olivia and to raise money for pediatric cancer research.
Eric Dye worked with Olivia's grandfather in Reno, Nevada, when Olivia was first diagnosed with cancer and throughout her 16-month battle with brain cancer. Her story broke Eric's heart, so he wanted to do something to help. He had always thought about competing to become an Ironman, and he decided after he had his own daughter nearly four years ago he would do it.
Over the last two years I have communicated frequently with Eric and his wonderful wife, Janelle. They worked tirelessly to prepare for the race — even having a family member design a "Race For Olivia" logo that featured Olivia's face. Through their efforts they have raised nearly $6,000 for the Olivia Caldwell Foundation!
As my Dad and I walked along the race route looking for the rest of the "Race For Olivia" crew we suddenly came face-to-face with Eric, who was just a quarter of the way through the bike portion of the race. As soon as we saw each other Eric smiled, we said hello and then my eyes began to overflow with tears as he kept on peddling.
I was in absolute awe of the man I saw before me and his determination — all with my daughter's beautiful face on his chest.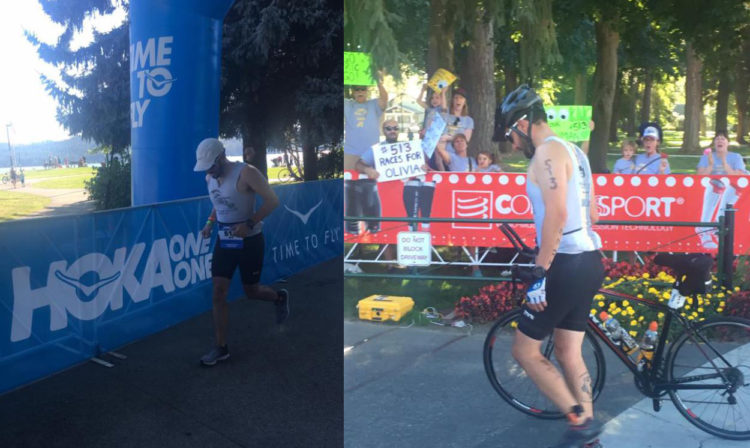 Eric completed 144.4 miles. He started the day with a 2.4 mile swim, biked 112 miles in 90 degree heat and humidity and then ran a full marathon.
He crossed the finish line at 9:45 p.m. PST, completing the entire race in 15 hours 27 minutes and 13 seconds.
Watching him cross the finish line was absolutely incredible! We cheered, we clapped and then all 30 of us in attendance to support Eric and the "Race For Olivia" ran closer and watched him get his medal.
We came face-to-face again a few minutes later and all I could do was throw my arms around the incredible human being before me and with tears streaming say, "Thank you. Thank you for doing this for my girl!"
Eric Dye became an Ironman for Olivia. An ordinary person, husband, father and hard-working golf pro did something absolutely extraordinary to honor a little girl he never met.
And what does Eric want from all of this? He wants everyone else to see that you don't have to be extraordinary to join the fight and really do something. He wants to see the legacy of the "Race For Olivia" live on with others deciding to raise money by swimming, walking, biking, running or whatever else you enjoy doing.
Thank you Eric, Janelle and Bella Dye for all of your sacrifices over the past year of training. Thank you for loving my little girl and for helping her memory live on in such an amazing way.
I love you all and I will be eternally grateful.
The Olivia Caldwell Foundation is a 501c3 nonprofit that raises money for pediatric cancer research in memory of Olivia Caldwell, who passed away from brain cancer at 20 months old in October 2013. To date we have given $155,000 to pediatric cancer research. You can join the Race For Olivia by signing up on the Olivia Caldwell Foundation website under "Miles For Gold." You can still donate to Eric's Race For Olivia by clicking here.
We want to hear your story. Become a Mighty contributor 
here
.
Originally published: August 30, 2017