'Magic' Wigs Turn Kids With Cancer Into Disney Characters on Halloween
---
Halloween is the perfect time of year to get scared, but while many of us choose to watch horror movies and share spooky stories, children with cancer don't have a choice; they must face their frightening diagnosis every day.
Not only is the word "cancer" a scary thing for a child, but often so is the thought of losing hair from chemo. So two moms from Alaska created awesome wigs to help young patients feel a little magical through some tough times.
The Magic Yarn Project, based in Palmer, Alaska, was created after cofounder Holly Christensen learned a friend's daughter had been diagnosed with cancer. As an oncology nurse who saw the devastating reality of cancer every day, she knew it was hard news to handle. She wanted to do something for the young girl.
That's when she created a Rapunzel yarn wig and mailed it to her.
The young girl was overjoyed, and this sparked an interest in other young pediatric patients who saw just how cool the wig was. Parents realized how having a special wig like this could help their child stay positive while undergoing treatment.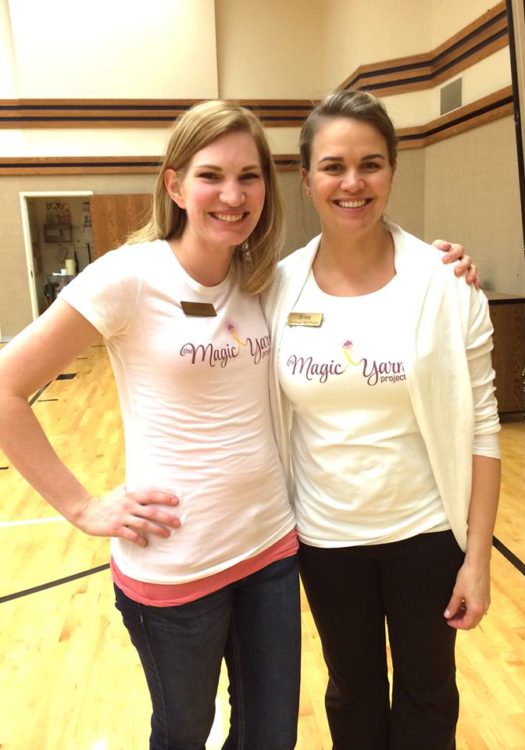 With such an overwhelming response, Christensen shared a post on Facebook asking for yarn donations. That's how she met future partner, Bree Hitchcock in 2015.
"I read her post and I contacted her the next day to see how I could help, as I thought the wigs were completely beautiful," Hitchcock told The Mighty. "Before that, Holly and I had never met. She and I planned our first small workshop, and from there our project took off!"
Their story immediately went viral. Within a couple of months they were both co-founders and had created an official nonprofit. Requests for wigs have been pouring in ever since.
Because the high demand for wigs couldn't be met by just the two of them, they rallied for volunteers, and soon hundreds of "Magic Makers" were on board. These volunteers attend workshops, located everywhere from living rooms to school gymnasiums, to create the crocheted beanies the wigs are placed on.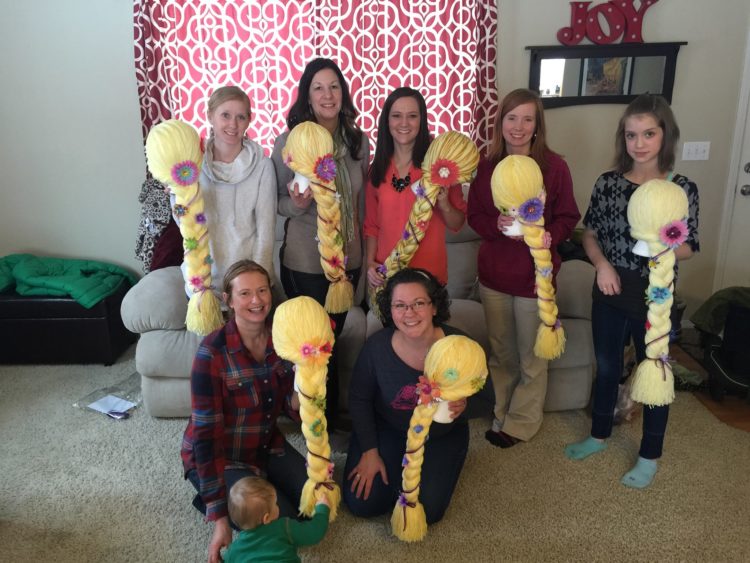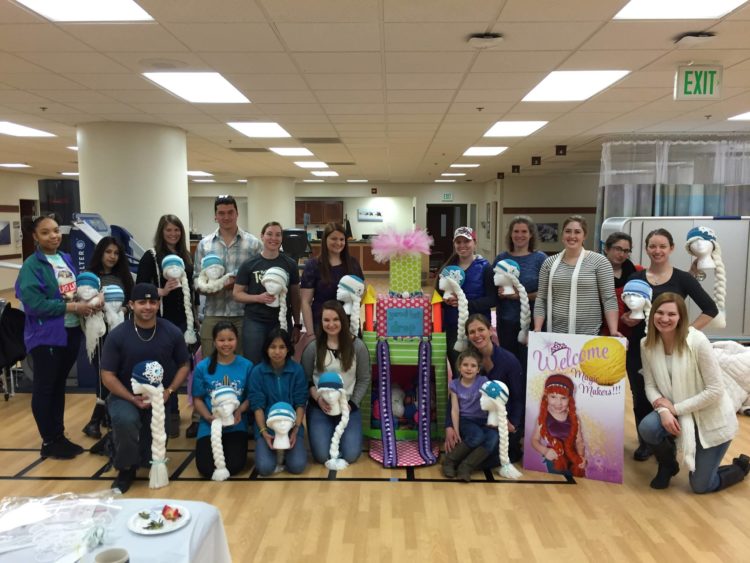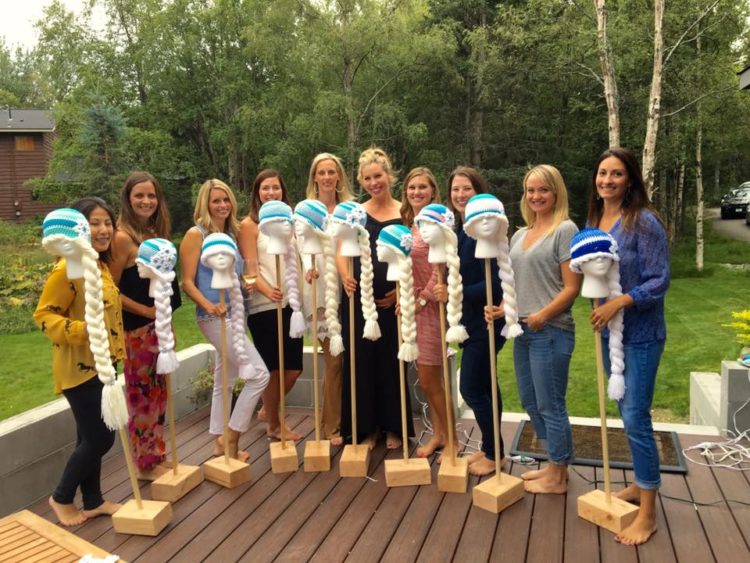 Every now and then a celebrity even volunteers, like defensive tackle for the Tampa Bay Buccaneers, Sealver Siliga, who made an Elsa wig.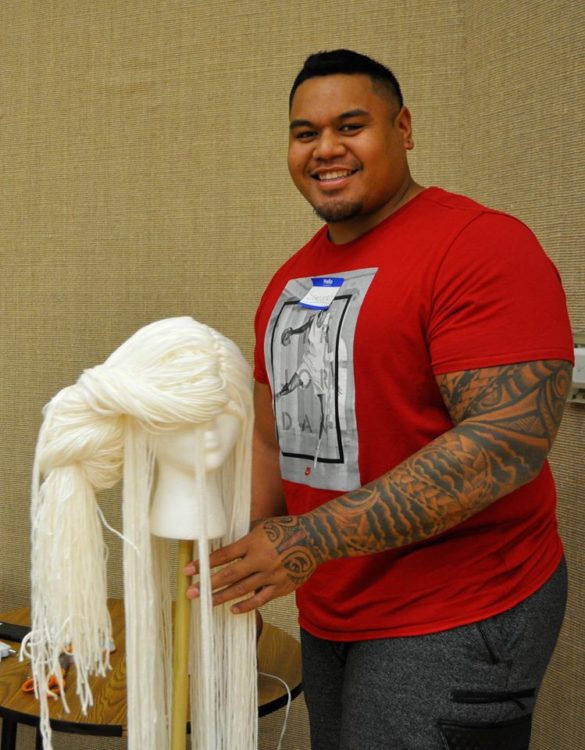 There's even a Magic Yarn Project program at the local women's prison in Alaska. Inmates get to participate if they have good behavior for a certain time period, and they're taught how to make the beanies and wigs. It is an inexpensive, positive rehabilitation program, and many of them volunteer at workshops after they are released.
To date, over 4,200 handmade (with love woven in) wigs have been shipped to children around the world for free.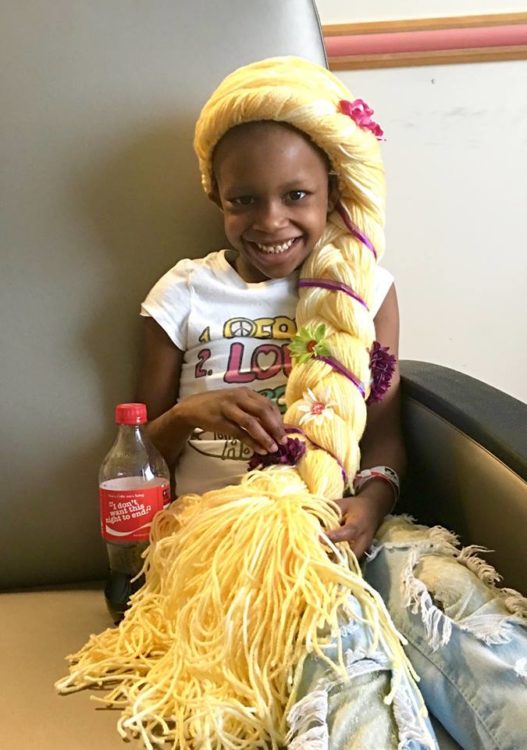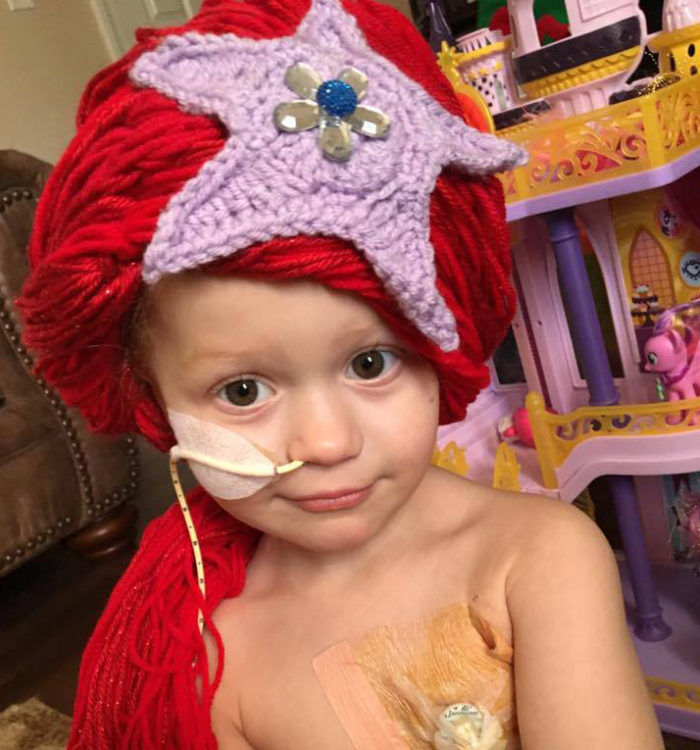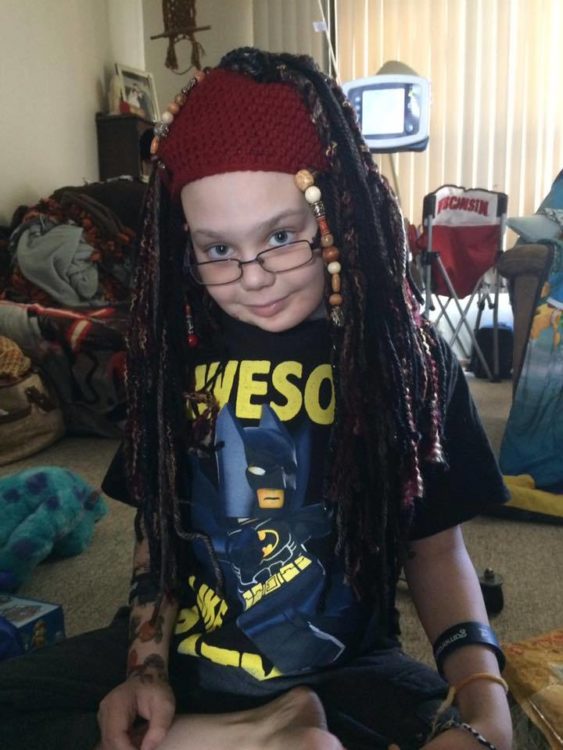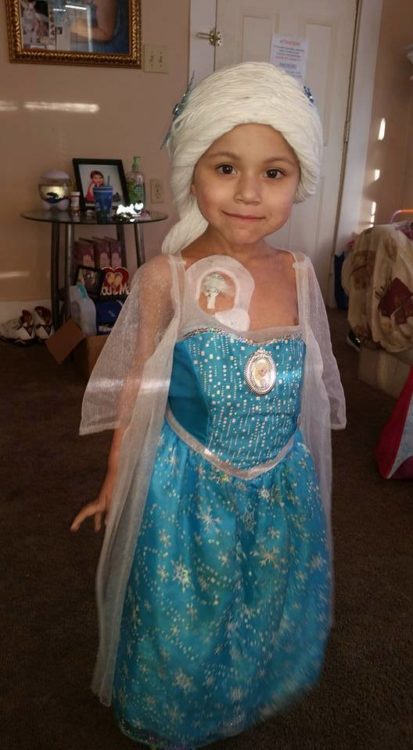 "Seeing photos of giggling kids and reading messages from parents keeps us motivated to make as many wigs as possible," Hitchcock said. "We've received stories about how a child hadn't smiled in weeks until they received their wig, or a girl was being bullied in kindergarten for not having any hair until she wore a Magic Yarn wig to school."
The organization is only two years old, but massive interest from volunteers from different countries is pushing Christensen and Hitchcock to possibly open up new chapters in the U.S. in 2018.
That won't be easy. Because of a lack of facilities (their headquarters is in Christensen's one-car garage) and lack of funding, they are always playing catch-up.
"We need more funding and are open to corporate partnerships to help us create even more Magic moments for children battling cancer," Hitchcock said. "Our dream is to gift a wig to every child who would love one."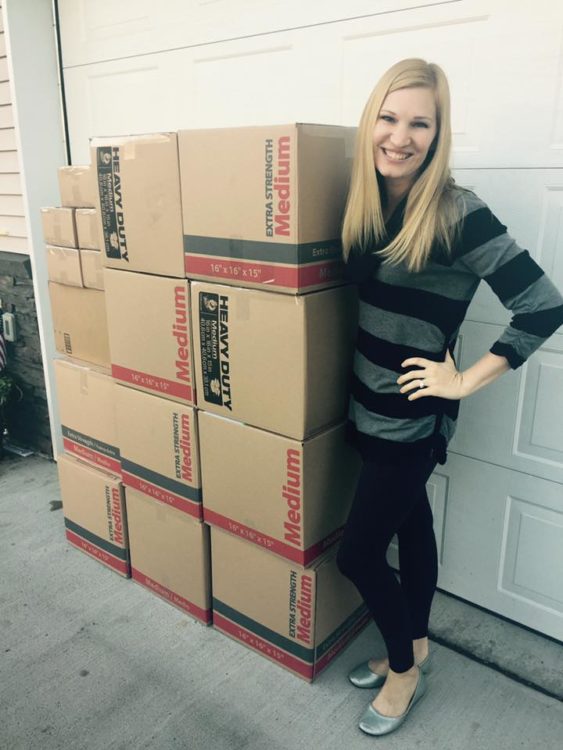 The Magic Yarn Project is a labor of love for these two married moms in their 30s, each with three kids. Although they struggle to manage time between the organization and their families, they wouldn't have it any other way because they do it for the children diagnosed with cancer, who also struggle day to day.
"These wigs invite children into the world of make-believe and out of the scary world of cancer," Hitchcock said.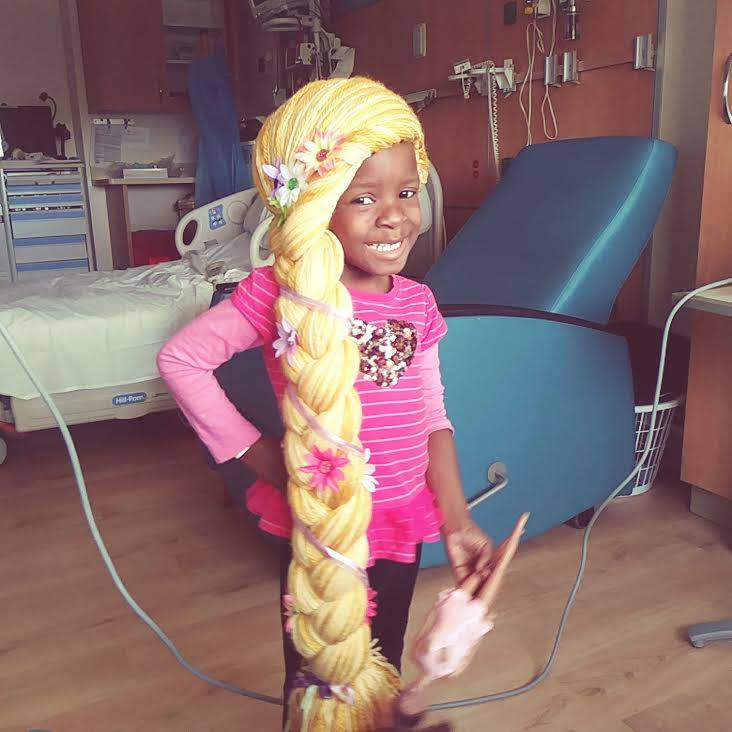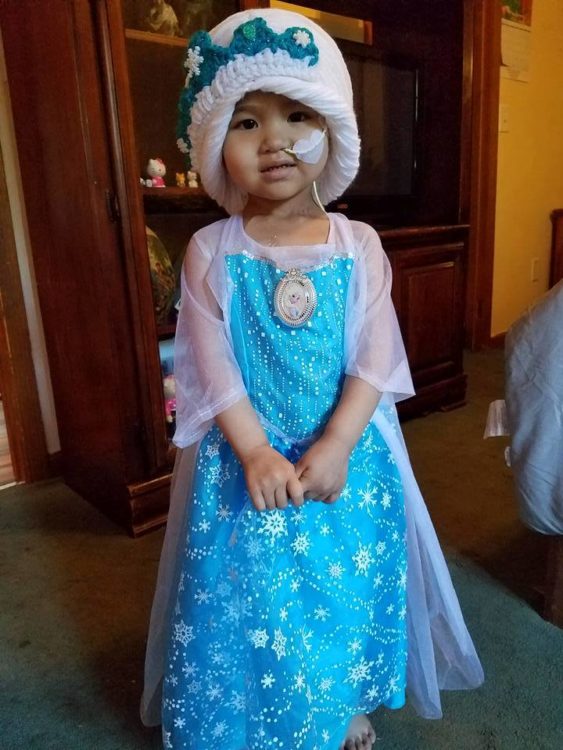 This Halloween (or any day of the year), if you know a child with cancer, send a magic wig today. If you'd rather volunteer or donate, you can do so on the Magic Yarn Project website.
All photos courtesy of Magic Yarn Project Facebook page
Originally published: October 11, 2017