Why I Started a 'Knitathon' to Raise Awareness and Funds for ME/CFS
---
My name is Lauren Childs and I am the founder and organizer of the "All About M.E. Knitathon." I live in the west midlands in England, UK.
I wanted to create an awareness project which was going to be eye-catching and a way in which the ME/CFS forgotten individuals from across the world could be seen and appreciated and understood. The knitathon is called the "All About M.E. Knitathon." Since May 2017-May 2018, I asked those with ME/CFS, families, friends, carers, knitters to join to together and knit 6"x6" squares, to unite us in strength and hope and gain awareness and funds the more the squares grew. I also asked those with ME/CFS and families to write a small card about how ME affects them. Each individual square represents each individual struggle, voice, personality and soul.
The response has been tremendous. I have received near enough 1000 squares and they have come as far as New Zealand and Canada. These squares have been made into blankets and I have been lucky enough to be allowed to exhibit them, along with the awareness stories, at Coventry Cathedral, Coventry. The display will take place May 8, 2018 – May 14, 2018. Knitting and crocheting helps so many people with ME/CFS as it is an activity which can be done in bed or on the sofa and has small amounts of exertion and gives them an escape and allows them to feel productive.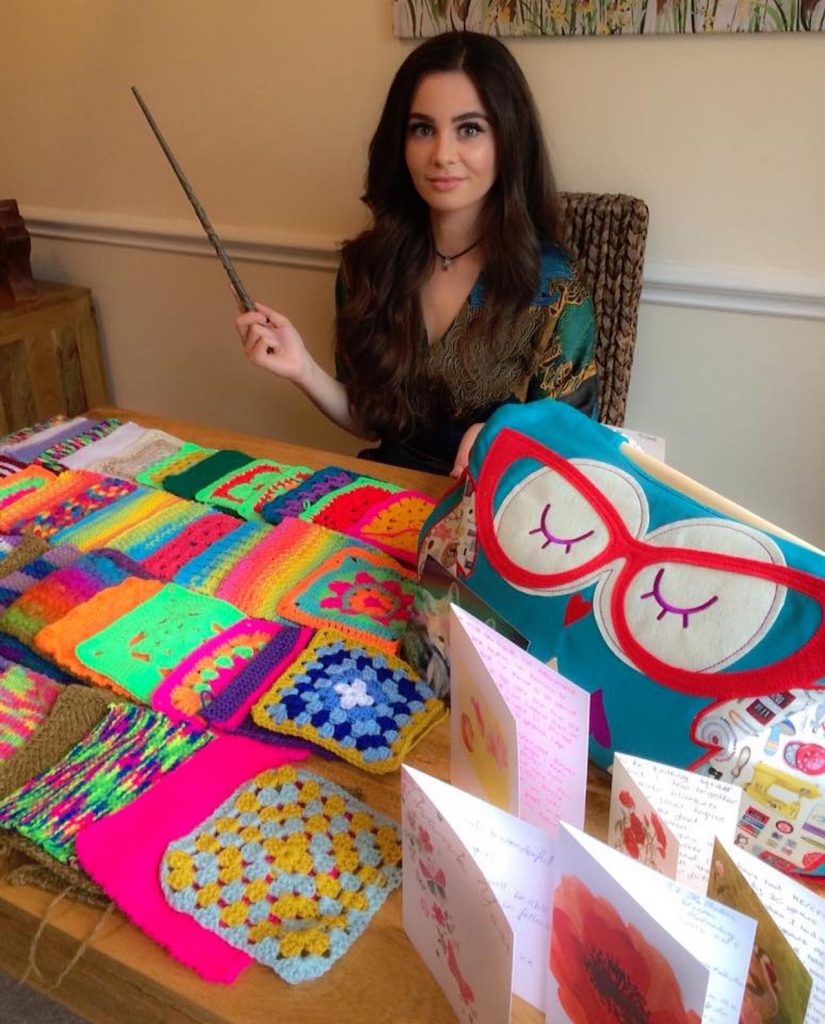 I have suffered from ME/CFS for four and half years now. I have also been diagnosed with fibromyalgia and heart and circulation issues. Back in 2014, I fell unwell while at work on a medical ward while working as an Occupational Therapist after successful completion of my degree. The irony is, due to being based on medical wards, I was helping individuals who struggled with ME/CFS (and other complications) and I was helping them get back home with help of equipment, adaptions and aids. Being on both sides of the fence, I can honestly say the patient is the expert with their condition. I had a real eye-opener. Going from a healthy, active young woman who was helping and advising others to manage their illnesses… to a bed/sofa-bound 23-year-old who was in need of an occupational therapist, a wheelchair and unable to bathe and wash her own hair was a very big learning curve for me. I still struggle to accept help from family now but the bottom line is, I probably wouldn't be here now if I hadn't accepted help over the past four and a half years.
As a health professional, you see so many patients each day, you read many past medical histories and the medical jargon becomes a blur. Due to the current situation with the NHS and how fast-paced you have to work, it was very hard to delve too deep into people's lives and how really deep down their illness affects them. This being due to lack of time, the nature of my job in an acute setting was mostly made of my assessments so individuals could be discharged home. I will have to admit, prior to suffering from the illness, when I saw the abbreviation "CFS" written on a patient's medical history, I would automatically think, OK, this patient is going to feel tired most of the time, and I can guarantee there are many health professionals who still place too much emphasis on the fatigue part.
In my defense, my occupational therapy degree didn't place a huge emphasis on individual conditions and what they were, causes, symptoms, prognosis, etc. Also, before working at the hospital, I had never actually heard of myalgic encephalomyelitis or chronic fatigue syndrome. Which is crazy, as worldwide there is thought to be 17-24 million people who have this debilitating illness and there are probably many more that have been misdiagnosed or are undiagnosed.
Well, here I am on the other side of the fence – how wrong was I?! This illness doesn't just make you tired all the time – it makes you feel like you are so unwell and weak that you have no control over your body. Every inch of you aches, shakes and trembles. You struggle to hold your head up, you struggle to talk as it is so exhausting and every movement feels like you have just ran the London marathon. Every movement your brain wants to do your body just simply cannot respond as the enormity of energy is just too much. When you try and sleep to recover and rest, your body doesn't rest properly and you wake up feeling like you have been awake the whole night.
One of the many major issues with this illness is this condition is so debilitating and makes individuals feel so unwell that most are too sick to move, get out of bed, tolerate daylight and noise, talk, go to the doctor, explain their symptoms, the onset and how the illness truly makes them feel. The truth behind this illness is behind closed doors. And any help which may arise is a stab in the dark, due to lack of research. An idea or form of treatment which could possibly make someone feel better but could also make people feel a lot worse.
This has got to change. This illness can no longer be misunderstood, misrepresented and misdiagnosed. There is no excuse that any human being in this day and age should be denied access to scientifically sound treatment or even support, and have to suffer every day of their life just trying to exist and survive. People with ME/CFS have the right to have fair treatment and health providers across the world have a duty of care to try to at least look after these individuals and governments worldwide need to put money aside to research this condition, just like any other illness which affects so many people worldwide.
This is not a illness which can be put aside and shrugged off like a common cold; this is so devastating and life-changing. Many of those with ME/CFS have little or no quality of life. People with ME/CFS should not have to "live" (debatable use of word) a life where they are basically stuck in limbo, where they are like the "living dead," shut away in darkened rooms, no noise, no movement, no joy, no happiness, no life. They may get passed around different departments, doctors and specialists to be given completely different advice or no advice or help at all due to the lack of research and knowledge about the illness. Like myself, many with ME/CFS have to become their own doctor, their own healer, their own health professional while being chronically ill and trying to crawl out of bed to go to the bathroom.
I hope my knitathon brightens some of your days. If you're unable to go and see the knitathon display, I'll be posting photos and videos on my Facebook page. I am also fundraising for the charity The ME Association have a justgiving page.
Originally published: May 10, 2018