What Happened After Chronic Fatigue Syndrome Affected My Sporting Career
---
My football (soccer) journey began before I even had much of a long-term memory. By the time I was 3, I was dressed in a Manchester United kit and had a set of goals in our rear garden. I come from a footballing family, with my dad having been part of the Manchester United youth system before going on to play semiprofessionally. My mum never played, but was a die-hard United fan, going to watch them play every week throughout the 70s and 80s. She knew her stuff. Growing up in Manchester, I learned from an early age that football is pretty much a daily staple alongside food and water.
When I was 6 I joined a youth team, which also happened to be a boy's team. Up until that moment, I was blissfully unaware I had just entered a male-dominated field. I showed up at a summer camp all wide-eyed and excited, only to be greeted with stares and whispers. "Look, there's a girl here." That essentially became the stuck record of the decade from there on in. As we started to play, though, I realized I was just as good as the boys. All my anxieties washed away and I was having a blast. We finished the camp with an individual penalty shootout — I won it. The story of the girl winning the competition against all of the boys reinforced the idea that this was my thing.
I went on to play for two different junior girls' teams, winning hoards of trophies, league titles and individual honors. When I wasn't playing for my club team, I was playing in the playground at school, or on the street with boys — sometimes fighting with them if they pointed out the obvious fact I was a girl playing football. I always held my own and gained their respect. Some days I would be so engrossed I'd forget to eat. I think I drove my mum batshit "crazy," but I absolutely loved it. I was happy, healthy and gifted.
When I reached the age of around 12 or 13, I started to realize I had something different to other players my age. I possessed excellent technique, skill and flair. My brain read situations before they would happen. I had an instinctive goalscoring ability. By this time, I was playing for a Centre of Excellence where I was winning individual awards every season. They even sent me to a national tournament with the older age group. The dream of one day representing my country was very much alive and well.
I had the world at my feet — that was until my final season in junior football. Two weeks before my 15th birthday, I became unwell overnight. It sounds so simple for such a complex illness, but from that moment on, I just never recovered. For three seasons, I battled through the fog, fatigue and pain. I ran myself into the ground, to the point where I could no longer function, let alone play. My dad and coach passed up the opportunity for me to attend England camps; they both knew I wasn't well enough to go. It would be like sending a lamb to the slaughter.
It was a whole six years before I played competitively again. I'd managed to reinvent myself in a different sport this time around – futsal.
After I completed my degree, my recovery still wasn't really going the way I would have liked. I had a little more energy than my last three seasons playing football, but my mental health was now a shambles, and I had developed stiffness in multiple joints throughout my body. Still, when I came across the game of futsal watching a Manchester Futsal Club training session, it was a lightbulb moment for me. Here was football, but a condensed version where I could come off and rest, and go back on again. This format of the game seemed much more suited to me and my health predicament than 11-aside football did. OK — futsal is extremely fast and intense, but I'd always been built more for anaerobic exercise anyway. I'd always been more of an explosive athlete than a roadrunner.
Fast-forward five years, and I am now competing in a National League for a team I founded. I discovered a new sporting dream, and in spite of my struggles and disadvantages, I'm pursuing it to the max. At 28, who knows what the future holds and where the sport may take me. I'm still working on my recovery every day. I still struggle with extreme fatigue, pain and stiffness. Compared to my teammates, it takes me a lot longer to recover from games and training, and I can't play as many minutes on the court as them. But, I make sure those minutes count. My philosophy has been forced to change somewhat. Now, I don't play as hard, but I try to play smart.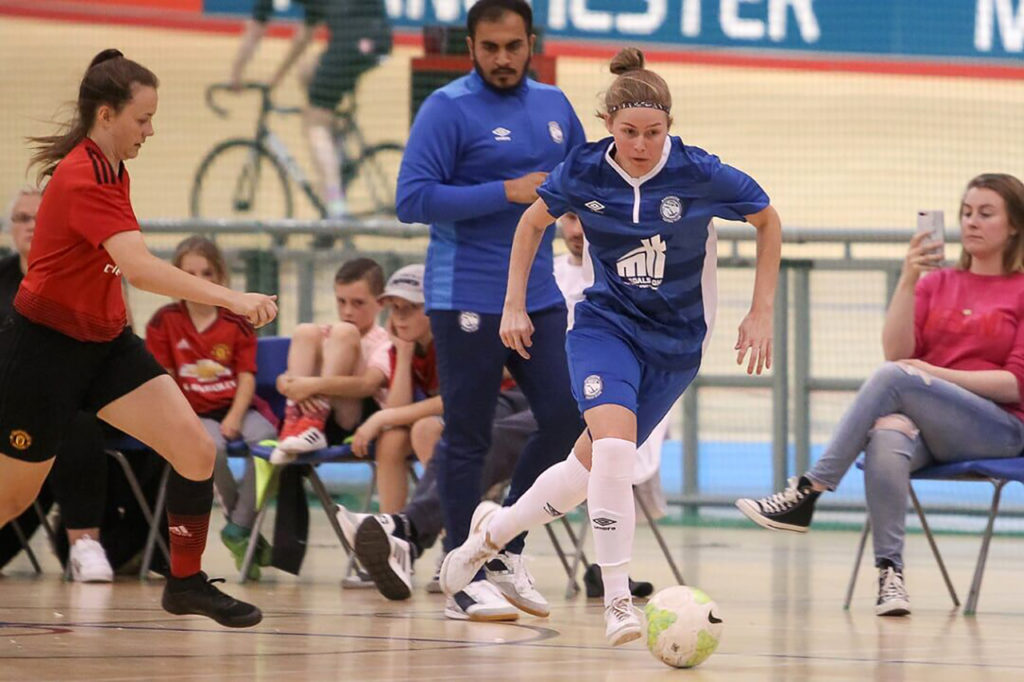 I'm not as fit as most players, as I'm not able to train as often. I also have to work harder than everyone else to haul my fatigued body around. I used to be stocky with muscular legs like tree trunks. I'm skinnier these days, but still physically strong. Over a decade of ill health has naturally taken its toll, but where I am able to succeed is with my skill, heart and intelligence on the court. I'm also careful about everything I eat. I don't drink often or smoke. So, while illness has given me sporting disadvantages, it's also given me an advantage by forcing me to take care of my body and mind more than many others.
Doctors told me that my sport is not best suited to my condition. In theory, I should be engaging in low impact, low-intensity exercises like walking, swimming and pilates. But, at the same time, they know it would be ridiculous to tell me to stop doing something that helps to give my very existence meaning. Therefore, they don't even bother to say anything anymore.
I never take it for granted that with great difficulty, I'm still able to play my sport — despite myalgic encephalomyelitis/chronic fatigue syndrome (ME/CFS). To me, it's a miracle every time I set foot on the court. I may look like a "normal" player, but I know I possess something different inside. I may have lost my opportunity to play football in World Cups and to be a superstar, but I know I'm overcoming every odd that was ever stacked against me. That's true success.
Originally published: April 18, 2019