What 'Showing Up' Looks Like for Someone With Chronic Illness
---
What fosters our livelihoods long-term are not the sparkling connections we make when our lives are perfect, but those we forge amidst adversity. Showing up for one another with authenticity and vulnerability – and persevering through the tough times – is what strengthens our human connections to each other. This reciprocal relationship is built on the reality that each of us will be in a hard place at many points in our lives, and showing up for each other is a part of that.
So what does "showing up" for someone with chronic illness actually look like? These are the ways my online ME/CFS community felt the greatest support, when asked to reflect on instances since their ME/CFS chapter began. These stories illustrate just how important it is, especially during our most difficult times, to have the support from the people around us. From the massive comforting powers of small gestures, to helping or reaching out in small ways—we feel acknowledged for what we're going through, and it will make a significant difference in our day. Acts of "showing up" are seemingly tiny ripples that create big waves.
1. Simply listening – listening speaks volumes.
"Listening more than talking is the most supportive thing anyone has done for me. Regular phone calls just to chat are also great." – Lindsey M.
2. Words of validation because they make us feel seen and heard.
"The other day, my partner was recounting a chat she had with someone. While talking about me, she said, 'she's the strongest woman I know.' That was so validating, and soothing for me to hear." – Gerianne C.
"Hearing – I believe you. It's real. It is not in your mind." – Jaya W.
"The most supportive words came from a colleague from a job I had to quit because of a crash. He told me he could not imagine how hard it is to fight health issues every day, especially when you're trying not to let anyone notice them." – Lenka G.
"My wife's comments about how I've done enough (for her, and for the world) and I don't need to worry about if I'm doing enough. She wishes for me to get better so that I can enjoy life. She is not concerned with measuring contributions. If I don't get better, that's OK too." – Alok N.
"My former supervisor at work was very supportive despite my numerous, week-long absences. She adjusted my schedule as needed and worked with human resources on my behalf. Whenever I would relay to her the guilt I felt about not being able to perform 100 percent, she always reassured me, 'We are just happy to have you whenever you can be here, and we just want you to feel better. You are good at your job and are appreciated.' When I eventually had to quit, she wrote me a wonderful email that still makes me cry to this day." – Kim B.
3. Showing compassion and empathy – which create emotional resonance – so we don't feel as alone in our experience.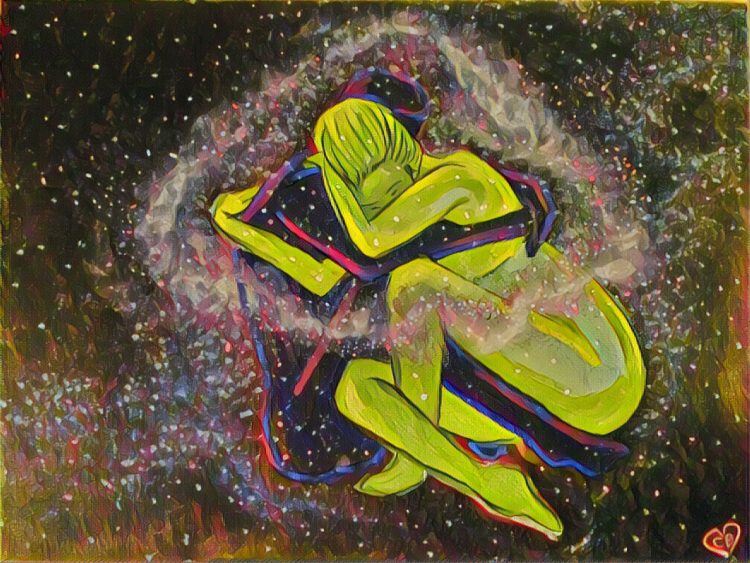 "After watching the documentary Unrest, one of my housemates stood immediately after the credits and wrapped me in the tightest hug – he was shaking. That was better than any words. But he also repeated my name over and over again." – Jamie S.
"Hearing – 'I'm sorry you're so sick,' or 'I'm sorry you have to go through this,' always does the trick for me." – Tamsin E.
"I think statements of true empathy are what sink in. Things said from the heart — like when my father says, 'I wish there was something I could do to help you feel better, it pains me to see you so sick." – Rebekah S.
4. Trying to understand our experience — whether by accommodating our needs or learning more about them.
"My husband has seen me struggle with trying to climb stairs… the pain, shortness of breath, sweating. Now he drops me off at the door while he parks the car when we go out. He insists on us taking the elevator. It really touches me that he's finally understanding my struggles." – Lee N.
"We attended a family wedding and I had to leave early. The bride and groom had my meal packaged and sent to the hotel room for me to eat later. To them, having me present for even a short amount of time was all they wanted. They were grateful I was there to witness their wedding, and understood why I had to leave early." – Kimberly G.
"My best friend told me she'd been looking up the condition online so she could gain a greater understanding. That was really special for me." – Angela C.
5. Adapting to our chronic illness too, and not making it a big deal.
"My partner and I were talking about the film Unrest, and I was feeling very alone. 'We're doing this together,' he said. I cried happy tears just hearing that." – Sarah D.
"I was processing with a friend about needing to use a wheelchair. I was feeling self-conscious about it because I don't look sick, and I'm only 32. He said, 'I don't care, I'll push you around anywhere you want to go! Who cares what other people think.' My friends that treat me like I'm still who I was, but have to do things a little differently are a lifeline. They have also offered to come sit in bed and watch movies, just to hang out with me." – Betsy F.
"A lot of times it's better when they don't mention my illness at all, and just have a normal conversation with me about normal things. I'm more than just my illness, though it's hard to remember sometimes. I was most touched recently when my family went out of their way to make things I could eat at Thanksgiving. No one made me feel bad or weird for laying on the couch the whole time. They were just happy I was there." – DS G-J.
"After tearfully cancelling plans to catch up yet again with a good friend of mine, she said she would happily come and sit on my bed next to me. If I didn't have the energy to talk, she'd read to me. She does this every couple of weeks now. It really gives me contact with the outside world, when illness leaves you often feeling so disconnected and shut away in a room." – Michelle W.
"I recently told a friend I might be getting a mobility scooter. Her reaction? Genuinely and excitedly suggesting she should buy me stickers for it for Christmas. It means so much when friends react to stuff like that, in the way I would to something 'normal' like them getting their first cars!" – Sakara D.
6. Kind gestures, no matter how big or seemingly small.
"When I hear – Is there anything I can do to help?" – Dianne T.
"I had gone to the hairdresser earlier this week for a haircut for the first time in months (too sick to previously come in). This was also the first time I used my wheelchair at the salon. She noted my hair was much longer than usual, and that I was shaking badly. She so sweetly told me that she would be happy to come out and cut my hair at my house (I live a half hour from the salon). I just burst into tears." – Nancy S.
"My cousin wrote me to tell me her door is always open, and I can give her a phone call anytime. Then my other cousin saw that message and wrote: 'My house is three and a half hours away, but it is full of love and there is a place anytime you want.' My aunt saw that and wrote: 'Same for me.' That meant the world to me to read." – Myrlipi-R L.
7. Community support, because caring takes a village! This can also mean being an ally at our protests, and being a part of the social justice movement with us.
"The minister of my church asked me if I would like a prayer quilt. The quilts are made for people going through a tough time. I dragged myself along to the quilt's blessing at church one Sunday. Everyone in the congregation went over to the quilt and tied a thread on it, saying a prayer for me. I was really touched." – Jude A.
The benefits of "showing up" are many. They foster better relationships, happiness, connection and a deeper understanding of the human experience. It starts with noticing and feeling when another is struggling – and ends with responding in whichever one of the above mentioned ways comes most natural to you.
We want to hear your story. Become a Mighty contributor here.
Originally published: December 10, 2017