When Church Members Said God Would Heal My Illness If I Prayed Hard Enough
---
I've been a religious person all of my life; I've also been a chronically ill person all my life. I've gone to church since I was a little girl, and though the members of my church never meant to cause any harm, they did. Without knowing I was sick, church leaders preached about how God can heal any illness, and that if you pray to Him earnestly for healing, you will definitely be healed.
At that point in time, like where I am now, I was content with my life and its struggles. Was life easy? No. Was it painless, or at least filled with more ease than pain? No. It was what I knew though, and I had plenty of coping skills that were integrated into my everyday life. For weeks, months and years though, people insisted I would be healed if I only prayed for healing and truly believed I would receive it! So, during a time in my life when things took a particular turn for the worse, I began praying for healing. I prayed I would be cured of all my conditions, and I tried to pour my whole heart into the belief that it would happen.
It didn't.
I was devastated. I had opened my heart to the idea of feeling better, or getting better, and that hope had been crushed. I felt so alone and so betrayed. Had I not prayed hard enough? According to small group leaders in my church, this meant I didn't have true and unconditional faith. And why did God let me continue to get worse and worse as I prayed for healing He had the power to give? I shut my heart again and vowed, whether consciously or unconsciously I'm not sure, to never pray for anything relating to healing of my symptoms again. I never again wanted to believe wellness could happen to me, because though I knew it was possible but very unlikely, spare a miracle, I had prayed for that miracle and been denied. I went through a rough patch in my faith for at least a year; it was a time where I questioned the goodness of my God and the reaches of my own faith.
Now, of course, I know those in my church who told me these things had no Biblical backing to say them. It was a case of someone taking it upon themselves to assume something that seemed even relatively Biblically accurate, and my heart aches to think of all the other people who have been dragged down just like I was because of these well-meaning but led astray people. I can only hope they know how loved they are by God, and how sickness isn't a punishment. I believe God never gives us something we cannot handle, even though we sometimes feel like we're on the very edge of our limits.
I have a lot of Bible verses I turn to when I need encouragement; two of my favorites are Romans 15:13 and 2 Corinthians 4:18. They remind me that Heaven awaits me at the end of this life, and in the meantime, I can be filled with hope and joy through encouragement from Him. I don't want to just wait until Heaven, though. A lot of the time, I do need to simply get through the day and focus on my end goal. When I have the ability to, though, I want to use my abilities to honor my God and make a difference in this world.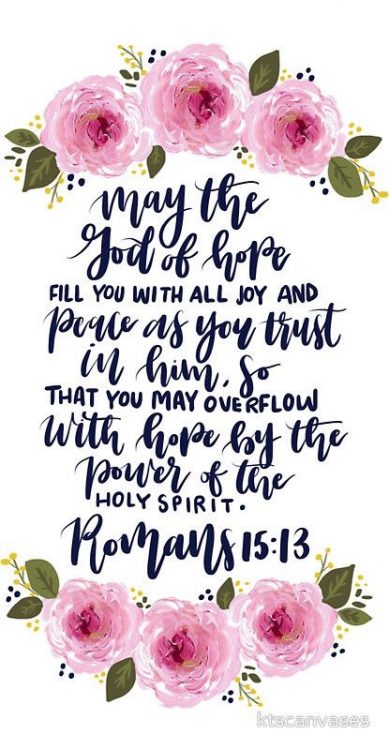 In my case, my health has been able to provide me with invaluable experiences and abilities. I've been able to work to reduce the stigma surrounding mental health and work on educating others about all sorts of chronic illnesses that are often misunderstood or not known about at all. I've been able to encourage others through rough patches in their lives and inspire others to seek treatment for symptoms that had been left uncared for. By the age of 14, I'd written two realistic fiction novels on mental illness. I've become a more compassionate and sympathetic person because of what I've gone through. I've been able to strengthen my faith when it was all that was keeping me here. None of that would have happened without my illnesses.
I've missed out on a lot in my short time on this earth, and I've experienced more pain than most people encounter in their lifetimes. I've also received so many blessings because of my health, though. My dad once told me that people with depression experience lower lows than most people will ever experience, but they also experience higher highs, and that always stuck with me. The past 16 years have been an intense struggle, but they've also provided benefits I wouldn't have received otherwise.
Though the future can be a terrifying thing, it isn't all scary. I know I will always have my God to get me through it. Looking on all that has happened up to this point, I cannot even begin to imagine the good that will come from pain in the future. None of this disqualifies, excuses or diminishes the hurt. It provides purpose and hope though, and those are two things that are so very important.
We want to hear your story. Become a Mighty contributor here.
Photo via lolostock on Getty Images