14 Pill Organizers That Can Help You Keep Track of Your Medications
---
Editor's Note
We hope the products below, all recommended by our Mighty community members, help you or a loved one in your health journeys. Just so you know, The Mighty may collect a share of sales from the Amazon links on this page. Prices and product availability are accurate as of publication.
If you live with chronic illness, you may find yourself needing to take so many pills, vitamins or supplements every day that it's difficult to remember it all. Keeping track of which pills have to be taken at which times throughout the day can easily become overwhelming.
No matter what size or shape you need in a pill container, there are plenty of options available for you to choose from. To help you find a pill organizer that best suits your needs, we asked our Mighty community to share which pill boxes they use to keep their medications safely organized. Here are their recommendations.
1. Anabox 7 Day Pill Box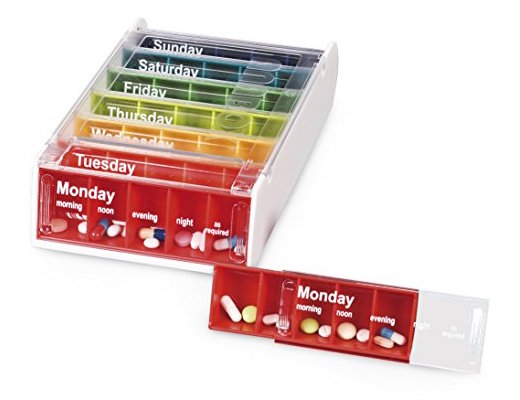 "I use the Anabox 7 Day pill organizer. Love it – each day is its own separate box and you get separators inside for times of the day. The morning is also bigger to accommodate more pills as traditionally more is taken in the morning. Plus having the individual day boxes in different colors mean after a while you associate that color with the day so it's easier to make sure you have the right day even though the day is written on them. You want to leave the house but need your pills? Leave the other six at home and just take the day with you. Finished that day's pills? Just slide it in the back and the next day is pushed forward. I even bought a second one to keep as a spare for whenever my current box gives up the ghost. Love it!" said Johnathan MacLeod.
Jaz Haddow added, "I've had so many but this is the best. Each one has a sliding lid so it's secure but easy to open when my hands are sore. The writing is clear and the colors help when trying to find them in your bag. They are bumpy on the bottom which helps with dexterity. They come in a case so you don't lose them. I love it because I can organize my pills once a week rather than each day. There's also a slot on the bottom of the case so you can write down all your meds and what time you take them. I get brain fog a lot so this helps me not forget any meds."
Bethany Payne said, "This is my all-time favorite! Five different sections, easy to open and generally just really nice looking! The removable daily panels are great for slipping in my bag for the day."
Buy the pill case above for $26.12 from Amazon.
2. Ordex 7-Day Pill Box Dispenser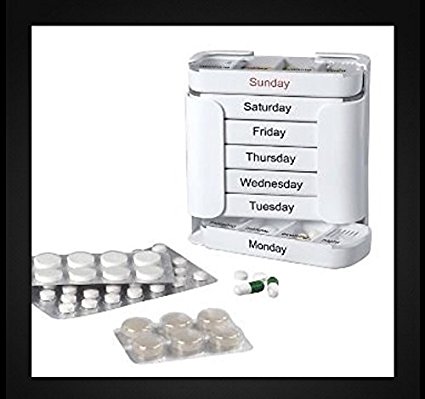 This pill box comes with wide, stackable trays for each day of the week. Each tray is divided into four compartments to sort your pills by time of day.
"It takes many more pills then the usual pill organizers and fits neatly in your pocket or purse. It has a slide to open top making it a stronger option," Kris Osborne told us.
Buy the pill case above for £15.99 from Amazon.
3. PillPack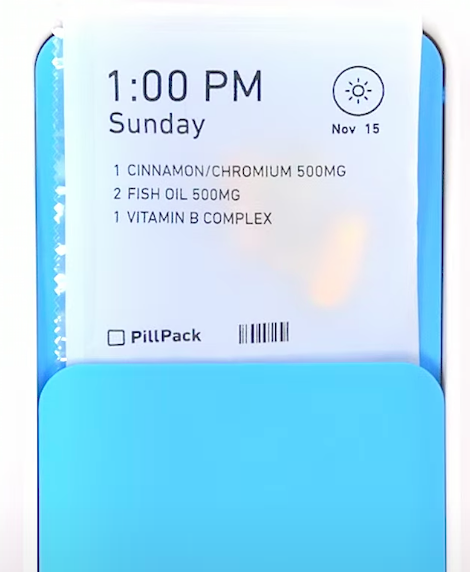 PillPack is a full-service pharmacy and sorts your medication by the dose and delivers it to your door. Each "package" is dispensed at the proper time and date with the names of the medications included. PillPack is compatible with most major insurance plans.
Jenny Tmouh said, "Screw sorting and even cutting my own pills. They do all of that for me!"
Sign up for the service on PillPack.
4. TravelOn 7 Day Pill Organizer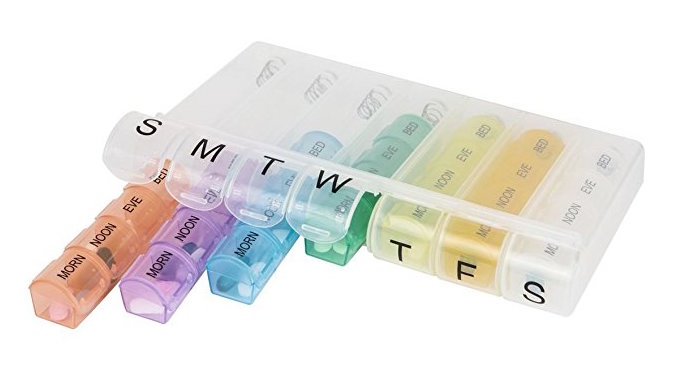 This pill organizer has seven slots for each day of the week, and each slot holds a pill box with four compartments to divide up your pills.
Elisabeth Wheeler told us, "I like that each day is divided into four times which I have multiple meds spaced throughout the day. It is also nice when traveling — I can take only the days I need and fits nicely in my bag. Plus it's the only one that doesn't pop open on me."
Buy the pill case above for $8.94 from Amazon.
5. MedCenter Monthly Pill Organizer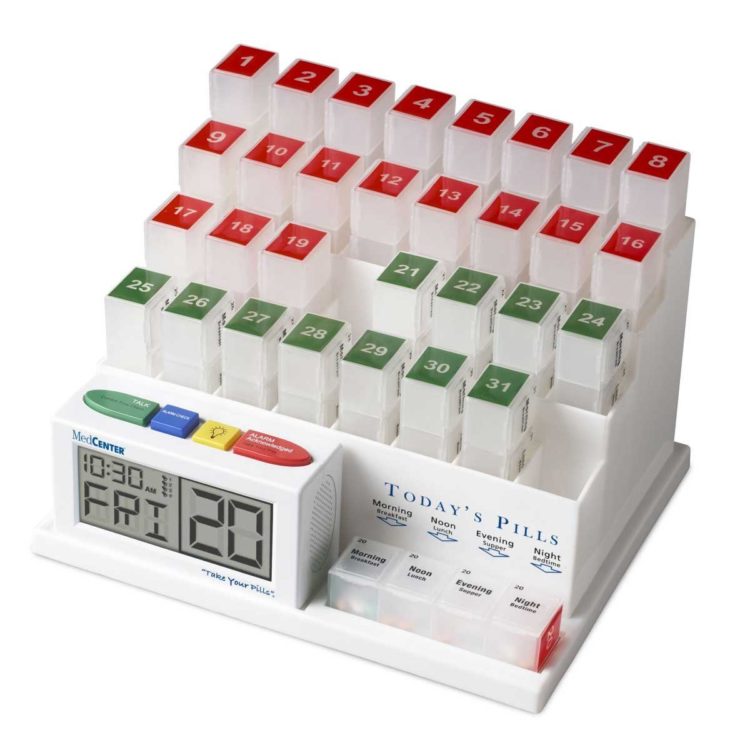 For those who like to plan ahead, the MedCenter holds a month of medication. Each day has a slot with a pill box that has four compartments to divide up your pills between morning, afternoon, evening and night. It also contains an alarm so you can set reminders for when you need to take your meds.
"The MedCenter. The slot on the bottom left can hold an alarm if you need it. I have an app on my phone I use for alarms," said Teri Nichols.
Buy the pill organizer above for $76.84 from Amazon.
6. Walgreens 7-Day Pill Organizer AM/PM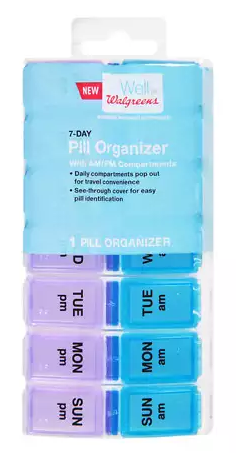 This standard pill case from Walgreens is colorful and affordable – perfect for those who only need to take pills twice a day.
Samantha Rubin said, "Walgreens. Love this guy. I like its shape, I love the colors and I got my morning pills and my night time pills… it's perfect!"
Buy the pill case above for $4 from Walgreens.
7. Thassio XXL Large Weekly 7 Day Pill Organizer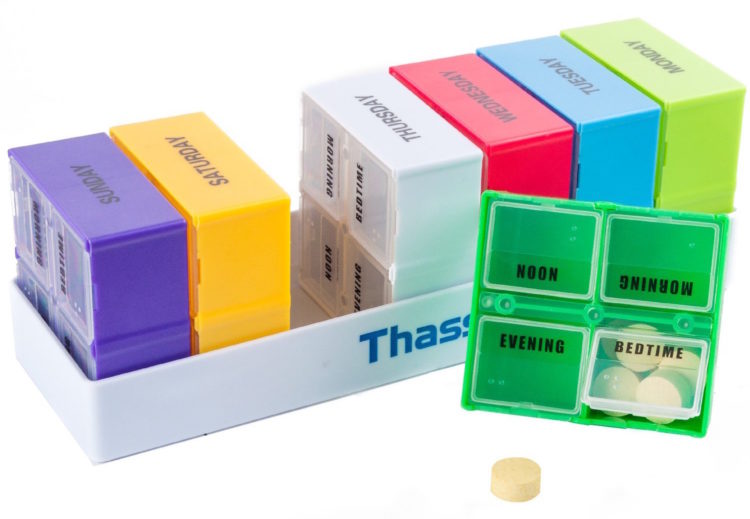 Kimberley Quirk wrote, "I love this weekly 4x/day organizer – each compartment holds about 10 to 12 large capsules and I fill it as I take about 40 pills a day (most are vitamins/supplements). It stacks and stores neatly in my cabinet and I take out each day's mini box and can take with me on the go. If you have more than 10 capsule-size pills at a time you will need bigger one, or I tape down to ensure doesn't open – it only does if I overstuff. Under 40 capsules and you're golden with this baby. I've had it for at least three years. Has served me well."
Buy the pill organizer above for $8.99 from Amazon.
8. 7 Day Pill Wallet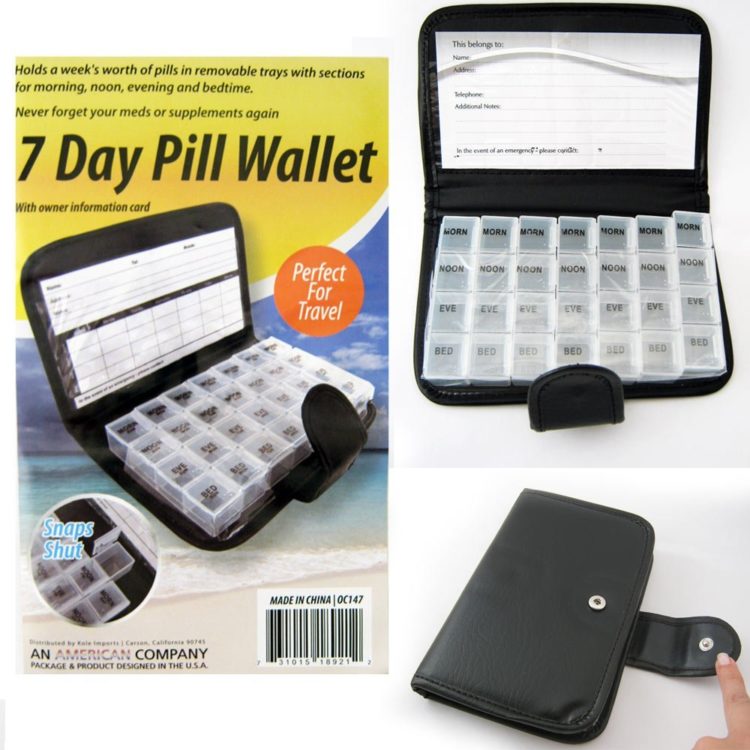 On the outside, this may look like a standard wallet, but the inside contains a 7-day, four times/day pill box as well as a small folder to store medical information, prescriptions, etc.
"I love it, keeps all of my medication and information/scripts together. Each day is removable if I need to use a smaller purse on that day, otherwise it just lives in my handbag. I pack it myself every Sunday, and as silly as it sounds, it feels age appropriate for me if I need to have my medication in a public place. My doctor was so impressed, she now gives her patients the link to it for them to look into," Joanne Burgoyne said.
Buy the pill case above for $5.97 from Amazon.
9. PillDrill

PillDrill is a smart medication system that reminds you when to take your pills and tracks which ones you've taken. After the hub alerts you to take your medication, you scan the top of the pill bottle to log that you took your pills. PillDrill can also send notifications to your loved ones to keep them in the loop.
"I love my Pill Drill," said Evie Evans. "It's like a FitBit for medication."
Buy the full kit for $199 from PillDrill.
10. Ezy Dose Practidose Pill Planner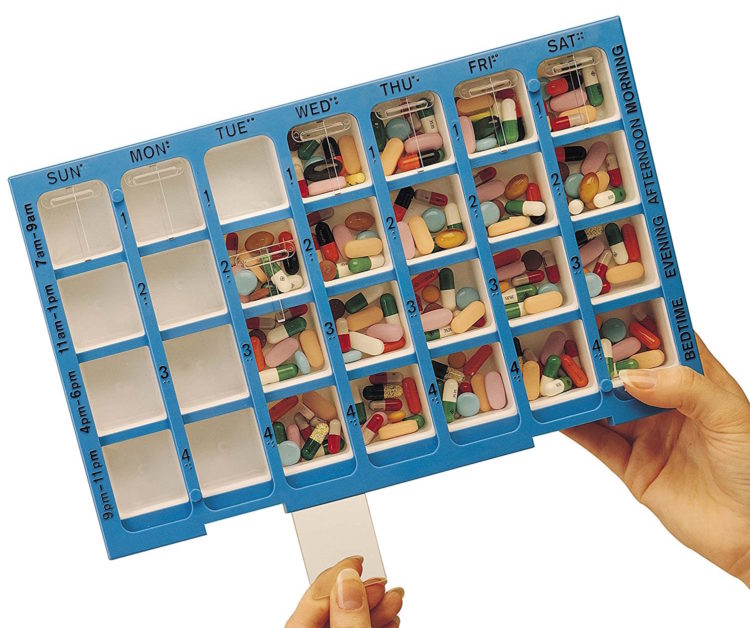 This pill container holds seven days' worth of pills, with four compartments per day. Each day has its own sliding lid.
Kharissa Thorne wrote, "I use this one because it's large enough for my medication and supplements."
Buy the pill organizer above for $25.97 from Amazon.
11. e-pill Multi-Alarm Pill Timer and Pill Organizer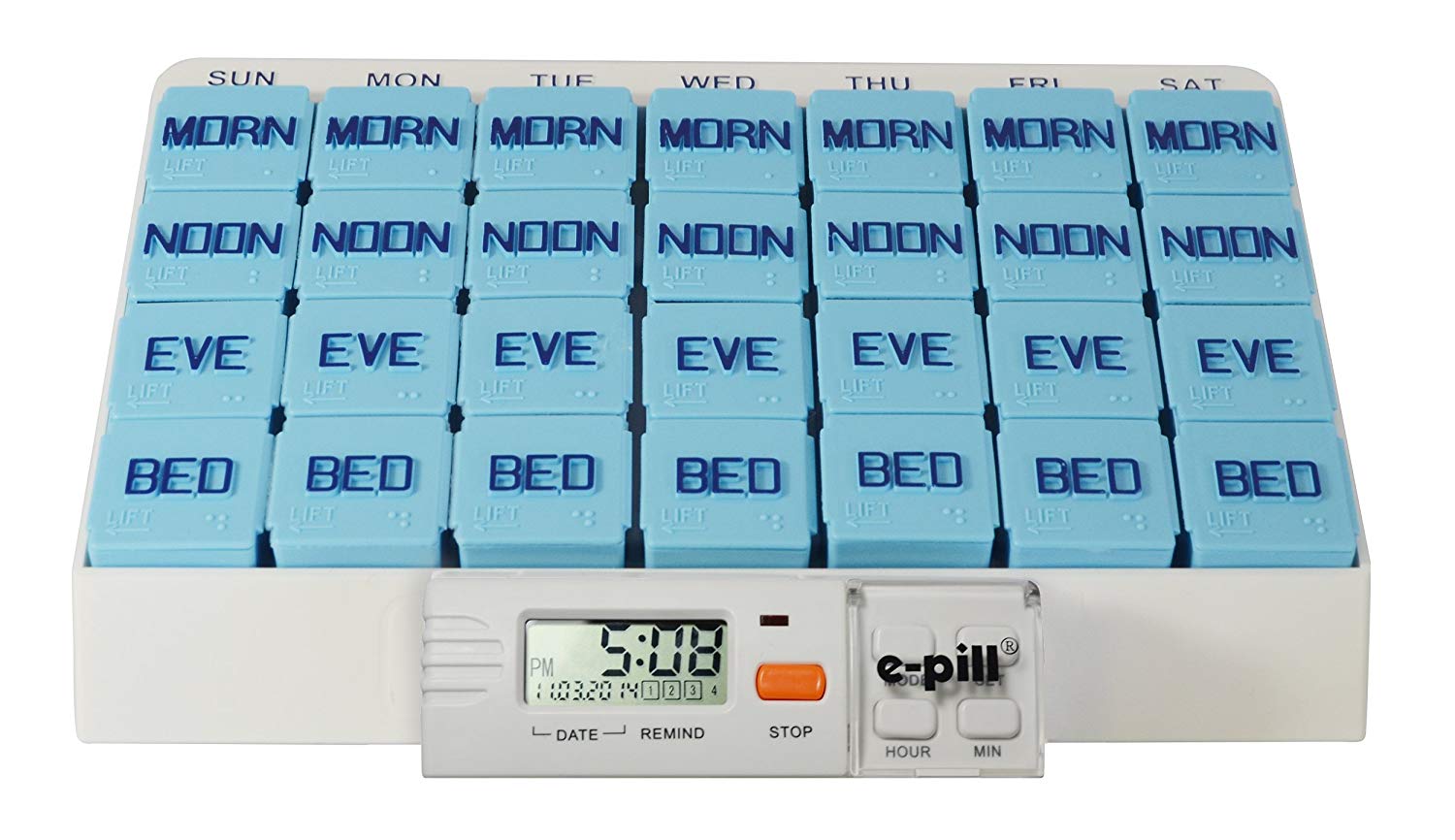 The e-pill not only stores your daily medication, but allows you to program alarms for each dosage – up to 37 each day. You can set alarms every half hour from 6 a.m. to 12 a.m. Although you have to refill it daily, it might be helpful for those who take medication multiple times each day.
Buy the pill timer and organizer for $42.88 from Amazon.
12. EZ View Complete Monthly Pill Organizer With Removable Pill Cups, 4 Alarm Pill Timer and Medication Log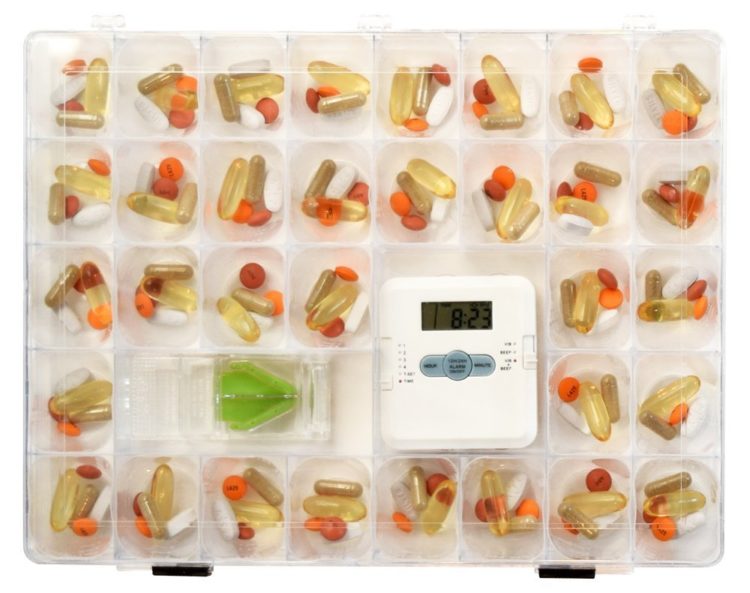 This pill organizer has slots for 33 translucent, removable cups so you can plan out your medication a month in advance. It also comes with a medication log for you to write down all your prescriptions and dosages as well as a timer that can be programmed with up to four alarms.
Buy the pill organizer above for $32.99 from Amazon.
13. AM/PM Monthly Pill Organizer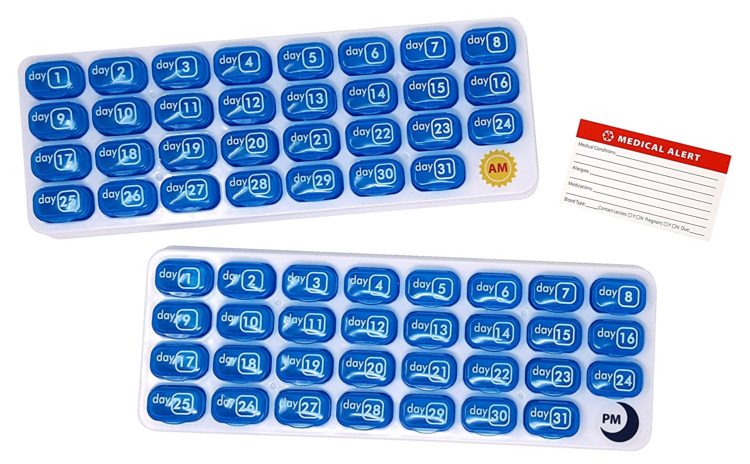 This monthly organizer comes with two trays – one for a.m. meds and one for p.m. meds. The removable pods are numbered to help you keep track of where you're at in the month.
Buy the pill organizer above for $17.99 from Amazon.
14. Two-Tiered Medication Turntable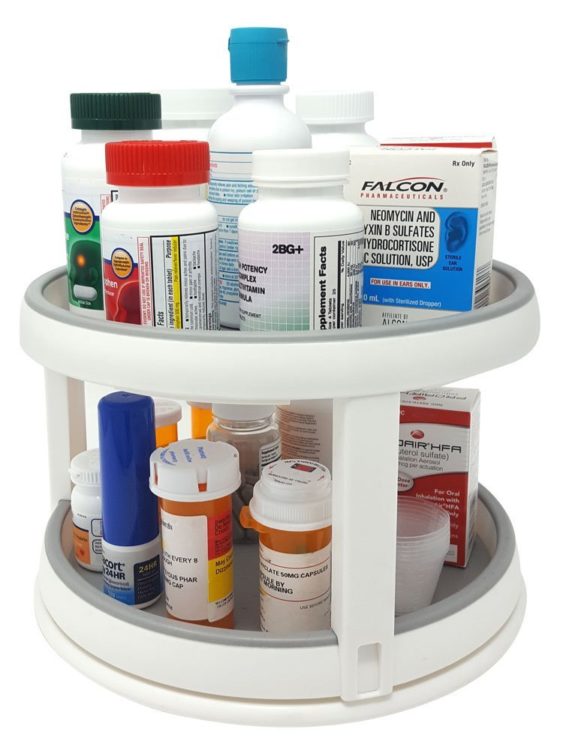 If you prefer to leave your medication in its original prescription bottle or package, a medication storage unit can help ensure all your meds are still organized and accessible. A two-tiered turntable allows you to split up your meds in whichever way makes most sense for you (for instance, you could place morning meds on the top and evening meds on the bottom).
Buy the turntable above for $21.99 from Amazon.